All of the campsites at Temperance River Campground are first-come, first-served.
9 campsites
Tables, fire grates, water pumps, and outhouses available
The Temperance River Campground is a Superior National Forest Campground, located 12 miles north of Tofte. Temperance is a perfect getaway for those looking to beat the crowds, try some fly fishing, or just relax.
Sawbill Canoe Outfitters is the concessionaire operator of this campground, and maintains a store with showers, laundry, grocery and convenience items, canoe and camping gear rental, a pay telephone, and a Verizon wireless hotspot—located 11 miles north of Temperance River Campground. Although there are no water, sewer, or electrical hookups at the campsites, they can easily accommodate large motorhomes and trailers.
Sites are $18 per night with a limit of nine people per site. All campsites are first-come, first-served.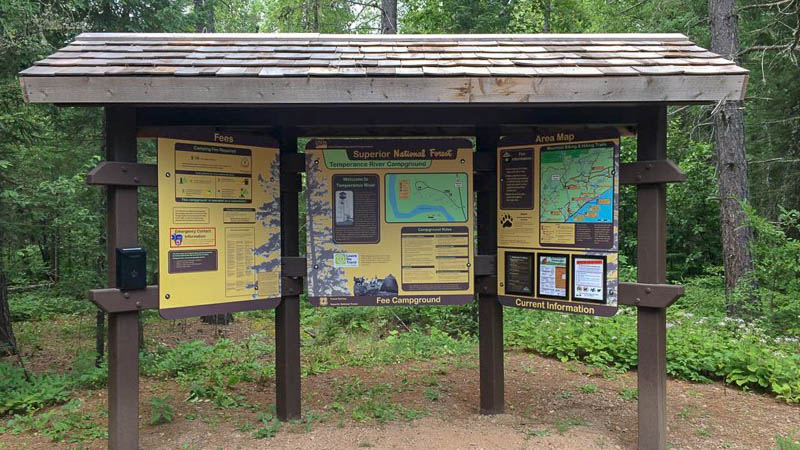 Campground Rules
Nine people per site maximum.
Quiet hours must be observed between 10 p.m. and 6 a.m. every day. Respect your neighbors: no loud music.
Dogs are welcome, but must be leashed and under control at all times.
One car or truck is allowed per campsite. A second car or truck is allowed for an additional $9 per night. Maximum of two cars or trucks per campsite. All vehicles must be on parking spurs.
Campsite must be occupied on the first night. Campsites cannot be left unattended for more than 24 hours.
Fires must be contained in the designated fire pits and supervised at all times. Put your fires dead out before leaving your site.
Do not cut green or growing things.
Bears love coolers. Keep your cooler out of sight in a hard sided vehicle.
Leave your campsite cleaner than you found it. Remove all litter from the fire ring before leaving. Bag your garbage, place it in the dumpster, and keep the dumpster latched.
Fireworks are not allowed.