Recommended maps for this route: Sawbill Area West, Fisher F-5 or McKenzie Map 20 and 21.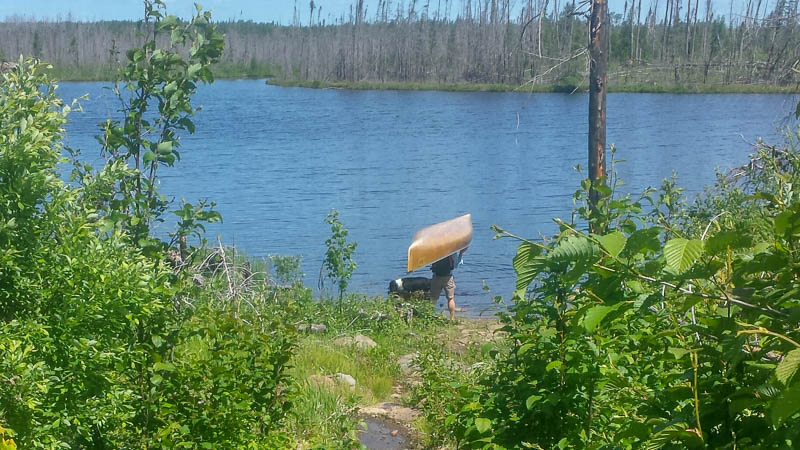 Day 1
Begin with the twenty-mile shuttle to Kawishiwi (Kah – wish´ – ah – way) Lake. You can arrange your shuttle through us. After you launch your canoes on Kawishiwi and round the first corner, you leave civilization behind. Paddle the narrow, slow moving stream, with three short portages, until you reach Kawasachong Lake. After lunch, you can tackle the 179-rod portage into tiny Townline Lake. A shorter portage brings you to Polly for the first night's camp. Polly is an excellent walleye lake. If you have kids with you, try having them drop a small, worm-baited hook next to a tree that has fallen into the water. Perch and sunfish are small but willing, and lots of fun to catch!
Day 2
Up the Phoebe River toward Hazel Lake. Even though you are headed upstream, there is little or no current to impede your progress. The portages circumvent the fast water and are generally flat and dry. From Hazel you have only one portage into Knight Lake. Paddle the channel into Phoebe or take the "hideaway" campsite on the north end of Knight. Phoebe is a classic Wilderness lake with rolling hills covered with dense forest marching unbroken to the water's edge. Top-notch walleye and bass fishing is found here.
Day 3
Linger on Phoebe or push on to Grace Lake. On the four short portages between Phoebe and Grace, be sure to walk in and admire the babbling stream with its fresh white waterfalls. Take the longer, 274-rod portage between Grace and Beth, rather than the two shorter portages through Ella. This is the easier route. However, if you want solitude, make your camp on Ella. The rough portages, (one rocky, the other swampy) keep this lake little used. Beth Lake teems with small mouth bass. Beth was the summer home of an Ojibwe Native American family until the mid 1950s. All four campsites are good.
Day 4
Enjoy a long, relaxed breakfast as you soak up the sounds and sights of nature. Pack up and head for the 140-rod portage to Alton Lake. Alton is best known as a small mouth bass lake, but also contains trophy sized walleyes and northerns. If the day is hot, Alton's crystal clear, spring fed water and two sand beach campsites might beckon. Otherwise, zip over the last 30-rod portage with your empty food pack, paddle down the south end of Sawbill Lake and enjoy the traditional cold beverage and hot shower!