Recommended maps for this route: Sawbill Area East, Fisher F-5, F-6 and F-12 or McKenzie Map 7, 20 and 21
This route offers the highest quality Wilderness experience. The difficulty of terrain and its location in the heart of the Wilderness make it an ideal route for sighting wildlife. Be forewarned however, that this is a rigorous route. In times of extreme low water, this route should be avoided.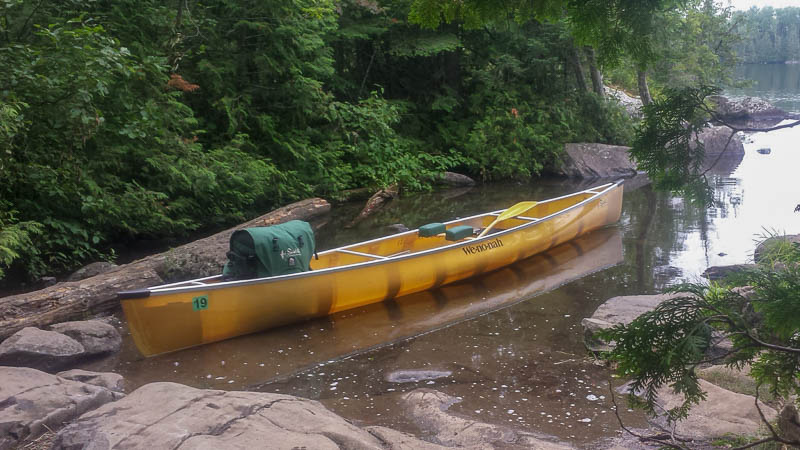 Day 1
The canoes are loaded and you push off from the landing on Sawbill Lake. A long pull up Sawbill and four portages bring you to Cherokee Lake. Long renowned for its beauty, Cherokee offers some of the finest campsites in the BWCA. Try for lake trout in the 130-foot depths at the north end of the lake.
Day 2
An easy morning paddle up Gordon Lake brings you to the long portage into a pond sometimes known as Unload Lake. This portage has some remarkable virgin white pine and cedar lining the trail. A short portage leads to Frost Lake. Frost is famous for its sand beaches. Golden sand crescents ring the north end of the lake and you can walk out 100 yards and be only waist deep. When it does drop off, it goes to about 70 feet and provides good lake trout fishing in the crystal clear depths.
Day 3
The portage from Frost to Octopus Lake sets the tone for the Frost River – rugged, remote, and wild. Watch for moose in Chase and Pencil Lakes. The tracks and scat of the elusive timber wolf are more often than not present on these portages. Plan to take your time as you wend your way through the switch-backs of the narrow Frost River. This will be a tiring day of beaver dams and slow paddling, but with the right attitude, it can be rewarding. A long, flat portage connects Fente and Hub Lakes. Choose any of the three fine, and little used, campsites on Hub.
Day 4
Have your fishing pole ready when you enter Mesaba Lake. Large northerns patrol these waters. Some guides list lake trout in Mesaba, but don't waste your time looking for them. Portage and paddle through Hug, Duck, and Zenith Lakes. After lunch, drop a small, baited hook down next to a windblown tree in Zenith and have fun with the small rock bass that inhabit this lake. The Zenith to Lujenida 480-rod portage is your next challenge. Occasionally, beavers make it possible to skip two fairly large portions of this portage. See the map detail for directions. Paddle down the mysterious Kelso River and camp on Kelso if you are tired, or continue to Alton Lake if you would like some good small mouth fishing.
Day 5
A slow and lazy morning for enjoying your last day in the Wilderness. Try trolling a Rapala in Sawbill for some fresh walleyes to take home with you on ice. At your convenience, head to the trailhead for a hot shower and a cold beverage.