Recommended maps for this route: Sawbill Area West, Fisher F-5, F-11 and F-12 or McKenzie Map 20 and 21.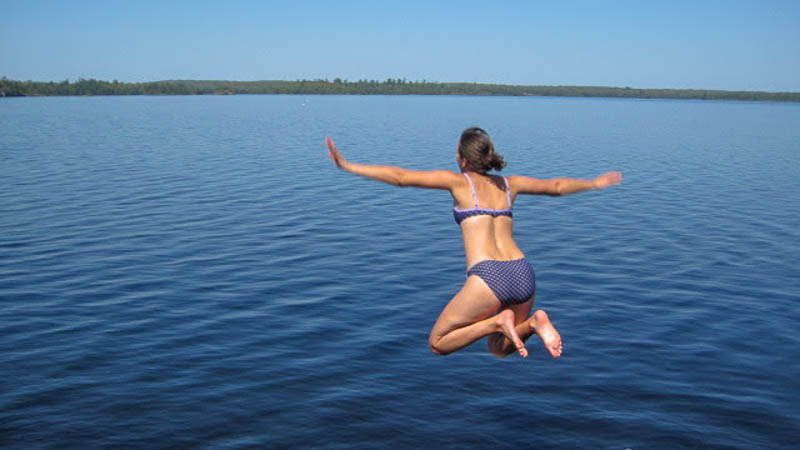 Day 1
This trip begins at Kawishiwi Lake, after a 20 mile drive from Sawbill. After you launch your canoes on Kawishiwi and round the first corner, you leave civilization behind. Paddle the narrow, slow moving stream, with three short portages, until you reach Kawasachong Lake. After lunch, you can tackle the 179-rod portage into tiny Townline Lake. A shorter portage brings you to Polly. Head north out of Polly through three portages of increasing length to Koma Lake. Be sure to fish for walleyes on Koma. Don't expect any big ones, but they are plentiful. One more short portage leads to Malberg Lake. Don't be tempted by the rapids that run beside the portages. Each set of rapids has a fatal flaw that has ruined many canoes. Malberg has many great campsites, so choose one and set up your tent.
Day 2
Leave your tent set up and take a day trip to the pictographs on Fishdance Lake. Throw some large red and white spoons around the Kawishiwi River as you go. Some of the biggest northerns you can imagine lurk here. The pictographs on Fishdance are small and faint, but serve as a powerful reminder of people's long history in canoe country. Archeologists now have evidence that places people living in this area 10,000 years ago! The word Kawishiwi itself is said to be roughly translated as "no land between" and hold spiritual significance for the Ojibwe people. It is, of course, bad form to touch the pictographs. Return to Malberg in time for some evening walleye fishing, bird watching, or just plain relaxing.
Day 3
Portaging northwest out of Malberg, watch for the wolf signs often seen on this portage. As you turn north toward Trapline Lake, you enter one of the most remote and beautiful routes in the BWCA Wilderness. If you are fishing, take a short side trip off of Beaver Lake (Elbow Lake on some maps) into Fisher Lake. Fisher is one of the few lakes in the BWCAW with large mouth bass. Bass up to five pounds have emerged from this small lake. These bass aren't as tasty as the walleyes on Adams, though, so catch and release is recommended. As you paddle up Beaver toward the portage into Adams Lake, you will think the map must be wrong. It looks for all the world like you will be required to portage up the face of a sheer cliff. Keep going, though, and at the last minute you will find a break in the cliff face which contains the portage landing. Camp on Adams for the night. Most people head for the island site, so try one of the back bay sites for solitude.
Day 4
Today will bring a number of rugged portages, so it's best to get an early start. The route from Adams to Boulder is easy to find and very scenic. The portage from Boulder to Ledge Lake is a bit confusing. Vee, Fee, and Hoe Lakes are very lightly traveled. Try not speaking or bonking your canoe for an hour and notice how much more wildlife you see. The last portage  of the day brings you to Makwa (mah´ – kwa) Lake. Makwa means "bear" in the Ojibwe language. The prettiest campsite is the one next to the large cliff face on the west end of the lake. If you look carefully, you can see a faint engraving on the sloping rock at the front of the site which says, "J. Bovard 1880." The other two campsites have better tent pads, so choose one and get set up for the night. Makwa is an excellent lake trout spot. Try fishing deep during most of the summer or even casting from shore in the spring and fall.
Day 5
Portage south out of Makwa through a series of ponds and small lakes to the Kawishiwi River. The Kawishiwi River side of the Malberg portage is a particularly scenic spot for lunch and a little bit of shore casting. Retrace your steps backwards from Day One until you're tired, then pick a campsite and relax.
Day 6
Return to the Kawishiwi Lake landing, tie your canoe on your car and return to Sawbill for a hot shower and clean clothes!