5/30/02 – We finally got some rain last night.
.45" fell during two waves of thunder storms between 3 and 4
am. The broad leaf asters are literally popping out of the ground
this morning. Yesterday the forest floor was brown and crunchy
and this morning it is fresh green and springy. There was a lot
of lightning with the storms last night, so the Forest Service is
checking carefully for smoke today.
5/29/02 – The extremely dry weather has prompted
the Forest Service to institute fire restrictions in the
designated blow-down area of the BWCAW. The fire restrictions
allow fires only between 7pm and midnight in the blow-down area,
camp stoves, however, are allowed at any time. Sawbill is included
in the fire restriction area. Areas east and north of Sawbill are
also included. Areas west of Sawbill, beyond Alton Lake, are not
included in the restrictions. A detailed description of the fire
restriction area can be seen on the Forest Service website, www.superiornationalforest.org.
5/27/02 – The weather has finally shaped up and
Memorial Day weekend has been sunny and warm. The marsh
marigolds, violets, and wild strawberries are blooming and the
buds on the trees are just beginning to pop open and let the tiny
new leaves out. As usual, with the advent of summer, the black
flies have made their first appearance. The crew has also started
showing up – Justin Hoekstra, Nathan TerBeest, Shannon Grace,
Jeff Green, and Laura Smith have all recently arrived – and more
are on their way. You may see a lot of familiar faces on the crew
this summer as everyone has worked at Sawbill before. This is
only the second time in Sawbill's history that this has happened.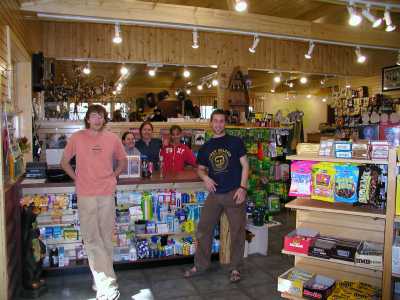 Some of the crew practicing their counter lean
in the new store – Jeff Green, Shannon Grace, Laura Smith, Clare
Hansen, and Justin Hoekstra.
Its been a bit stressful around Sawbill as Homer
the Dog has been very sick. He had a sore eye and began to limp
last week. These are the same symptoms that Sunnie had when she
got sick with Blastomycosis (a fungal infection which caused her
to loose her eye). Homer went to the vet in Duluth, who
determined that Homer does indeed have Blasto. He has lost the
vision in his left eye, but there is a chance that he will regain
sight in that eye when he recovers from the Blasto. He has been
started on medicine and appears to doing better in the last day
or two. -Beth
5/23/02 – Bill Hansen is running for the
Minnesota House of Representatives. Bill has been active in
Minnesota's Democratic, Farmer, Labor (DFL) Party for many years.
The state senator from this district, Doug Johnson, retired this
year and the local representative, Tom Bakk, is running for
Johnson's senate seat. The open house seat has attracted five
candidates so far on the DFL side of the ticket – including Bill.
There is an DFL endorsing convention on June 15th. Bill is
actively seeking the party endorsement. He has pledged to abide
by the endorsement process. The primary election is September
10th and the general election is November 5th. The legislative
schedule works pretty well for an outfitter in Minnesota. The
legislature meets in the winter, when we are closed.
Minnesota has very progressive public campaign
finance laws. Minnesota voters can contribute up to $50 to the
candidate of their choice and the state will reimburse them
fully. Candidates accepting public financing have limits on how
much they can spend and must disclose the names and occupations
of contributors over $200.
You can check Bill's campaign website
for details. After the endorsing convention, Bill will keep and
on-line diary of the campaign similar to this news letter.
5/20/02 – A big thank-you goes out to the friends
and former crew members who came up a few weekends ago and helped
move into the new building. Countless boxes were moved and
unpacked, all the equipment in the dome was brought over to the
new building, and many shelves were filled. Despite the cold and
rainy weather, everyone had great attitudes and worked like dogs.
We also had a good number of laughs, enjoyed a few beers, and
managed to find time for a couple of saunas. -Beth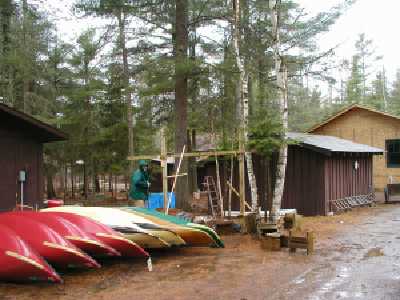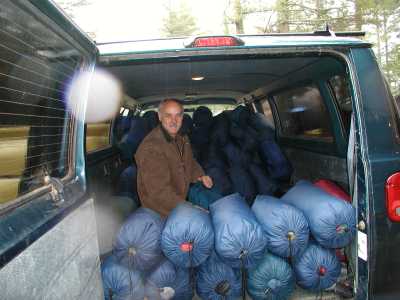 Ed Dallas, Sawbill's poet laureate, works on
his extra-sturdy clothes line…Former crew member, Bob Kubiak,
tries to find a comfy spot for a nap.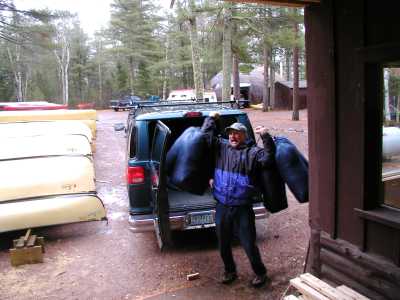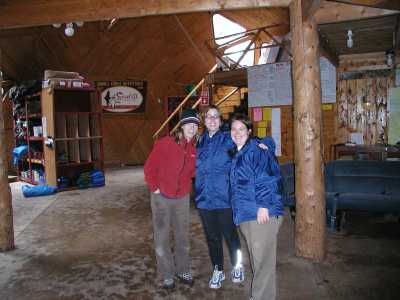 Tim Velner practices for World's Strongest Man
try-outs….Current crew member Betsy Moyer, and former crew
members Annie Strupeck and Michelle Thieman fondly remember all
the late night trip packing they did in the dome.
5/15/02 – Sorry for the long hiatus in newsletter
entries, but we have been extremely busy getting the new building
up and running. Construction is 99% done on the inside. Just a
few finishing touches required. We are hanging pictures, making
signs and carting all the stuff back in that we carted out last
fall.
Opening of fishing was generally cold, wet and
fishing was slow. In other words, a fine traditional Minnesota
fishing opener. I only heard of one lake trout and one northern
being caught. Ken Steffke, from Rosemount, and his group have
been fishing on the opener for over twenty years. They said this
was the slowest year ever for fishing. They thought the weather
was fine, even though there was snow on the ground when they put
in.
5/2/02 – There is a long standing tradition at
Sawbill that the first day the ice goes out, the crew jumps in
the lake. It is enthusiastically declared the opening of the
"Sawbill Beach Club". Two days ago we gritted our teeth
and decided it was the day to open the beach club. Although the
pictures make it look like a warm spring day, there was actually
a bitter wind nipping at our noses (as well as other body parts).
Homer and Bea looked interested but apparently had more sense
than us.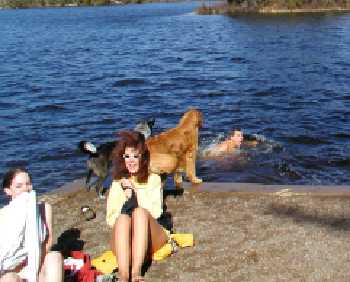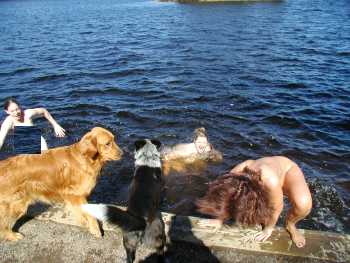 Bill can you say "shrinkage"?
………………………………………………. First
"swim" of the summer….its been a long winter.
After the ice went out and we pretended it was
summer, we received three inches of snow. Last night we had over
an inch and another couple of inches fell this afternoon. I don't
think it got above freezing all day. The Forest Service has been
doing fly-overs of the lakes and reports that Brule and Alton
still are ice covered and Cherokee has a small amount of ice on
it. Maybe the Sawbill will freeze again and we'll have to reopen
the beach club. Ummm, I think we'll wait until June. – Beth,
Betsy, Cindy, Dave
5/1/02 – The water was turning purple from the
sunset as we slid the canoe into the water. The large crystals of
ice that had surrounded the landing and sounded like wind chimes
in the waves had disappeared from yesterday. The dark calm water
welcomed us to the first paddle of the season. It took a few
strokes for our arms and our balance to remember what this was
like. Betsy and I caught up with a loon pair and they allowed us
to get within 20 feet. Their gentle clucks back and forth to each
other were a sharp contrast to the sound normally heard from
loons. After a few moments, one of the loons belted out his
well-known call and we heard it echo for a few stretched out
seconds. The call must have made it all the way to Burnt Lake to
the east and past Alton to the west. We reached the Alton portage
and glided up to the shore. Every movement seemed loud in the
deep stillness of the evening. A large snowdrift greeted us at
the Alton side of the portage and, as we scrambled over it, we
were surprised to find a solid sheet of ice still covering the
entire lake. No path was open to even wind around the lake. It is
still winter on Alton Lake. While standing on the shore, we heard
a strange low whine coming from the opposite shore. We debated
whether it was wolves or moose. It was so faint, but a thrilling
sound irregardless of the origin. We headed back over the portage
to where it was spring again. Neither of us spoke much on the
paddle back, and then only in whispers – neither of us wanting to
pollute the silence. – Beth