7/31/99 – A party camping on Alton Lake noticed an injured
loon. They pursued it in their canoes and fairly quickly cornered
it against shore. Its beak was tightly wrapped in fishing line
and it had a broken lower jaw. They removed the line, placed the
large water bird in a cooler and brought it in to us. We called
Laura Erickson, who is a bird physiologist and radio personality
in Duluth. Laura advised that it would need surgery at the Wildlife
Veterinary Center, University of Minnesota , St Paul. A few more
quick phone calls and a plan fell into place. Dale Stephens, a
Sierra Club group leader who was just returning from a canoe trip,
agreed to transport the loon to Laura Erickson in Duluth. The
Northwoods Audubon Center in Sandstone, Minnesota, volunteered
to meet the loon at Laura's house and transport it to the clinic
in St Paul. Laura applied expert first aid and provided advice
for hydration and emergency feeding. The Audubon folks documented
where the loon was found so it can be returned to its proper territory
if it survives. We'll keep you posted. – Bill
7/29/99 – Although we have not heard officially, it is likely
that the Forest Service has ceased the use of chainsaws within
the wilderness on the Tofte District. This includes most of the
areas that Sawbill customers normally visit. This is consistent
with their normal policy of using non-mechanized methods for maintaining
portages and campsites. The law clearly give them the option of
using power tools, but they generally avoid it, out of respect
for wilderness values.
Ed Dallas, Sawbill's Poet Laureate, is starting a trip out
of Sawbill today with his family. If, in the next week, you encounter
a large bearded man exclaiming poetry on a portage somewhere north
of Sawbill, then you know you've found Ed. – Bill
7/26/99 – We had a little scare last night when the Forest
Service called to warn us about a large storm headed our way.
It was moving in from western Minnesota with 100 mph winds, funnel
clouds sighted, and large hail. With the July 4th storm fresh
in our minds, we took the warning very seriously. We notified
everyone we could contact, moved our vehicles to the center of
the parking lot, and started tracking the storm on the web. Fortunately,
it dissipated before it got here and we got by with a few jolts
of nearby lightning and a quarter inch of rain. Cooler air moved
in behind the front. It is good to see people in long pants and
flannel shirts again. – Bill
7/25/99 – The beautiful weather has put a smile on the face
of all canoeists and kept the Sawbill crew hopping. When the weather
is perfect, everyone shows up on time, stays out as long as they
can, and lingers on the porch enjoying the afterglow of their
wilderness time. The only complaint is the decline in fishing
success, which is inevitable with warm, sunny weather. – Bill
7/20/99 – Mushrooms are congregating in the forest. In the
past few days, bulbous lumps of color broke through the brown
duff and are cooling under the large leaf asters. They stand mutely,
as curious and enticing as knobs or dials on an alien dashboard.
I cannot pass one without bending down, checking for gills or
pores, feeling the cool texture of the caps, and sniffing the
moist, earthy perfumes. Inevitably, close inspection of one mushroom
leads to the discovery of others. Long, wispy tendril like mushrooms,
corals, or bright emerald green caps coated with slime – I roll
to each on soggy knees, carried by the thrill of color and shape,
carried like the spores on the winds of discovery. Yesterday,
gorgeous specimens of Fly Agaric dotted the path behind the shower
house. I wanted you all to see their beauty. The second picture
is a strawberry's tattoo of spore. Colorful, delicate spore prints
like these are a treat, part of the rich rewards that is the study
of minutia in the Northwoods. OB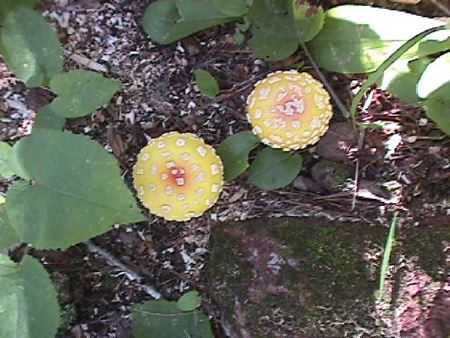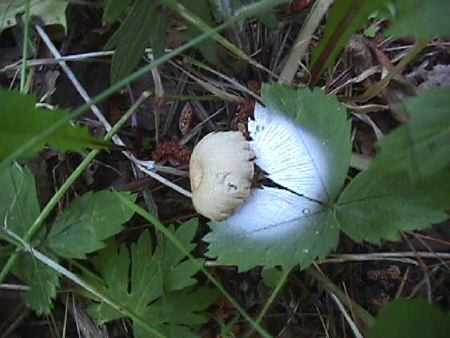 7/19/99 – One pleasant side effect of the big storm is the
wonderful smell in the air. Those of us lucky enough to live here
don't normally notice the pine scented air, unless we have been
away for awhile. Now, with all the disturbed vegetation, the piney
odor is so strong as to be unmistakable. Also, the air seems remarkably
clear these days. The sky is sharply blue and the clouds achingly
white. – Bill
7/17/99 – Life has returned to normal (whatever that is) after
the big storm. The tadpoles are sporting legs, grasshoppers are
clacking around the parking lot, and the blueberries are just
starting to come ripe on the southern exposures. At dawn, the
ravens have long and complex conversations with each other. They
discuss the day's activities, tell a few jokes, laugh raucously,
and fly off to work shouting encouragement to each other. – Bill
7/14/99 – The Minnesota Department of Natural Resources has
produced some beautiful maps
of the storm damage and the ongoing work to repair campsites
and portages. They also have a cool
satellite view with the storm damaged area superimposed. The
latest word from the Forest Service is that all the routes within
normal canoeing distance from Sawbill are open, except for the
Louse River, the Frost River, and a few dead end lakes. We expect
that the Louse and the Frost will be cleared quite soon. They
are probably possible now, if you allow extra time.
The Forest Service announced yesterday that they will issue
no new permit reservations for Brule Lake entry until more campsites
have been cleared. They will honor all existing reservations.
Additionally, they will not issue tickets to people camped on
undesignated campsites if they have made a reasonable effort to
find a designated site. Everyone needs to remember that human
waste should be deposited at least 150′ from the nearest lake,
campsite or trail and should be buried 6" deep. The immediate
area should be "naturalized" by spreading needles and
leaves to match the surrounding terrain. Fires are still allowed
only in the fire grates provided at designated campsites. If camping
on an undesignated site, or if the fire grate is not accessible
at a designated site, you can use camp stoves only for cooking.
– Bill
7/11/99 – The Forest Service is throwing a lot of resources
at cleaning up the damage from last week's storm. Portages in
our area are in fairly good shape considering the intensity of
the storm. By the end of today, the Lady Chain and Cherokee Loop
routes should be clear. We have yet to hear specific reports on
the Louse River or Frost River. We have heard that the portage
into Frost from Gordon is clear and the portages out of Malberg
into Boze are in good shape. Hog Creek to Perent Lake is clear.
There was lots of damage over by Brule, reports former crew member
Ellen Locke and her boyfriend Greg Bagnato. They just returned
from a trip to Davis and over to Winchell. They only encountered
eight windfalls on the portage from North Cone into Davis. Everything
else had already been cut by Forest Service sawyers. Ellen and
Greg were tan, relaxed and impressed with the power of the storm.
Greg reports that the massive cedars on the Lily portage trail
were knocked down. These are beautiful, gnarled cedars, and I
was sad to hear the news. However, they will lay on that ground
long after my grandchildren are dead – I will just have to discover
a new aspect of their form. Many portages are still not checked,
so plan on stopping in and chatting with us to receive the most
recent information. Campsites are in various states – some usable
some not. Plan on finding a camping location earlier in the day
than usual. Camping is still only permitted on designated sites.
– OB
Here at Sawbill we continue to clean up from all the blow down.
We have had fun counting tree rings on the fallen trees. The sky
is much more evident around here and has been blue and sunny for
the past two days. The huge, beautiful white pine that we lost
in front of the store left quite a large tipped up stump in our
picnic area. Peter Hall, a local logger, was nice enough to help
us with some clean up. He is pictured here wrestling the old giant
out of the ground. The roots were massive, and when all was done,
a deep, brown hole was all that was left after a hundred years
of life. OB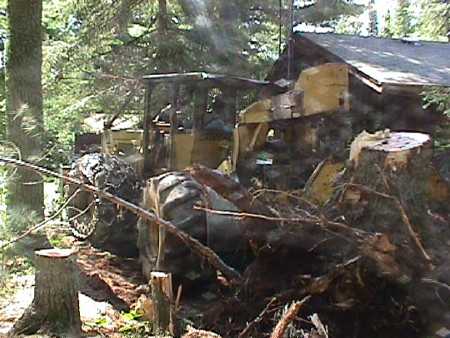 – OB
7/7/99 – Now that we've had time to assess the damage from
Sunday's storm, we are counting ourselves very, very lucky. Although
many trees went down here, in the campground and in the wilderness,
it appears that no one in this immediate area was hurt. One family
on the campground had two tents set up on their campsite. When
the storm hit, they all dived into one of the tents. The other
tent was totally destroyed when two huge trees fell across it
moments later. Another group was driving over to Kawishiwi Lake
with two canoes on a trailer. A large tree fell right across the
trailer, destroying both canoes. Our worst loss here at Sawbill
was our largest and most beautiful white pine, right by the picnic
table in front of the store. It uprooted and fell just a couple
of feet from our communication tower guy wires. – Bill
Almost everyone who was in the BWCA Wilderness came out and
went home on Sunday. However, several groups began canoe trips
yesterday and this morning. Gary Robinson, wilderness ranger,
went up to Cherokee and west and east as far as Beth and Burnt
Lakes yesterday. He said the portages were difficult, but usable.
– Bill
The Duluth News Tribune is reporting that 19 people were airlifted
out of the wilderness with injuries. No deaths have been reported
in the BWCA Wilderness, but a few of the injuries were severe.
– Bill
7/5/99 – Things here are busy and a little hectic. We had a
thunderstorm pass through here at about 2:00 p.m. yesterday afternoon,
which lasted about a half an hour, with tornado-like winds and
heavy rain. It took a lot of trees down and the Sawbill Trail
was impassable until about 7 p.m. last night. There have been
no injuries reported so far and all campers and Sawbill crew are
accounted for. We are all a little weary, as this twist of events
on the 4th of July has added more excitement to this normally
peaceful place. It is events like this that bring to our attention,
once again, to the awesome force of Mother Nature.
Incidentally, Bill, Cindy, and their children are on a family
vacation in Canada and John Oberholtzer, known to many as OB,
is in Michigan at a family reunion. Needless to say, the exciting
stuff happens when the Hansens leave! The melodious sounds of
chainsaws drift this way as I sit here and survey the damage done
by the storm. Luckily, no one was hurt, and the forest smells
of a Christmas Tree farm with many cut pine trees lying amidst
the forest floor. The adventures of yesterday blend in with today's
work, and the telltale stumps of the trees that fell will soon
be all that reminds us of these exciting events. LTB, NW, EF