4/30/01 – What a difference a few days can make. Sawbill
Lake's ice cover measured only 12" last night, only half of
what it was just three days ago. The snow is all gone except for
piles where the drifts used to be. A week ago we were slogging
through 6" of fresh snow in our pack boots. The high
temperature yesterday was 77 degrees and the low last night was
57. With warm weather forecast all week, the ice could be gone in
just a few more days. – Bill
4/26/01 – The lake ice measured 24" this afternoon, but
the top 18" is watery slush. Only 6" is hard ice. The
ice is detached from shore and floating. I needed to use a canoe
as a bridge to get out to the ice pack. I discovered the 18′
slush layer by trying to step out of the canoe and immediately
sinking nearly to my knee in nature's slurpee. The ice on one of
the small ponds along the Sawbill Trail will probably go out
today. – Bill
4/24/01 – With 3" of moisture and 6" of fresh snow,
the lakes and rivers are brimming with water. Although the rain
must have degraded the ice somewhat, it is still 25" thick
this morning. If you have an early May reservation, don't panic
yet. The weather forecast is for very warm weather for the
foreseeable future. I was tempted to set a ski track on the
campground roads this morning, but by 9 am melting had already
begun. The skis are put away and I guess that is where they
should stay (sigh).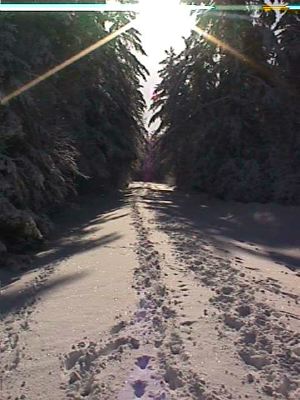 Looking from the canoe landing back toward the
store at 9 a. m.
4/19/01 – The ice on Sawbill Lake is 27" thick.
4/18/01 – We received our annual truckload of new Wenonah
Kevlar canoes yesterday. Each canoe comes wrapped in shrinkwrap
plastic. When it is removed from all the canoes, it forms a
dumpster sized pile of waste. The only empty dumpster at Sawbill
is down in the campground, accessible only by unplowed roads,
still covered with 18" of snow. Our solution for
transporting the waste was to load it into a Royalex canoe and
tow it with the snowmobile. This works surprisingly well. The
plastic canoe slides easily over the wet snow and its shape makes
it track perfectly behind the snow machine. Carl, Clare, Beth and
Justin all took turns riding in the canoe while I drove. The
sheer silliness of it was cause for much hilarity. Sorry, we were
having too much fun to stop and take a picture.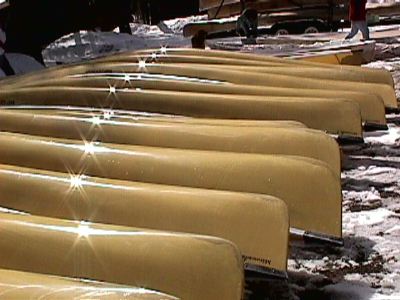 Brand new Wenonahs in the sun.
4/17/01 – We had 4" of new snow, the temperature didn't
get above freezing yesterday, and the low last night was 14F. I
skied up Sawbill Lake yesterday into the teeth of a 30 mph wind.
It took me half an hour to get to Kelso Bay and fifteen minutes
to get back. Along the west shore there were a few spots where
last week's warm weather had opened up some water. The blowing
snow had turned this open water to slush. As I skied by, an otter
popped up through the slush about six feet away. I don't know
which of us was more surprised. The otter ducked back under the
ice and did not reappear. This time of year they can travel great
distances under the ice by breathing from air pockets that are
trapped on the underside of the ice.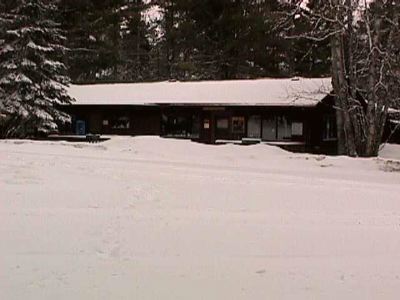 Sawbill Canoe Outfitters 4/16/01
4/13/01 – Carl and I measured 29" of lake ice right in
front of the canoe landing last night. As we drilled the hole we
watched an otter run down the length of the opposite shore – run,
run, sliiiide, run, run, sliiide… The ice is not very solid,
except for the bottom twelve inches or so. We'll be reporting the
progress of the ice melt every few days for awhile. As ice out
day draws near, we'll do a daily report.
The second Sawbill crew member has arrived for the season.
Justin Hoekstra is from the Chicago area and is the younger
brother of former Sawbill crew member Erik Hoekstra. He will be
attending the University of Illinois, Chicago, in the fall.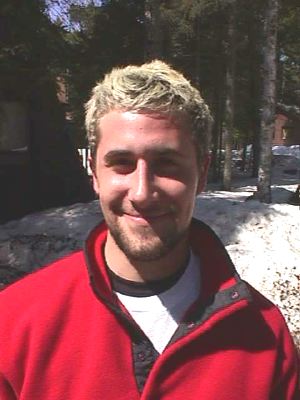 4/11/01 – The first Sawbill crew member of the season has
arrived. Beth Rolf has most recently been living in Minneapolis,
but is originally from Glencoe, Minnesota. Welcome Beth.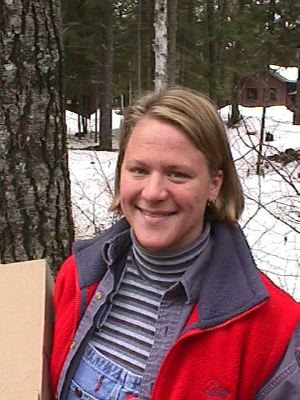 4/7/01 – At 6 AM this morning it was pouring rain with 30 mph
winds and the temperature hovering at 34 degrees. I am guessing
we've had well over an inch of rain in the last few hours. The
snow, which was 30" deep less than a week ago, dwindled to
20" yesterday and is down to 12" today. This is the
most unpleasant and dangerous weather that this part of the world
has to offer. It is much easier to deal with 30 below than this.
I spent 15 minutes cleaning pine needles out the gutters this
morning. Even in that brief time my shirt was getting wet under
my rain suit and my fingers were numb and fumbling. This is one
of the very few mornings that I was actually grateful to not be
camping.
We've received many expressions of sympathy since Gust's death
on Thursday. Thanks to everyone. Here are a couple of samples.
Eric Frost writes from Katmandu, Nepal:
Hi Sawbill -Perhaps the greatest gift to my outlook on life
was seen through a dog's smile. Guster was a fully doctrinated
professor of the courses in relaxation. Walking through the
campground with him taught me the beauty of slowing down and
letting life catch up at it's slower speed. He saw new leaves on
trees and stopped to nap at them, not out of exhaustion, but
rather out of appreciation. He appreciated the cold floor of the
Dome, even when CO+ groups of 9 were wondering what they had
gotten themselves into. It was only through a simple wag of the
tail that showed his genuine gratitude of being fed from
abandoned fire grates and being able to dig his nose in a rotting
birch stump. He was content in his lot of being a scavenger (of
which I think perfection is too weak of description), knowing
that Carl or Clare would still feed him at the end of the day. He
didn't seem to care that the world was seemingly passing him by.
Maybe it's just the fact that I admired him for remembering me
summer after summer. Nonetheless, he's more noble of a character
than most of my duo-pod friends. He's a loss not only to Sawbill,
but to those who he taught the righteousness of the humility
which he took in every step: good dog, and a great friend of
mine. – Frosty
And this from the Freiermuth family:
We are terribly saddened by the news of Gusts passing. Gust
was an inspiration to dog lovers. It was his good nature that
convinced us to get a Golden Retriever (Elmer) that is now almost
9 years old. Sawbill was made a destination of ours at times over
the years because the kids wanted to see and feed Gust. He never
failed to show up at our campsite and in the true spirit of the
wilderness, left it better than he found it through his kindly
spirit and friendliness. Even in his death, Gust brings to us a
reminder of the reality and fragility of life and an appreciation
of what we have. When all of Gods kindly animals gather together
someday, they'll call Gust BOSS. – The Freiermuths, Gary,Deb,
Alison and Nick
4/6/01 – Many of you will be sad to hear that Gust, our large
affable golden retriever, died yesterday evening. He drowned in
Sawbill Lake after falling through a hole in the ice near the
headwaters of Sawbill Creek. Gust had fallen through the ice
before, but he was always able to touch bottom and could easily
jump out. This time, the ice broke in a way that trapped him over
deep water and he succumbed to cold and fatigue.
Gust live the most perfect life a dog could ask for. He never
knew the leash or the kennel. His backyard was an unbroken
wilderness larger than several states. He had hundreds, if not
thousands, of people who petted and loved him. He was a genius in
two distinct fields of endeavor: He had an amazing ability to nap
often and hard; and he was the best campground moocher that ever
lived. He had perfected the art of looking starved and pitiful
while actually being grossly obese. He was the most mellow of
souls. He never had a fight, was infinitely patient with toddlers
and puppies, and exuded a quiet dignity. He will be sorely missed
by all.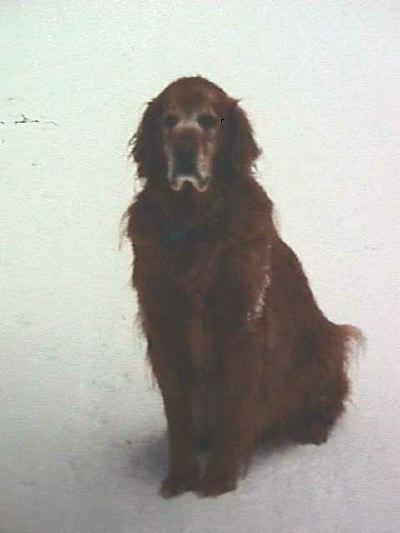 Gustavus Adogus Hansen 1990 – 2001
4/3/01 – Beautiful spring weather is here today. At 7 PM it is
still 45 degrees. Although the snow is settling fast, we still
have about 30" on the ground. We are starting to get
inquiries about the projected ice-out date. It is always
dangerous to predict ice-out. Within the next week or two we'll
start posting regular updates on the ice thickness. Right now it
is more than two feet thick. We are enjoying the frozen surface
for skiing and kite flying.