7/31/01 – Ed Dallas, the poet laureate of Sawbill, was here
with his wife Julie for a canoe trip last week. He sent the
following email this morning:
Here is the list of things that I had in my trash bag, found
at the
campsites we camped at on the trip:
1 shotgun shell
3 lead sinkers
1 penny
1 fishing lure
3 rubber body Mr. Twister Tails
27 twist ties
24 inches of nylon utility cord
12 cigarette butts (all found at one campsite on Kelso Lake)
18.4 yards of fishing line
7 gum wrappers
2 rubber tips off of something
1 broken ear piece from a pair of sunglasses
1 weedless fishing hook
It might be interesting to know the list of things others find
while on
their canoe trips.
You remember the haiku I was telling you about that I was
having trouble
coming up with the last line (5 syllables)? Well, do you think
you could post
it on the newsletter and see if the loyal readers might come up
with that
last line? It came to me as I saw the different colors on the
rocks near
portage trails and campsites.
modern rock paintings
red, green, silver marks left by
I need that last line, I have thought of many but none seem to
say what I am
looking for.
Have a good one and try to stay cool,
Ed
7/29/01 – Our old friends from the First Congregational Church
of LaGrange are here in force this morning. The Zackley Youth
Group from the church have been canoeing through Sawbill for more
than 30 years. We are now well into second generation Sawbill
canoeists and may soon be seeing a third generation.
Former Sawbill crew member Laura TerBeest Strubbe was just up
for a short visit. She brought along her baby daughter Tori for
her first Sawbill experience.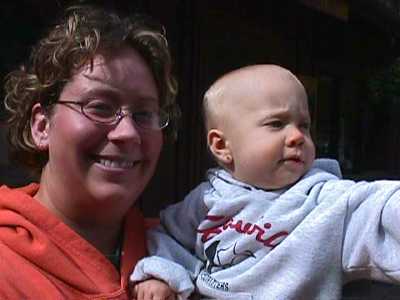 Laura and Tori
7/27/01 – Adam and I just returned from a short sea kayaking
trip in the Suzie Islands on Lake Superior. The Suzies are just
off the easternmost point of Minnesota near near the Grand
Portage Reservation. We spent three relaxing days exploring the
rugged islands in this great inland, fresh water sea. We caught a
few lake trout, explored an abandoned turn of the century copper
mine, and tested our paddling skills in the powerful Lake
Superior waves. One night, we practiced self rescue from an
overturned kayak. The 40 degree water sure does motivate you to
get back in the kayak as soon a possible. On the last day we
paddled 18 miles down the shore to the small community of Hovland
where we mooched a ride back to our car in Grand Portage. It was
a fine little father-son trip before Adam leaves for a year of
study in Kenya. – Bill
7/25/07- If you are heading to the Boundary Waters soon, get
in the water. It
feels fine, fine as cherry wine.
At a constriction in the river, I found some cool water repose. I
had
been paddling on the North Brule River under an unforgiving sun.
The
bottom of the canoe was burning my feet. I took off my clothes
damp
with sweat and lowered into the river: instant relief. I sighed
and
smiled, my body tingling as from the embrace of a loved one.
Reclining
into a crevice in the rocks, I was treated to the full force of
the
current. Water pummeled and rode over my shoulders, big sprays of
it
fanning over my head. I braced my feet and the current conformed
to my
back, holding me like a chair. There I sat. At that level, where
the
river is frantically navigating through a maze of rock, the water
is
never quiet. It roars and cheers, a din that blocked the sound of
my
voice. In that capsule of cool and sound, the surrounding forest,
cumulous clouds and hot sun were distant, like on a movie screen
or
encased at a museum. The water was everything, and when I
submerged my
head and closed my eyes there was in the dull roar a dual
sensation. At
once, the experience was as comforting as the womb and as
uncaring as
the age of the earth and stars.
I stayed in the water as long as I could. Though the water
temperature
is gorgeous, it eventually made me shiver. I stayed a little
longer,
hoping the cool would deeply penetrate where it might be stored
to
sustain me during the paddle home. I rose pruned and clammy and
sprawled across a hot rock. The residual water on my body pressed
against the rock felt like steam. My backside rapidly baked dry
under
the sun. A breeze passed through the hair of my body, and the
feeling
evoked dreamy images of the beach and then a wheat field. The
scents of
the tannin water and my sun-dried skin commingled in a pleasing
bouquet. I lay there wondering if there were any activity I would
rather be doing – thought of nothing. I considered my recent
worries
and concerns – they seemed petty. I thought, just keep doing
this, pile
on this kind of experience. The rest will fall into place. OB
7/20/01 – We received word this morning that the fire ban will
be lifted at midnight tonight. In the blow down area, fires will
be allowed between 7 p. m. and midnight only. Everywhere else,
fires will be allowed in the fire grates any time.
7/17/01 – We received this email from Steve Gendron today:
Hello Sawbill Friends. Having just completed the 2001 Loon
survey for the
DNR I thought you might enjoy my findings of the seven lakes that
my son
and I counted.
1) Sawbill- 8 adults, 1 juvenile
2) Burnt 4 adults, 2 juveniles
3) Flame 1 adult, 2 juveniles
4) Smoke 2 adults
5) Fourmile 1 adult
6) Richey 2 adults
7) Fox 0
Interestingly, last year's survey produced the same total,
although we saw
one more juvenile this year. I was a little perplexed to see only
one adult
with the juveniles on Flame lake, but perhaps the absent parent
was over at
another lake visiting or at the Sawbill store checking out your
candy
selection.
And Bill, the Minnesota II I bought in March worked great,
especially after
I added 40 pounds of rocks to the bow to compensate for my 8 year
olds
rather thin frame. Thanks and take care.
We also took the infamous Sawbill crew picture today. It is
always a big project to get all of us together in one place at
one time. We also had the annual Sawbill crew Dome Dance last
night. As he has many times in the past, Terrence Smith, dance
caller extraordinaire from Duluth (and father of current crew
member Laura Smith) kept us all swinging, circling and dosey
doeing until the wee hours of the morning. Pine Wilson, mother of
current Sawbill crew member Beka Wilson also called a few fun
middle eastern dances.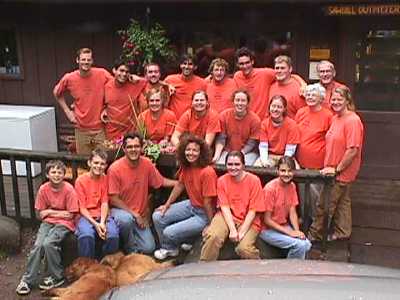 Sawbill Crew 2001
7/15/01 – The pervasive dust has been replaced by puddles this
morning after an all night soaking rain. It is just in time to
quell the mounting fire danger and provide the blueberries with
their last shot of moisture before ripening. The lightning
associated with last night's storm will keep the Forest Service
wary for a couple of days, but the soaking rain should have
quenched any strikes.
7/11/01 – Fire Ban in BWCA Wilderness. We just received the
following from the U. S. Forest Service:
In response to abnormally dry weather and extreme fire danger
levels in the
Arrowhead Region, the Superior National Forest, Minnesota State
DNR, and
local authorities will soon implement measures to reduce the
potential for
wildfire starts in the area. The area of concern extends beyond
the
blowdown. Specialists at MIFC are closely tracking fire
conditions.