9/27/04 – Sawbill Outfitters will begin taking reservations for 2005 on the handicapped accessible campsites here at Sawbill Campground as well as Crescent Campground on October 1, 2004. We manage two handicapped accessible sites, H1 and H2, on the southern shore of Sawbill Lake, and one site, #9, at Crescent. All other campsites will continue to be first-come, first-serve. Please call (218-663-7150) or write (info@sawbill.com) to make a reservation.
Sawbill employee Jasmine Hanson returned from vacation yesterday sporting a rather auspicious towel around her wrist. With great dramatic flair, she revealed a brand spanking new tattoo last night at approximately 8:04 p.m. CST. Although we were all rooting for the Sawbill logo, she opted instead for something resembling a leafy bracelet. Not a bad choice.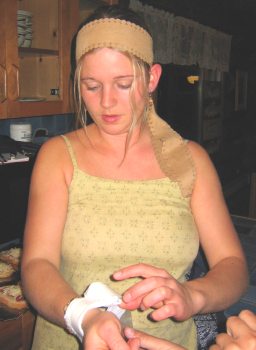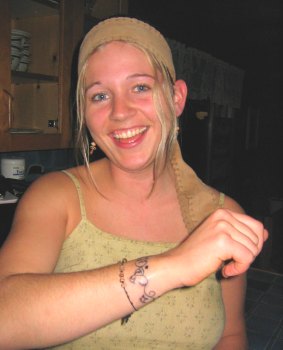 Sawbill employee Jasmine Hanson unveils her latest section of body art.
9/23/04 – Sawbill's annual used equipment sale has begun! I've organized these sales a few times now, and this year's batch of equipment is in excellent shape, especially the canoes. Thank you to our customers for taking great care of our stuff over the past few summers. Check the Used Equipment Sale Page for details!
9/22/04 – There has been a lot of activity this week, and I feel bad that I have not been able to update the newsletter more often to keep everyone up to date. One big event that is coming up is our annual used equipment sale. Bill and I have been busy getting canoes ready for sale and Adam and Ruthie have been busy sorting through all of our equipment and pulling out items to sell, and the equipment sale will officially start tomorrow! Below are a few photos from this week to give you an idea of what has been going on. – Dave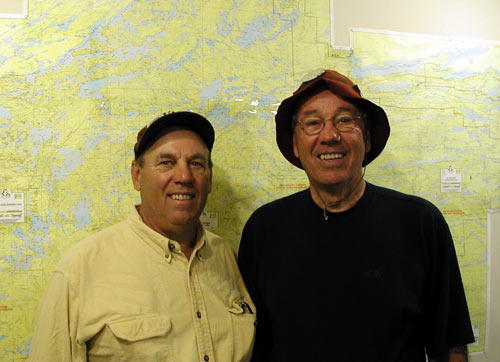 Dave Schuldt (right), and his brother, Don, came up on a trip this week. This was Dave's 46th trip and he was figures that he has spent almost a year in the boundary waters when you add all the trips together! Dave was a campus minister at the University of Iowa for many years and he has introduced over a thousand people to the BWCAW over the last 45 years.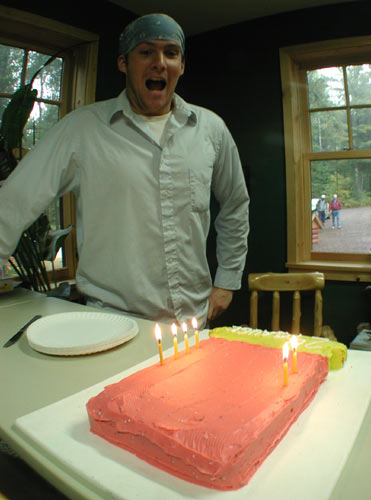 Sawbill's very own Adam Hansen takes a lungful of air before blowing out the candles on his 24th birthday (yesterday). Cindy made him a wonderful cake in the shape of a 24 gauge shot gun shell complete with candy Bee Bees.

Yes, another picture of Penelope, the six week old puppy that graced Sawbill with a surprise visit from Alaska last week. Everyone always asks what our miniature Timberline Tent is for. Well, it is a puppy tent of course!
9/20/04 – On Saturday I was greeted by the pop..pop..pop..of a grouse hunters shotgun, and the crisp, clean, sweet smell of fallen leaves. Sunday found me climbing all over a pile of logs, as I bucked up firewood to be split and stacked at a friends wood cutting party. Today, Laura Smith, a former crew member, and I snuck out for a few hours of paddling through the wild rice covered marsh lake. When I mull the last three days over in my mind I come to two conclusions, Fall is here, and Fall is my favorite time in the North Woods. Of course, after a moon lit ski on a crisp winter night, a day of lake trout fishing in the spring, or an afternoon of blueberry picking in August, I might choose a different favorite season. However, this week Fall is my favorite season and for good reason. In the Fall the boreal forest bursting with a colorful array of activity. A giant party before ice and snow cover the land for a long cold winter. – Dave
9/19/04 – An extremely cute little puppy wandered into the store this afternoon. Penelope, a six week old black lab and chow mix from Alaska had a lot of fun snipping at Homer's tail and wandering around beneath Sunnie like she was a jungle gym. -Ruthie

Penelope wants to rub noses with Homer, but she can't reach that high!
9/18/04 – This morning marked the opening of grouse hunting season. As Adam and I prepared for our first early morning walk through the woods of the hunting season I was reminded of our last grouse hunting experience, which unfolded during a seven-week dogsled trek through Northern Manitoba last winter. As we loaded 600 pounds of dog food, 300 pop tarts, a canvas tent, wood stove, sleeping bags, six sled dogs and all the other necessities into our truck for the thirty hour drive from Tofte to Norway House, Manitoba, we were unsure of the regulations for bringing a firearm into Canada, so we decided to leave Adams trusty 410 shotgun/ 20 rifle combo named Steve behind. We figured if we wanted to hunt grouse or rabbits along the way we could probably buy a gun in one of the remote villages we visited along our route.
We knew immediately after leaving Norway House that we were missing out on some tasty meals. In the winter the sharp tailed grouse often perch in black spruce trees and they are very reluctant to fly away in the deep cold. At night in the comfort of our warm tent we would tally the birds we could have easily shot. When we reached St. Teresa Point after two weeks of travel our tally was up to 10 easy birds, and many more maybes. As we entered the village we were immediately taken to the local TV station for an interview. We parked our team outside and went in for our hour-long TV stop. It was sort of like being on Larry King Live, where callers called in and asked us questions, except our host was translating everything we said in to Cree. We mentioned several times that we were looking for a shot gun to hunt grouse, or chickens as they the locals called them, but the only offers we got were a high powered rifle, and a bow with arrows. Our search continued for three more weeks, during which we visited two other communities and saw many more birds. By this time we were desperate, and our new friend Hector, a member of the Royal Canadian Mounted Police in Gods Lake Narrows came up with a plan. He was flying to Winnipeg in the morning, and if we delayed our departure from Gods Lake Narrows by a few hours we could pick up a pellet gun that he purchased in Winnipeg and shipped back on the planes return flight. The thought of fresh grouse meat to go with our smoked caribou meat and fresh Lake Trout was too much to pass up so we agreed to Hectors plan.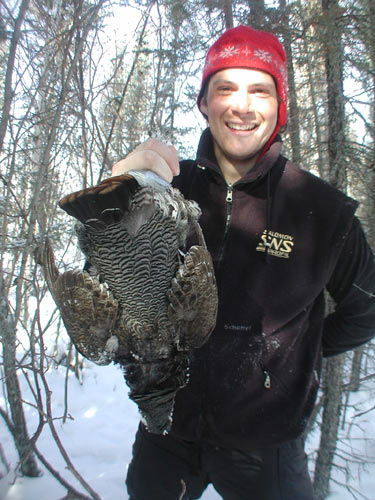 Adam proudly displays the grouse he shot with a pellet gun in Northern Manitoba last winter.
We set off from Gods Lake Narrows with one CO2 hand gun, 1,000 rounds of pellets, and forty CO2 canisters. After sighting the gun we were ready for some grouse stew! The next day I caught a glimpse of a grouse as it few into a thick stand of black spruce along the trail. Adam and our other travel companions were several minutes behind me so I told the dogs to be QUIET and snuck back into the woods to find the grouse. Giddy with excitement, Adam loaded the eight round magazine of pellets into the air gun and I kept my eyes fixed to the bird sitting motionless in the tree fifteen feet above my head. Adam crept up next to me, took aim, and POP the bird fell to the ground. Adam pounced on the bird, wrung its neck and we had grouse for dinner. It works, it works the pellet gun actually works!" That night, we set up camp and we cooked up a tasty grouse stir fry, savoring the each hard-won morsel of grouse meat. I will never forget that grouse, but I think Adam and I will leave the hand air gun behind and carry shot guns into the woods this Fall. No grouse were shot by the Hansen hunting party this morning, but there is always tomorrow. – Dave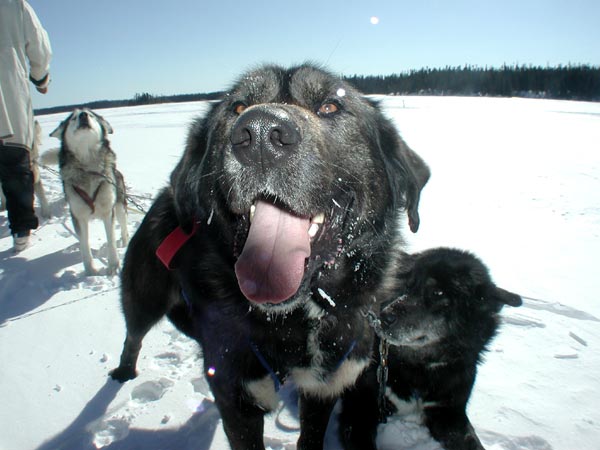 Fennel, Adam's favorite, and his 5 brothers and sisters gobbled up the head, guts, and feathers of the grouse making sure nothing went to waste. If you would like to see more photos, videos, and journals from our adventure last winter click here!
9/16/04 – It has been a great summer for me. I was rarely at Sawbill but spent six months traveling all over northeastern Minnesota in search of votes. Losing the Democratic primary election against an entrenched opponent was disappointing, but the overall experience was great fun. By the first of September we had nearly 800 volunteers and contributors. All were intelligent, good hearted people who really care about making their community – and its politics – better. I am not personally discouraged and will continue in public service where ever I can best help out. Thanks to everyone who expressed support and encouragement. – Bill
9/15/04 – I've just returned from Bill's election-night party, and I'm sorry and disappointed to report that the results do not appear to be going in Bill's favor. Not all of the precincts are reporting yet, so I'm still holding out a glimmer of hope that the tide may turn– after all, this time two years ago we all thought Bill had won, and it wasn't until the vote counting was completed that it became clear that he had come in an extremely close second. Despite the apparently glum outcome, the overall mood of the party was optimistic. There were many supporters present, and it was heartening to see so many good people working so hard for something they believe in. I'm at a loss for what else to say, and I hope that Bill will see fit to post something in this space himself within the next week or so. -Ruthie
9/14/04 – I've received several requests to post more pictures of two of the most beloved members of the Sawbill family– Golden Retrievers Sunnie and Homer. The dogs are having a good Fall so far. They spend most of their time lounging in the sun on the back porch, nosing around behind the store counter until someone reaches for the cookie box, and making occasional excursions to the campground to socialize and put on their most convincingly pathetic starvation faces to try to con campers out of a spare hot dog or marshmallow.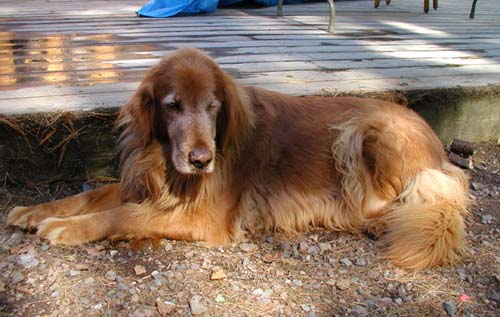 Sunnie (above) is the older of the two pups. Her eyebrows and muzzle have begun to gray, which is the easiest way to tell her apart from Homer. Sunnie's left eye was surgically removed a few years ago after a nasty infection. She's recovered well and trains regularly to get back in pre-surgery cookie-catching form.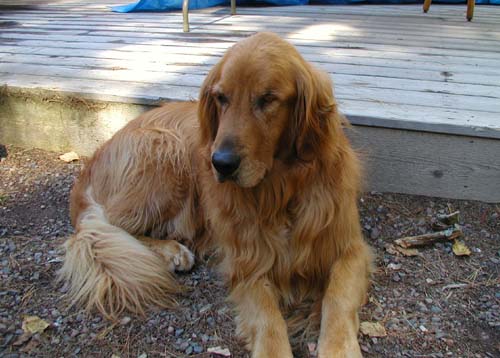 Homer (above) also lost his left eye to an infection, several years after Sunnie lost hers. Homer's cookie-catching skills lag far behind those of Sunnie. His strategy is to wait it out and let the cookies fall where they may before snapping them up, even if that means letting the biscuit bounce off of his face before it hits the floor. People often imagine that Homer takes his name from Homer Simpson or the great Greek poet Homer. In fact, he is named after BWCA entry point #40, Homer Lake. Homer's favorite attention-getting maneuver, known as "the carwash," involves nosing up between someone's legs, then squeezing himself all the way through to the other side. His nicknames include Muñoz, Homeboy, and MC Homer. -Ruthie
9/13/04 – Tomorrow is primary election day in northern Minnesota. Bill Hansen is running for Minnesota House of Representatives in district 6A. Watch this space for updates as soon as the election results roll in. -Ruthie
9/10/04 – We're always doing our best to keep up with technological advances here at Sawbill. Usually that means investing in the newest, lightest Kevlar canoes or upgrading to ultra energy-efficient washing machines. This summer Dave and Adam have been seen scaling Frank and MA's roof and poring over computer help files in order to bring another new form of technology to Sawbill: Wireless Internet! The signal is only strong enough to reach the areas around the store building, and the satellite Internet system we use up here struggles on windy or rainy days, but if everything's running smoothly, you should be able to open up your wireless-equipped laptop on the store porch and send emails or check the latest weather reports. -Ruthie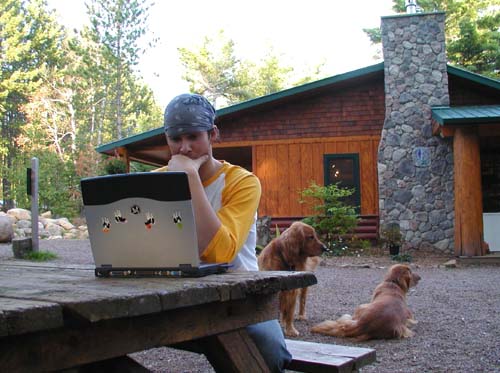 Adam demonstrates the power of wireless internet. Homer and Sunnie think they heard someone say "cookie!"
9/8/04 – The yearly Carleton College trip came and went this past week. Close to 100 incoming Carleton freshmen and group leaders arrived on three buses from Northfield, Minnesota on Friday. They split into twelve groups and entered the BWCA from several different entry points in order to keep each group separate and minimize their impact on the wilderness. The "Carleton kids," as we affectionately call them, are invariably polite and well-behaved. We've even had several become Sawbill crew members over the past years. Current crew member Loren was the student coordinator of the Carleton group last year. He did such a great job, we hired him to work here full time this summer!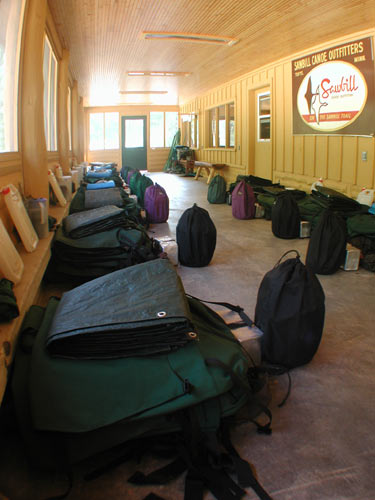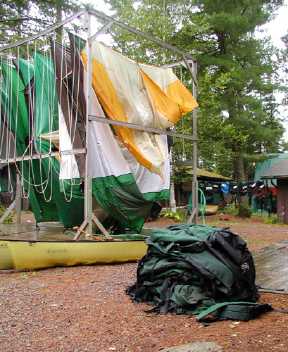 Before: Sawbill gear neatly awaits the Carleton group's arrival. After: Piles of dirty equipment waiting to be washed and put away.
With Labor Day weekend behind us, things have quieted down a bit at Sawbill. There is still lots of work to do, and a steady stream of customers in the store and rental department, but the pace of things has mellowed. It feels like Fall. -Ruthie
9/7/04 – A large, loosely joined group of musicians gather at Sawbill campground every year around Labor Day to socialize, fish, and play music late into the nights. Dubbed the "Fish 'n' Pick," the event has gathered momentum over the years and now draws a sizable crowd. -Ruthie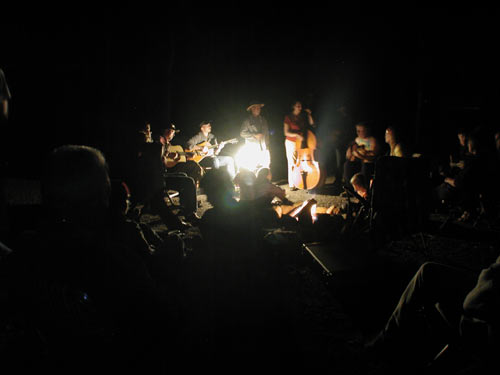 The "pick" part of Fish n Pick. Photo by Dave Freeman.
9/6/04- It's been feeling like autumn off and on all summer this year, but tomorrow we're making it official; the Sawbill store and rental department will switch to our fall hours starting Tuesday, September 7th. We'll be open from 8 am to 8 pm seven days a week. -Ruthie
9/5/04- In 1997 at the 40th Sawbill reunion, Mary Alice Hansen announced her intention to write a book about Sawbill. Unbeknownst to many, she has been steadily gathering information and working on that book for the past eight years. I sat down recently with Mary Alice to discuss the book and her experience writing it.
The idea of writing a book was not a new one for Mary Alice. She has been writing since grade school, and even aspired to become a journalist during her college years. I asked her if she followed an outline while writing, but she said no: "I just followed my nose," she declared. "I tried to think of all of the questions people have asked me over the years about Sawbill, and set out to answer them. The first question many people would ask was 'How did you get into this?' so it seemed natural to start the book there."
She emphasized her commitment to writing a comprehensive history of the whole Sawbill area — not just Sawbill Canoe Outfitters. Topics as diverse as the history of Sawbill Lodge, the CCC camp, and the development of the Sawbill Trail are each given their own chapters and consideration.
Lastly, I wanted to know what's next for Mary Alice. I know she keeps busy working for the Commercial Fishing Museum in Tofte and plays bridge for fun, but is there another book in the works? Perhaps a work of fiction or poetry inspired by her northwoods home? "Oh yes, I've got several other books I want to write," she exclaimed, "I'd like to do a whole book about the history of Sawbill Lodge, perhaps write one about the fish houses of the North Shore, and possibly even a readable but detailed history of the BWCA. I have no ambition to write stories or make things up, there's plenty of history to cover."
If you're wondering how you can get your hands on a copy of Sawbill, be patient. The manuscript is currently being prepared for publication. Watch this space for more information about an official release late this year or early next year. -Ruthie
9/4/04 – Labor day weekend is upon us! The past two days have been warm and sunny– some of the nicest of the whole summer. The Forest Service Campground is at capacity with folks looking to enjoy one last beautiful weekend before we finally have to admit that the summer is drawing to a close.
Everywhere I look, I'm confronted by irrefutable signs of the impending season change. Clare and Carl Hansen make the daily trek to school in Grand Marais. They are enrolled in 11th and 9th grades, respectively. It's hard not to notice the brilliantly hued trees lining the Sawbill Trail. Bill Hansen logs hundreds of miles on the Trail and throughout the congressional district as his primary election rapidly approaches.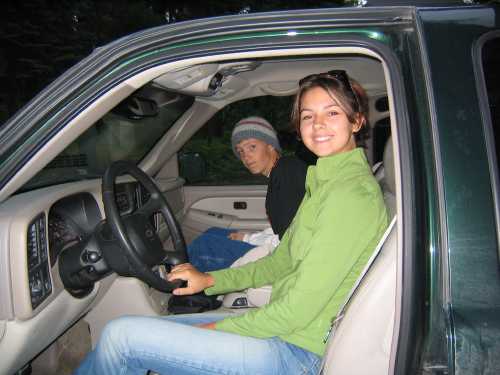 Clare looks confident and Carl looks frightened as they prepare to leave for their first day of school. Photo by Cindy Hansen.
As the temperature climbed near 80 today, I decided to bike down to the lake for some beach time. Basking in the sun felt just like August, but the lake's icy chill left no doubt in my mind that September has arrived. -Ruthie
9/1/04 – Today is Mary Alice Hansen's 81st birthday, and the phone has been ringing off the hook. It was my job to answer the phones this afternoon, and it seemed like every other call was for Mary Alice. Lida and Cindy whipped up a beautiful cake that tasted as good as it looked. They cut the cake into pieces, added colorful frosting, and arranged the chunks of cake into the shape of a flower. At 1:30 the whole crew gathered in the office to sing MA happy birthday, and gobble down mouthfuls of tasty cake. As an added bonus warm, sunny weather has blown in, and more warm weather is in the weekend forecast! – Dave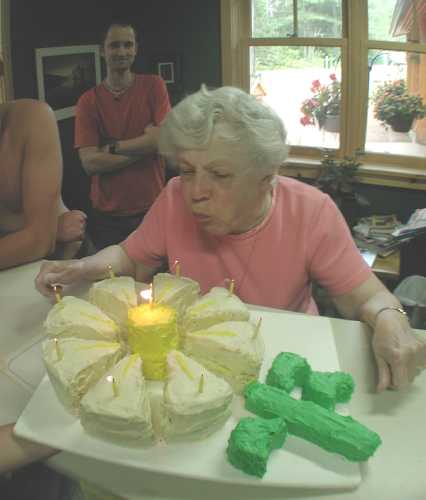 Mary Alice blows out the candles as everyone prepares for a piece of the cake!