1/17/05 – Dave Freeman, Sawbill crew member and Wilderness Classroom founder, is in Peru preparing for Wilderness Classroom's adventure there later this spring. He sent the following note and pictures today:
Hello everyone –
I am in Iquitos trying to cut my way though all of the bureaucratic red tape
and get permission to paddle through Pacaya Samaria National Park, which
seems to be proving hard and harder by the minute. But on the up side I am
also finding a lot of good alternatives for things we can do if we do not
get permission.
It is really, really hot down here, and during the middle of the day it is
hard to be out in the sun. I have been told that it is hotter than normal
right now, which I hope is true.
All of the new noises, smells, sights of the Amazon are amazing, and I am
looking forward to getting out into the jungle for a few days. This
afternoon I am going to go to a zoo, which is outside of town to try and
get some good photos.
Yesterday, I spent a bunch of time walking around the Benen market, and
taking photos. Talk about a sensory overload. The photos really do not do
it justice, but I am going to go back with the video camera tomorrow. It
is known for pick pockets, so I didn't want to bring more than one camera,
but the people were super friendly, at first I tried taking photos with out
people knowing, but soon found that everyone wanted their photo taken, and
it became a great conversation piece, so that was good.
Anyway, I am off to the zoo, and tomorrow I am going to meet with the big
cahoona at IRENA to see if we can paddle through the park, and then I am
going to go out on the river for a paddle!
Enjoy the photos.
Dave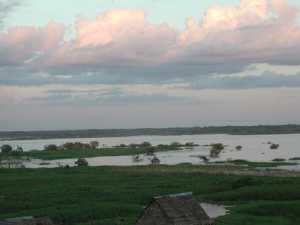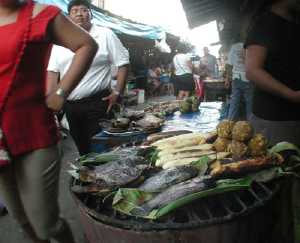 Iquitos, Peru at dusk. Benen fish market.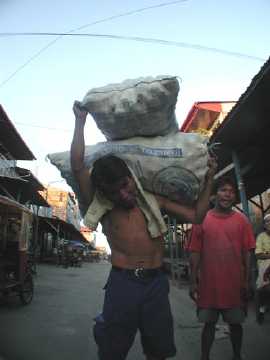 Strong guy. Photos by Dave Freeman.