6/4/05 – It feels like summer has finally arrived at Sawbill. Most of you, living in places other than Northern Minnesota, might already be used to trees with leaves and 80 degree days, but up here we're still enjoying the novelty of it all. Down at the Sawbill boat launch, groups are steadily heading into the wilderness–bound for Cherokee, Phoebe, Little Saganaga, and dozens of fishing holes with top secret locations.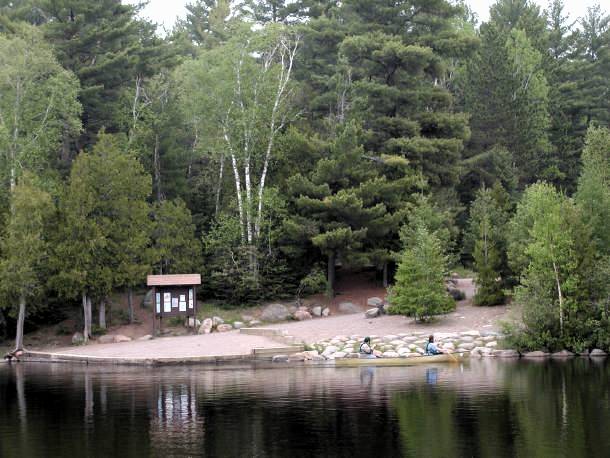 At the Sawbill Lake canoe landing, canoeists test the waters before heading north to Alton Lake.
They just keep coming! Sawbill veteran crew members Alison Behm and Jeff Green recently arrived here for another summer of grueling labor. Alison and Jeff both like to spend some of their spare time in the Sawbill shower house. While Alison takes advantage of the excellent acoustics for her nightly cello practice, Jeff uses an abandoned water pipe to do pull-ups–part of his strenuous daily workout regimen.
| | |
| --- | --- |
| | |
Alison tunes up and digs in for another summer of shower cello. In time with "Bach's Prelude to the First Unaccompanied Cello Suite," Jeff does pull-ups. Welcome back Alison and Jeff.