4/21/06 – Cindy and I returned from vacation to find Sawbill Lake free of ice. Last night, Cindy, Lida, Alison and I paddled over to check on the ice on Alton Lake. We had all four of us – and both dogs – in one canoe. As we started down the lake, we were greeted by the call of Sawbill Lake's resident loon. Only the male was on hand (we guessed that his mate caught a later flight), and as always, he swam very close to us without concern. It is hard to imagine that he just flew all the way from the Gulf of Mexico. Alton Lake was indeed ice free. We enjoyed watching a nice sunset, then paddled home while the loon continued his mournful serenade. – Bill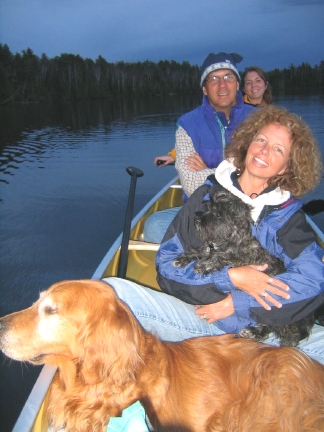 Alison snapped this picture of (front to back): Homer, Izzy (her first canoe ride), Cindy, Bill and Lida.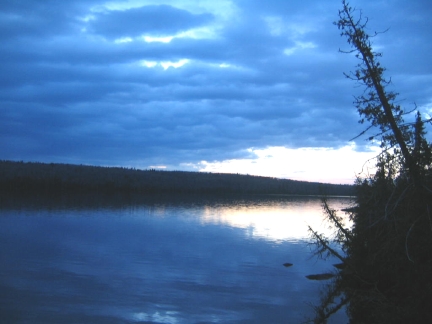 Alton Lake at sunset on April 20th, 2006. Several ancient artifacts have been found at the spot where this picture was taken. It is humbling to think that people stood on this spot and enjoyed the same beauty thousands of years ago.