7/27/06 – It has been a beautiful summer for good weather and today was as good as they come. It was in the middle 80s with just a light breeze. The bugs are just about gone for the summer – just a few mosquitoes at dawn and dusk.
The big Cavity Lake fire was never threatening us, but it has gone into hibernation during this mild, calm weather. The Forest Service is calling the fire 45% contained today and expect that number to go up over the next few days. They have half a dozen or more aircraft working the fire and nearly 500 people on the ground. The fire is almost exclusively confined to the area that blew down heavily in the July 4th, 1999 storm. A few entry points on the Gunflint Trail are closed or restricted, but the vast majority of the BWCA Wilderness is open.
As a result of the fire, there is an open fire ban in about half the BWCA Wilderness.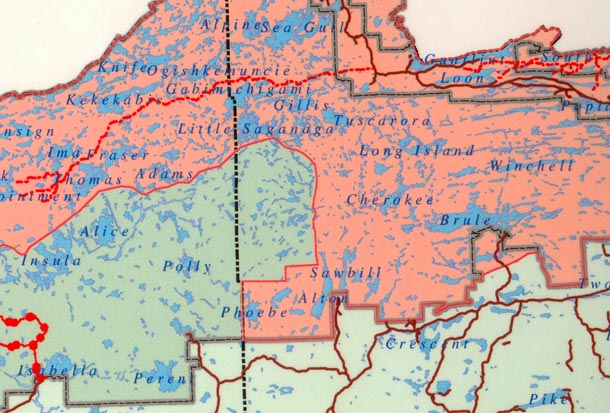 Here is a map of the area where open fires are currently banned. Stove are, of course, allowed everywhere. The Sawbill Campground still allows open fires.