1/26/07 – For the past couple of weeks, there had been some loose talk of putting together a short winter camping trip. After getting busy schedules synched-up, OB, Jessa, and I were able to get a few days off and head out into the wilderness.
It was fantastic: perfect skiing conditions, warm weather, and a good group of folks. Jessa and I skied out Saturday evening, under a starry night, with the quintessential sliver of a moon peaking out from clouds rolling in from the south.
OB and Bill had skied out that afternoon and set up the tent in a pre-determined location on the south end of Alton. We arrived around 6:30 or 7:00 PM. Another friend, Sally, skied out to meet us about an hour later, just as Bill was heading back to Sawbill for the night. Night-skiing on the lakes can be surreal, with a headlamp lighting up the previous ski tracks, but very little else.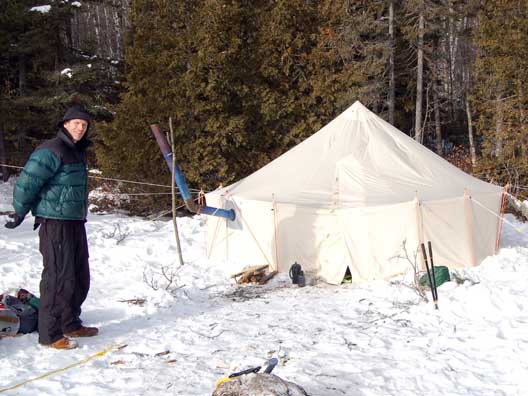 A proud OB shows off his canvas tent which offered plenty of room for us to sprawl out and bask in the wood stove's heat. Bill was nice enough to help him set it up, despite having work drag him back to Sawbill.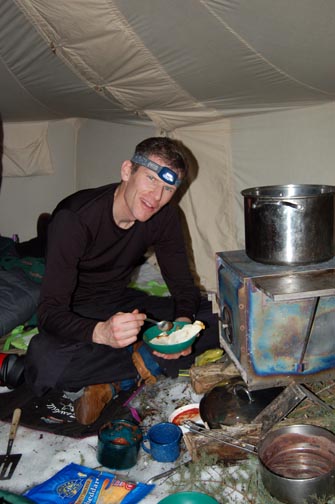 "Real nice." OB digs into his high-calorie, deep-fried burrito. Even though it wasn't very cold, we sure ate like it was.
The next morning after a very leisurely breakfast, we threw on our skis and set out for a nice day trip through Beth, Ella, and Grace Lakes. Conditions were very fast, making skiing nearly effortless. While the lack of snow in the forest has made for rough trail skiing this winter, the typically slushy conditions of the Boundary Waters proved to be stellar. – Frosty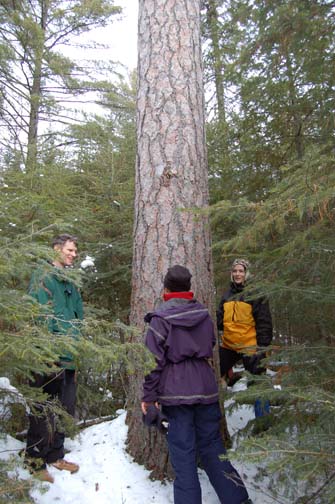 Before starting across the Alton to Beth portage, we stopped to admire this giant Red Pine. We estimated it to be close to 100′ tall, with the first limbs nearly 60′ from the forest floor.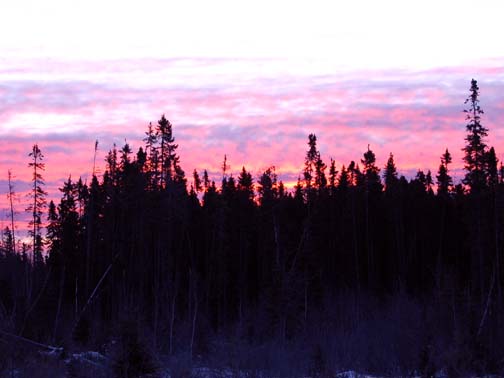 While this photo wasn't taken during our short trip, we've been blessed with some beautifully clear skies that offer dramatic sunrises and sunsets. Taken Wednesday morning at -14 F.