5/11/07 – All is quiet at Sawbill this morning. We've been getting people who didn't know about the entry point closures rerouted to alternate entry points and answering many, many phone calls. The fire made an unusual southward run last night, driven by high north winds. Now the winds have switched to the east and it is moving slowly back to the west, headed toward where it began. Sunday is still the best chance for rain, so keep your fingers crossed.
If you need to switch your entry point, or just want to investigate what permits are available for upcoming dates, you can do it online at www.bwcaw.org.. You can also call the permit reservation office toll free at 1-877-550-6777. Or, call us and we will help you.
At this point, we have no idea how long the closed entry points will be closed. It all depends on the weather and the behavior of the fire. As always, we will post information here as soon as we receive it.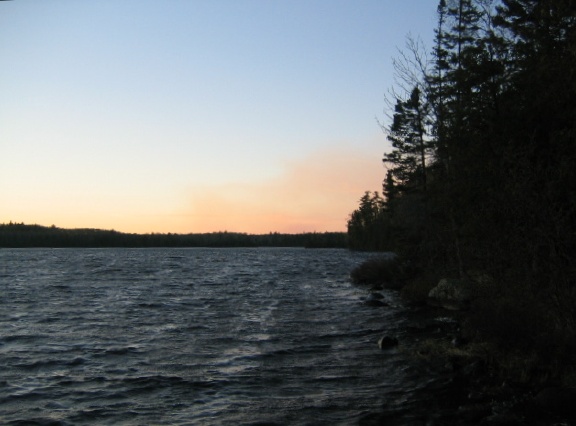 The Ham Lake Fire was just a subtle glow in the north last night, but appearances, from this distance, are deceiving. It was raising hell along the Gunflint Trail. Fortunately, no one has been injured and very few, if any, additional structures have burned.