7/17/07 – Thirty years ago in Omaha, Nebraska a group of friends decided they needed a summer adventure away from business school. They ended up going canoeing in the boundary waters through Sawbill and have been back every year since. Although the roster has changed some over time the gregarious nature of the self-named Consortium is always the same. Famous at Sawbill for their appreciation of cold beverages, their mad cooking skills (pepperoni rolls are one of their specialties), and their good humor, we are always happy to see them. – Caitlin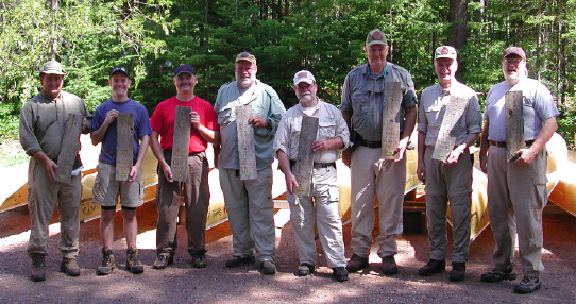 The Consortium before their 2007 trip, from left to right: "Swap Gas" Bob Glowacki, "Astronomer" Marc Blatchford, "Bushwhacker" Dave Reynolds, "Marmaduke" Denny Wiederholt, "Many Knives" Ken Bond, "Sugar Bear" Rich Hill, "HMFIC" Pete Cummings, "Portageur" George McNar.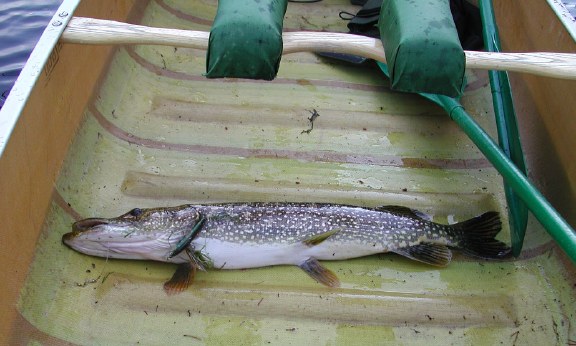 They caught this nice Northern with a large lure in it from a previous angler on Trail Lake. They removed the lure and threw it back right after the photo.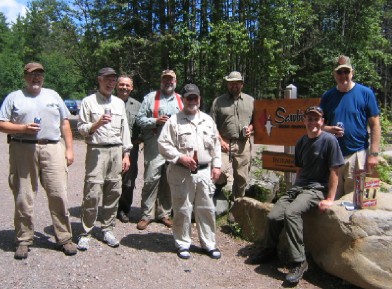 The Consortium enjoying their post-trip beverages.