5/10/08 – Sawbill Outfitters is recommended in the June issue of Outside magazine! We haven't seen it yet, but people tell us that we're mentioned favorably on page 42.
Today is the opening day of fishing season. No reports yet. Due to the late spring, it is a quiet opener, with just a handful of hardy canoeists venturing out. It appears that all the lakes around here are ice free except Brule and Winchell. They should be ice free by the end of today or tomorrow at the latest.
Aaron Browning stopped by today on his way out on a week long canoe trip. Aaron makes fine laminated wooden paddles for sale. You can see his handiwork at his website: Boundary Canoe Paddles. – Bill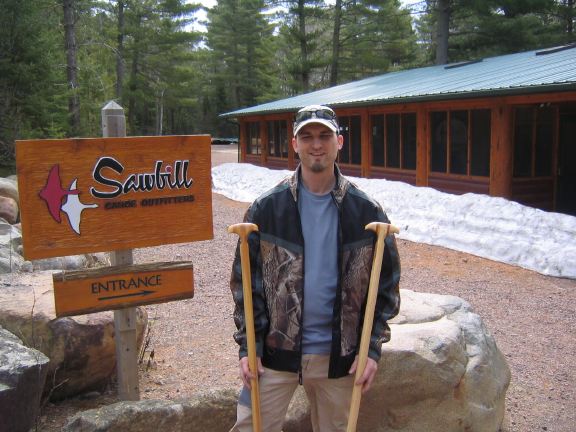 Sorry for the lousy picture. Our trusty digital camera has been screwing up about 80% of the pictures we've been taking and the new camera arrived just after this was taken.