5/24/08 – Memorial Day weekend at Sawbill is a picture-perfect one so far: today was sunny and calm, with good fishing reports coming in throughout the day (from Smoke and Burnt Lakes especially). At the risk of provoking the mosquito gods, the bugs have been surprisingly non-existent so far this year–hopefully, the start of a mild bug season.
Memorial Day weekend also brought a number of first-time visitors to the Sawbill area. The Claycomb family from Bloomington, Minn., arrived at the Sawbill Campground late yesterday evening. Although the Claycomb's first Sawbill camping trip got off to a slow start (their "new" used 1960s-era pop-up camper needed some last-minute improvements, such as current tabs and functional tail lights), the family of four spent the afternoon exploring the islands and bays of Alton Lake.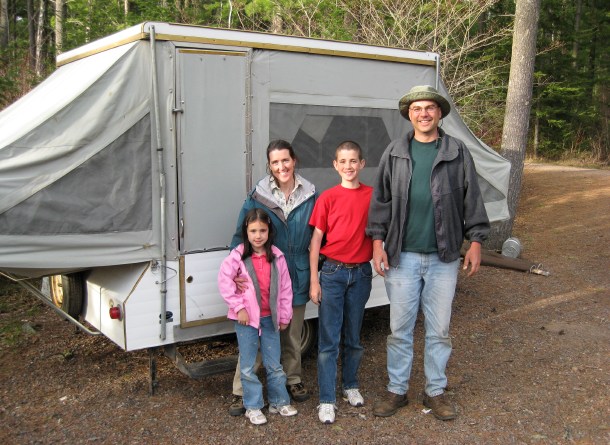 (From left) Ruth, Nancy, Alex, and Doug Claycomb found their way to campsite #18 last night at midnight, but made the most of a beautiful day today.