6/6/08 – Heavy rains fell on Cook County last night. Sawbill's gauge measured two inches of rain. Mary Alice Hansen called in from Grand Marais to report more than five inches (and a flooded yard) there. If you're coming up today, tomorrow or Sunday, plan a few extra minutes into your drive time to account for a sloppy but passable Sawbill Trail. Highway 61 along the north shore of Lake Superior is experiencing creek and river overflows, but it is still open. Former Sawbill crew member Jeff Greensmith drove up from Duluth this morning and said anyone else passing through should expect brief delays. – Lee


A usually peaceful Sawbill Creek at the south end of Sawbill Lake is rushing hard after last night's rain.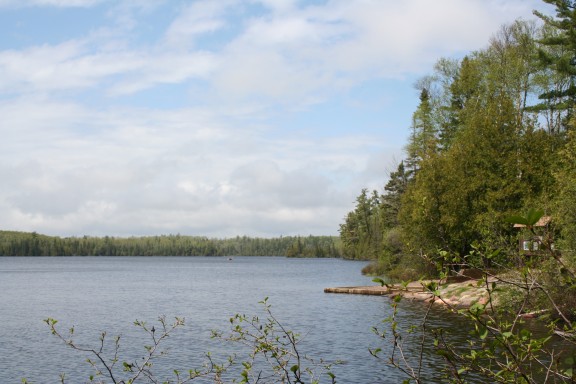 A view north from south Sawbill Lake, where a few rays of sunshine, and pair of paddlers, defied the clouds and possibility of rain this afternoon.