7/26/08 – Great news for all of you who like to leave your canoes down at the boat storage area while you're camping at the Sawbill Lake Campground! Six hardworking students from the Minnesota Conservation Corps spent this week rebuilding the center set of steps that leads down from the main campground road to the storage area. They tore out rotten timbers, straightened out the sweep of the steps, and moved around a whole lot of dirt and gravel to bring you this new, stately, splinter-free staircase.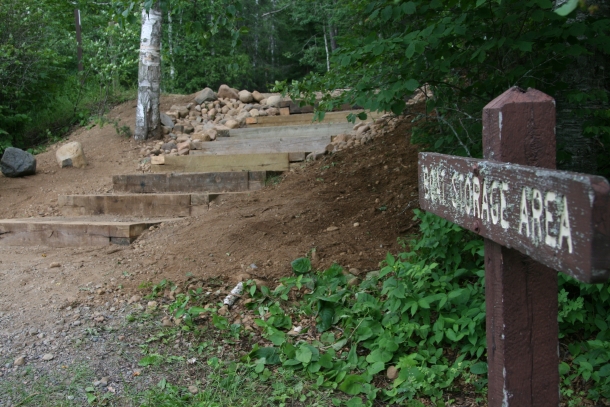 The steps now provide safe and solid footing for portaging canoes from the lake back up to the Sawbill Store. I think the Civilian Conservation Corps (CCC) members of the 1930s and '40s would approve of this job.
As anyone who has read Mary Alice Hansen's book Sawbill History and Tales knows, the Conservation Corps has a long history in this area. A sign commemorates the CCC camp at the intersection of the Grade Road and the Sawbill Trail, and MA writes that there were once thirteen camps in Cook County. Men stationed at the Sawbill Camp did everything from improving portages to taking depth data that was the beginning of lake contour mapping. Britton Peak, on the Superior Hiking Trail just north of Tofte, is also named for Sawbill CCC camp enrollee "Windy" Britton. (For more information, see Sawbill History and Tales, Chapter 8: "Corps Values – The CCC.")
According to its website, the Minnesota Conservation Corps (MCC) follows in the footsteps of the CCC as it "provides hands-on environmental stewardship and service-learning opportunities to youth and young adults while accomplishing priority cost-effective conservation, natural resource management projects and emergency response work."
The MCC members who worked at Sawbill this week have already spent four weeks at public space improvement projects across Minnesota and Wisconsin with other crews. They are participants in the Summer Youth Program, an 8-week traveling residential work program for 15- to 18-year-olds which attracts outdoor-loving students from across the country. They are now two weeks into their month working with this crew. When they left Sawbill yesterday, they were headed to the MCC base camp in Hinckley to await their next mission. – Molly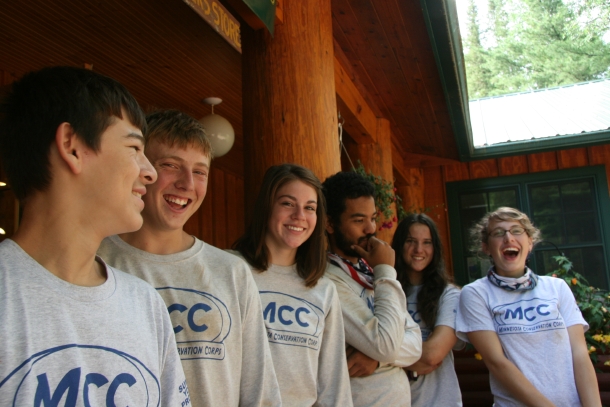 "Our" MCC crew goofs off in front of the Sawbill Store before they depart. From left to right, they are Tyler Goodwin (Bagley, MN), Zach Finger (Kasson, MN), Aimee Jefferson (Eden Prairie, MN), Chris Lezama (Daly City, CA), Ariana Hudzinski (Waynesboro, PA), and Elle Schneider (Belle Plaine, MN).