2/5/09 –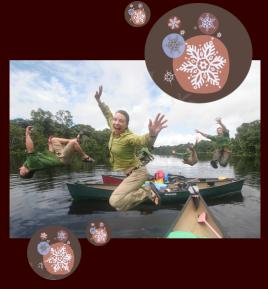 Wilderness Classroom is a successful and innovative initiative founded by Sawbill crew member and guide Dave Freeman. A slide show about their recent Amazon River adventure will be shown in St. Paul, which may be interesting for all of you in the Twin Cities area. Here is the scoop:
Location: The Grand Ole Creamery
750 Grand Ave.
St. Paul, MN 55105
When: Sunday, February 8, 5:00PM
Phone: 773-314-3104
What could be a better way to get rid of your midwinter blues than listening to tales of adventure from the Amazon Rainforest (where 90 degrees is the average temperature) and chowing down on an ice cream cone the size of your head?
Join Sawbill guides, Amy Voytilla and Dave Freeman at the Grand Ole Creamery for an evening of ice cream, images, and stories from their latest expedition. They are back in St. Paul after completing the Trans-Amazon Expedition, a 3,000 mile journey by bicycle and canoe across South America. Amy and Dave can't wait to share some their favorite experiences from this amazing adventure with you!
The Wilderness Classroom is a nonprofit organization that helps 3rd to 8th grade students expand and explore their world through live expeditions that are interactive on the web. Over the last 7 years the Wilderness Classroom has conducted 10 expeditions aimed at highlighting some of the world's wildest places.
A $20 requested donation will help fund the Wilderness Classroom's upcoming program (you'll find out what it is at the presentation!). If you have any questions please contact Amy at 773-314-3104 or email a_voytilla@yahoo.com
Follow this link to let us know you are coming and to invite your friends!