9/6/10 – Labor day weekend is winding down here at Sawbill and we are saying goodbye to many Sawbill campers today. There is a very special group of campers who have come to Sawbill every year for the last 28 years. They are loose group of musical friends who meet in the campground each year for "fishing and picking." They are very talented and can play hundreds of songs together, with voices in harmony and hot instrumental solos in the bluegrass style.
Since the beginning the group has traditionally sung "Happy Birthday" to Mary Alice Hansen, whose September 1st birthday usually falls on or near the Labor Day weekend. Mary Alice lives in Grand Marais now, but the musicians still celebrate her birthday with singing and cake. They sent Mary Alice the picture below to let her know that they are still thinking of her. – Bill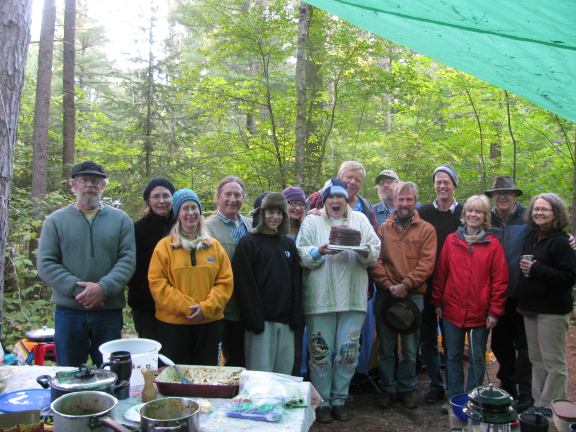 Musicians, friends and family wishing Mary Alice a happy 87th birthday.