1/14/13 – Our good friend, songwriter and musician, Jerry Vandiver, has started a Kickstarter campaign that we are supporting. In addition to his obvious creative talents and being one of the nicest people I know, Jerry does a lot to promote the love of wilderness. Here are the details in his words: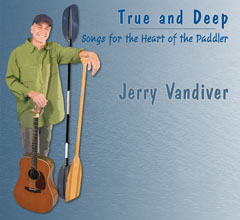 The Project
Last year I answered a life-long dream by combining my two passions – songwriting and paddling (a canoe or kayak, c'mon now!) – when I recorded the CD "True and Deep – Songs for the Heart of the Paddler." I held a CD "release party" in the form of three concerts at Canoecopia (in Madison, WI) last March to multiple standing ovations. Canoecopia is the largest paddle sports expo in the U.S., with over 20,000 paddlers (my audience!) attending the three-day event.
Canoecopia wants us back this year for 3 concerts on March 8, 9 & 10, but their limited budget can't cover all our expenses and that's where this campaign, and YOU, come in. I'm looking for you to be a part of our journey back to Canoecopia 2013. Your investment in "Jerry Vandiver and the One Match Band" will help pay for the musicians, rehearsal time, transportation, sound, and lodging. If this campaign raises more than the goal amount, it will be invested to go to future paddle sports festivals and expos as well!
Who the Heck is Jerry Vandiver and the One Match Band?
I'm glad you asked. I (Jerry) am a singer/songwriter in Nashville, TN. I've been blessed to have a few recording artists record my songs – Barbara Mandrell, The Oak Ridge Boys, Phil Vassar, Lonestar, and Tim McGraw, to name a few. I've even heard a couple of those songs on the radio! I also get to perform regularly at the Bluebird Cafe and the Country Music Hall of Fame here in Nashville, as well as many other songwriter venues and house concerts around the US and Canada. Most importantly, I'm an avid wilderness canoeist and camper, especially in the Boundary Waters (where my wife and I were married) and Northwest Ontario.