5/13/13 – Today's Sawbill Lake ice report: 5″. The Sawbill Lake Ice Technicians say that the lake is very slushy and the ice looks "watery." We did have a 1/2″ of new skim ice form last night, but that is melting fast. Best guess is that Sawbill will be out tomorrow or the day after at the latest.



Sawbill Lake from the canoe landing at 10 AM this morning. Photo by Carl Hansen, © Hansen International Productions
Baker Lake is open, but as of yesterday afternoon Peterson (the first lake north of Baker) was still iced in. We got the Peterson report from our first canoe rental customers of the season.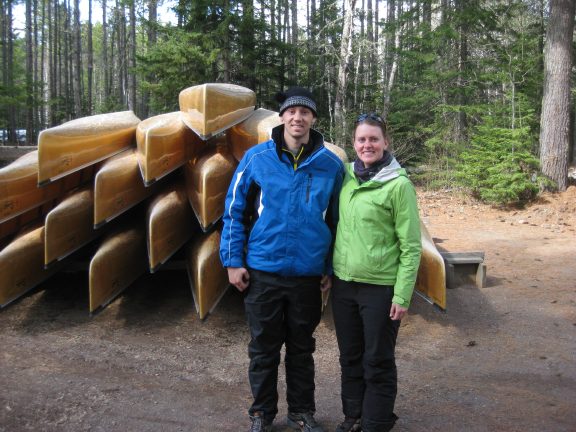 Brother and sister, Dan and Sonja Burseth are the first Sawbill canoe rental customers of the 2013 season. Sonja works at the Lincoln Park R.E.I. store in Chicago.
Kawishiwi Lake is fully open as viewed from the canoe landing. I just issued the first permit of the year to a solo paddler heading in at Kawiwishi. It is pretty safe to assume that Square and Kawasachong Lakes, north of Kawishiwi, are open too. Polly Lake usually is a couple of days later than Kawishiwi. – Bill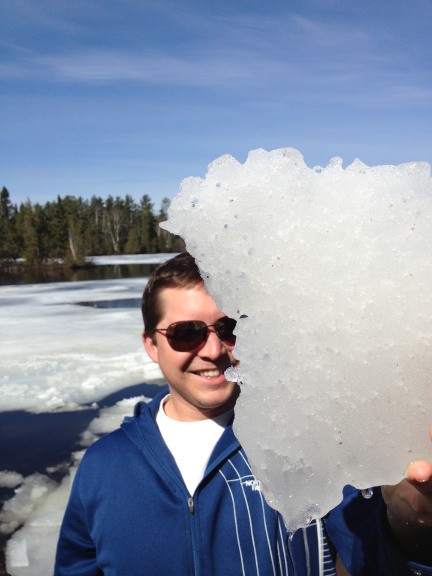 Crew member Luke Opel holds up a chunk of honeycombed ice. Photo by Carl Hansen, © Hansen International Productions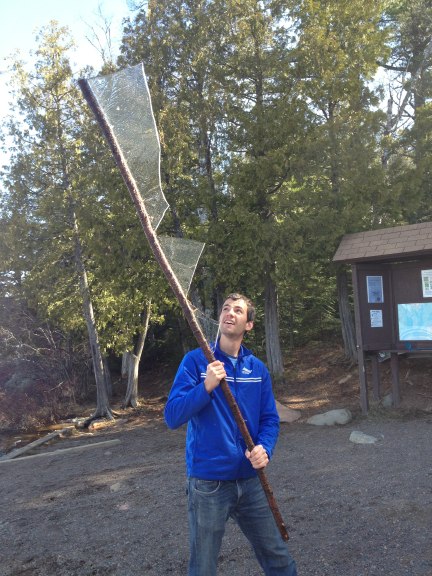 Crew member Joe Daniels holds up a stick with last night's skim ice still attached. Photo by Carl Hansen, © Hansen International Productions