7/17/14 – Our good friend, wood and canvas canoe builder extraordinaire Alex Comb, is organizing a wooden canoe gathering here at Sawbill this September. Information from Alex:
2nd Annual
Sawbill Landing Wooden Canoe Gathering
September 5-7, 2014
We will gather Friday at the National Forest Campground at Sawbill Landing, which is at the end of the Sawbill Trail on the edge of the Boundary Waters Canoe Area Wilderness. Car camping sites are available at the campground (half of the sites can be reserved online at: www.recreation.gov, while the other half are on a first come basis). Heavily wooded with mature white Pines it is a beautiful setting. The northern two thirds of Sawbill Lake is in the BWCA and there are short portages into Alton, Kelso and Smoke Lakes. Day permits are available by simply filling out a registration form.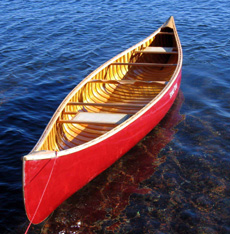 We will take some excursions in the BWCA on Saturday, while Sunday will be left for paddling around the landing. There may be a bit of boat swapping available for people to try each other's boats. Stewart River Boatworks will also have some models available for folks to try.
Everyone with interest in wooden canoes is welcome to join in. Bring a wooden canoe if you have one or just bring what you have.
The kids are back at school, the bugs have gone to bed. It is a wonderful place to enjoy the early autumn.
For more information contact:
Alex Comb alexcomb@gmail.com or 218-834-2506
Barry Christianson mnwcha@gmail.com or 507-822-4406
Sawbill Outfitters info@sawbill.com or 218-663-7150