7/26/14 -Our own Cindy Lou & Co. took a four-day trip ending last weekend. The group came back smiling with great tales of their trip. Three main themes included talk of the portages being hard in an awesome way, gorgeous scenery, and minimal traffic. For two days they saw only one other person! The group put in on Round Lake and cruised to Gillis, Little Sag, Crooked, and Tuscorora lakes and back to their start at Round.
The area Cindy, Jeanne, Sue & Carol paddled through on this trip was impacted in the springtime of 2007 by the Ham Lake fire. At that time, it was the most extensive wildfire in Minnesota in over 90 years, burning for 15 days and covering over 76,000 acres of wilderness. As the permit video says, "Remember the wilderness is always changing. Wind and fire are a natural part of this process." It's beautiful and inspiring to see the now vibrantly green area impacted by the Ham Lake fire thriving seven years later. This certainly is a destination to keep in mind when planning your next trip. Entry points in the area include Cross River (#50), Missing Link Lake (#51), and Brant Lake(#52). You can also reach this area through routes from Sawbill Lake including the Little Saganaga East and West Loops. Happy trip planning! -Carla


Smiling campers clockwise from Left to Right:
Jeanne Rysdahl, Cindy Lou Hansen, Carol Perkins, and Sue Davis.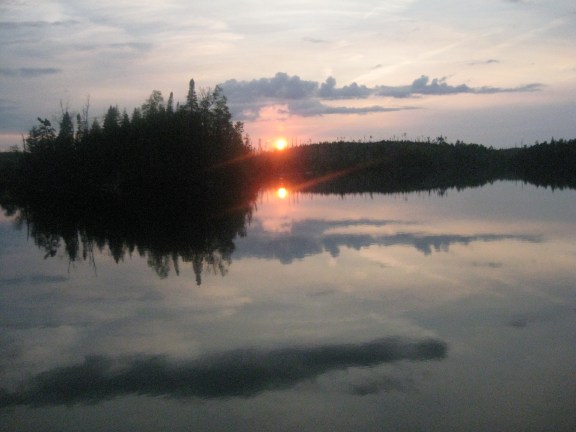 Sunset on Crooked Lake