6/12/15 – Business has been bustling here at Sawbill, with newcomers and seasoned veterans alike heading out under (mostly) clear blue skies to enjoy time away from the hubbub of everyday life. A returning father-daughter duo described the last few days up here as "heavenly," and we the crew have to agree.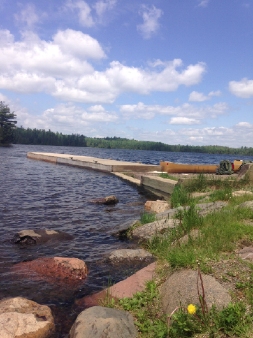 A gentle but steady breeze down at Sawbill Lake keeps the bugs away
Former crew member Beth Lynch recently visited Sawbill and sent us a lovely account of her trip as well as some photos, featured below:
Bill & Cindy,
It's always great to come home to Sawbill and the BW. Thanks so much
for the lovely *light weight* canoe! So much easier to portage than
our first generation kevlar Mad River.
We had a wonderful trip. Early summer is so nice for flowers (I
especially love the service berries) and warblers, and everything
seems fresh and clean after the winter's rest. And, we think that a
spring trip is always a great way to leave a hard year of teaching
behind.


We put in at Baker Lake and spent a wet, windy night hunkered down at
a site on S. Temperance, then paddled up to Frost Lake where we spent
the next two nights.
It had been decades since I'd been on Frost Lake. The rocky site was
gorgeous. We spent a lovely afternoon exploring the Frost River, where we saw no one except for this moose. I finally got a nice moose photo.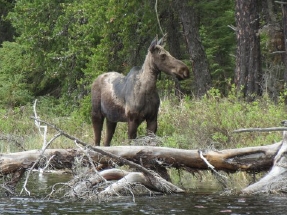 It was fun to walk the sandy beach near our site, and the mossing was
spectacular. I now carry a 10x magnifying lens and moss collecting
packets on all of my canoe trips. There are so many cool species in
the north woods. Yep, I'm a botany geek.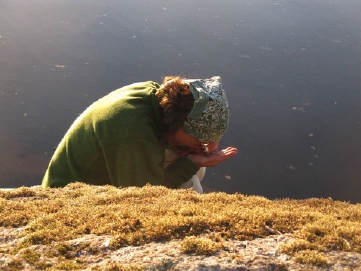 After the two (very cold, but no frost) nights on Frost, we came back
south to camp on Cherokee. Such a beautiful lake, and very quiet this
time of year. The next day we returned to the Temperance lakes and
river for a final night on the peninsula of Jack Lk. On N. Temperance
we met a couple who we figured were in their early 70s; both of us
hoped we'd still be taking canoe trips in our 70s.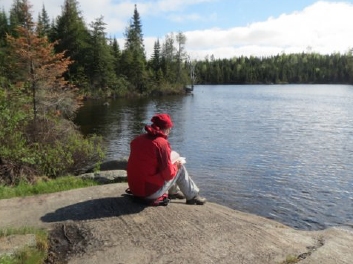 Thanks again. I hope your summer is a good one.
Beth
In other exciting news, Mike Wilkinson, a professional multimedia director with a passion for travel photography chose the BWCA to test out the new Lowepro Pro Runner x450, a new camera roller bag designed to travel just as well on dirt trails as on city streets. His review can be found here.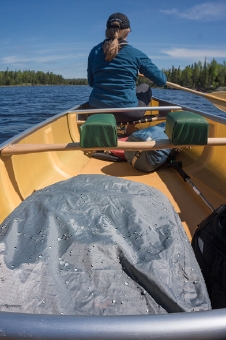 Wilkinson's Pro Runner pictured here out on the water
Wildlife sightings have been picking up – just yesterday, a returning trip reported seeing a wolf on Kelso Lake. Unfortunately, their camera was safely packed away at the time, so they were unable to take a picture. Crew members have also reported seeing a bear a few miles from Sawbill. – Elena