6/26/16- Minnesota's extraordinary north shore with its lush forests, expansive lakes and hilly terrain, attracts campers and adventurers from all parts of the country and even around the world. Although the state lacks major mountain ranges Minnesota has many great hiking trails near Sawbill. To name a few, Temperance River, Eagle Mountain, and Carleton Peak all make excellent day trips!
The Temperance River State Park is located in Tofte just south of the Sawbill Trail. The trail winds along the edge of the river gorge and on your hike you will experience rushing waterfalls amidst the abundant forest. Hike up the trail as the river widens to find the Hidden Falls or venture downwards to enjoy the view of the river feeding into Lake Superior.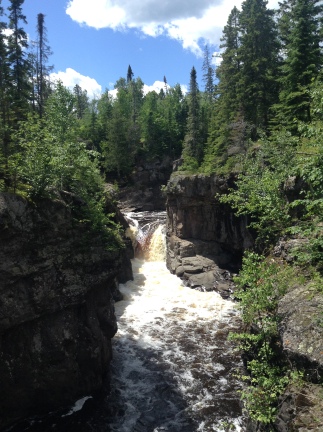 Waterfall at Temperence River State Park.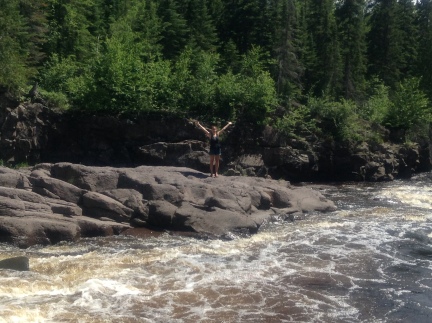 Crew member, Laura, enjoying a hike on the Temperance River
Following the Temperance river northeast you will happen upon Carlton peak, rising 924 feet above Lake Superior. Originally well-known as a navigation landmark for commercial fishermen this peak is now distinguished for its great rock climbing opportunities and spectacular views.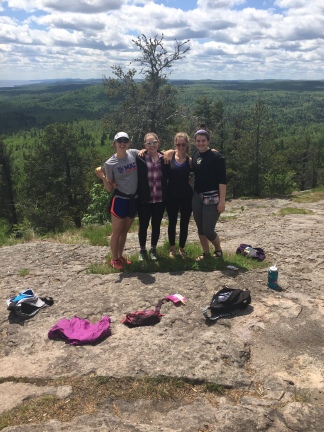 Crew members, Elena, Claire, Laura and Megan, atop Carleton Peak.
For some of the more adventurous hikers we recommend the trek up Eagle Mountain, the highest natural point in Minnesota. Eagle Mountain is located just west of Sawbill Lake on Forest Rd. 170 ("The Grade"). A state highpoint topping at 2301 ft. this mountain has many unique characteristics. It resides in isolation, 437 miles from other high peaks and is only 15 miles from the lowest point in the state (Lake Superior). The hike begins with a gradual 2 1/2-3 mile climb and concludes with a steeper 1/2 mile climb to the top where you will be greeted by picturesque views of the surrounding area.
So grab your hiking shoes, a backpack and some sunscreen and go enjoy the wonderful landscape northern Minnesota has to offer! -Alissa