7/15/16- And with the blare of the horn the 2016 Sawbill dragon-boat race commenced. With 17 boats and 68 participants this year's race was a fierce competition. As one of the 60 year reunion events, our competitors ranged from those with only a couple years of canoeing experience to some of our most experienced former crew members.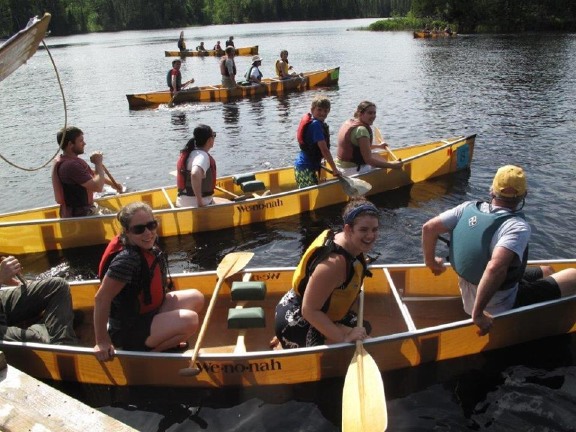 The racers eagerly getting ready for the preliminary round.
The Sawbill landing dock served as the starting line and in the first two rounds the race was completed as each canoe paddled past the Forest Service dock. The course measures just over a half mile long. The preliminary round consisted of four separate heats, four canoes in each heat and four competitors in each canoe. From there, the 1st and 2nd place winners of each heat advanced on to the semifinal round.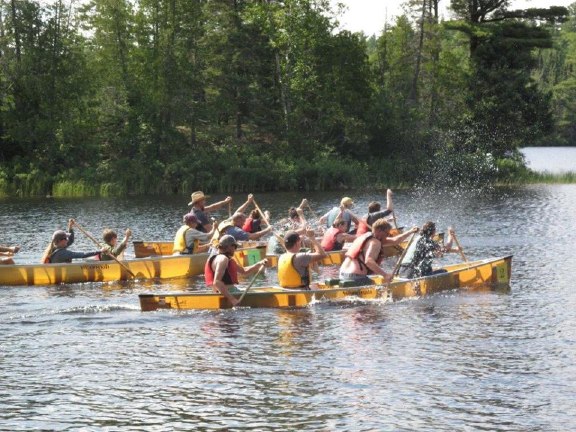 And the race begins!
The four canoes remaining after the semifinals turned around and aggressively paddled back towards the landing with all the strength and determination they had left. Loud cheers and chants from spectators ushered the racers all the way to the finish line. A very big congratulations to canoe #4 competitors Will Decker, Caitlin Coomes, Lindsey Price, and Marc Levoir clocking in at 4:36.62! All racers showed great strength and teamwork in the face of such a nail-biting competition!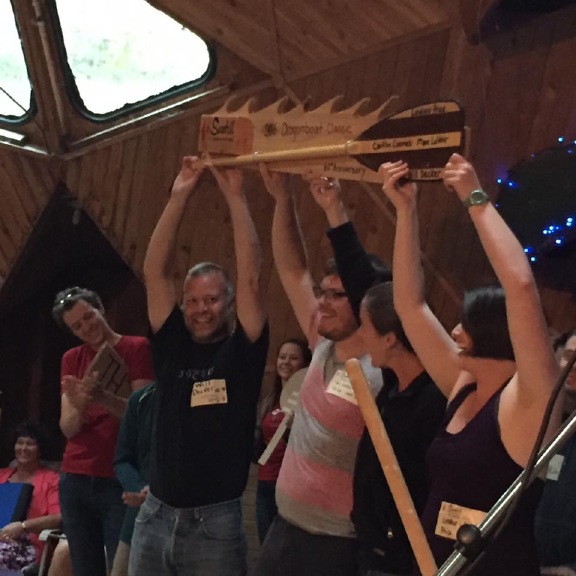 The 2016 Dragon-boat championship winners, Will, Marc, Caitlin, and Lindsey proudly carrying their trophy.
We would also like to give a huge thank you to this year's dragon-boat race coordinator, Adam Hansen. It truly was an exciting competition. -Alissa