5/28/17 – The Sawbill crew spotted their first Northern Lights of the summer last night at around 12:00am. It is unusual to see them this early, which serves as an excellent reminder that the wilderness works in unpredictable ways. Those of us who are lucky to bear witness to its motions often leave with a feeling of having been reminded of how small we really are.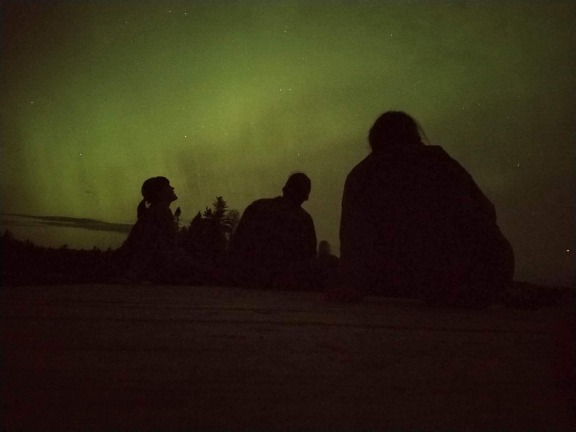 Sawbill crew members enjoying the Northern Lights down at the landing. Photo by Brian Henry.
From crew member Elena's journal:
We stayed out there for almost two hours, the lights changing their pattern often enough to keep us glued to the dock. A single star blinked out at us from the northern horizon, reflected in the lake's glassy surface. The lights danced around us like a ghostly forest.
The next time you're up here, take a glance at the sky late at night. It just might surprise you. – Elena