8/1/21 – Heyo!
We have been getting lots of questions about air quality and water levels up here recently. With the camping season coming into full swing, lots of people are worried about very common routes such as the Lady Chain or the Cherokee loop being too low to pass. Currently, both of these routes are still passable but there will be times where you have to get out of your canoe and walk it through some shallow, rocky areas. Below I have more detailed descriptions of problem areas on each of these routes.
Cherokee Loop – The stretch from Ada creek all the way up into Cherokee lake is fairly low right now. When in Ada creek, make sure to take portages when you see them and be wary of rocks in the water. Cherokee creek is extremely low right now, so there are many spots where people will need to get out of the canoe and walk it through the creek. The bottom of the creek is mud, so when walking the canoe you may be knee-deep in muddy water. This is the only problem section of the Cherokee loop, the rest is easy sailing!
Lady Chain – The channels in and out of Knight lake are extremely low right now. People are reporting that it takes about an extra hour or two to navigate this area because of the amount of getting in and out of the canoe. Below is an image of the area West of Knight lake.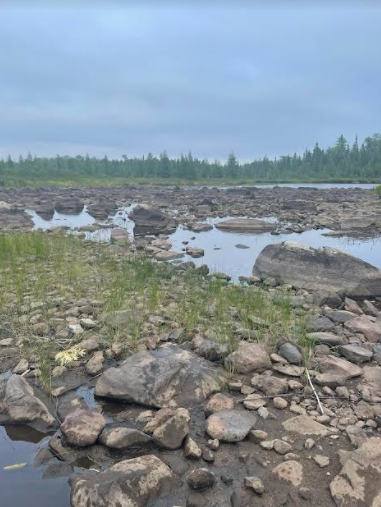 Hog Creek – The Hog creek entry point is very low right now. The whole area is taking about twice as long as average to navigate.
Air Quality – The air quality varies day by day, but recently it has been very good! Most of the smoke and haze has cleared from the Sawbill area, so the sky is bright and blue again. Below is an image of the smoke plume map found at airnow.gov.

-Ben