8/17/21 – This evening, the US Forest Service issued an order closing a portion of the BWCA Wilderness in our vicinity. In this post I'll share some information about why it's closed, what area specifically is affected, how campers who are out there are being notified, and some tips for Boundary Waters tripping during this dry wildfire season.
Why is this area being closed? One of the main priorities of the Forest Service when dealing with wildfire management is safety of people. Primarily, fire fighters and the public. The Whelp Fire, which is 4 miles west/northwest of Sawbill, is in a remote part of the Wilderness. No fire-fighting cress have been sent in due to difficult access, limited aircraft resources, and safety concerns. The Louse River is a particular challenging route, with only one way in and one way out. Winds prevailing from the south have the potential to push the Whelp fire towards the Louse River. While the Louse River is not currently burning, it has the potential to, and an evacuation of that area would be particularly onerous. The area is, therefore, being closed out of an abundance of caution.
What area is closed exactly? The closure affects Hub Lake, Mesaba Lake, Dent Lake, Chaser Lake, Bug Lake, Louse Lake, Louse River, Poe Lake, Mug Lake, Wine Lake, Frederick Lake, Hug Lake, Duck Lake, Zenith Lake, Trail Lake, Boze Lake, Frond Lake, Lujenida Lake, and all other lands, waters, portages, and canoe routes within the Wilderness as shown in the map below.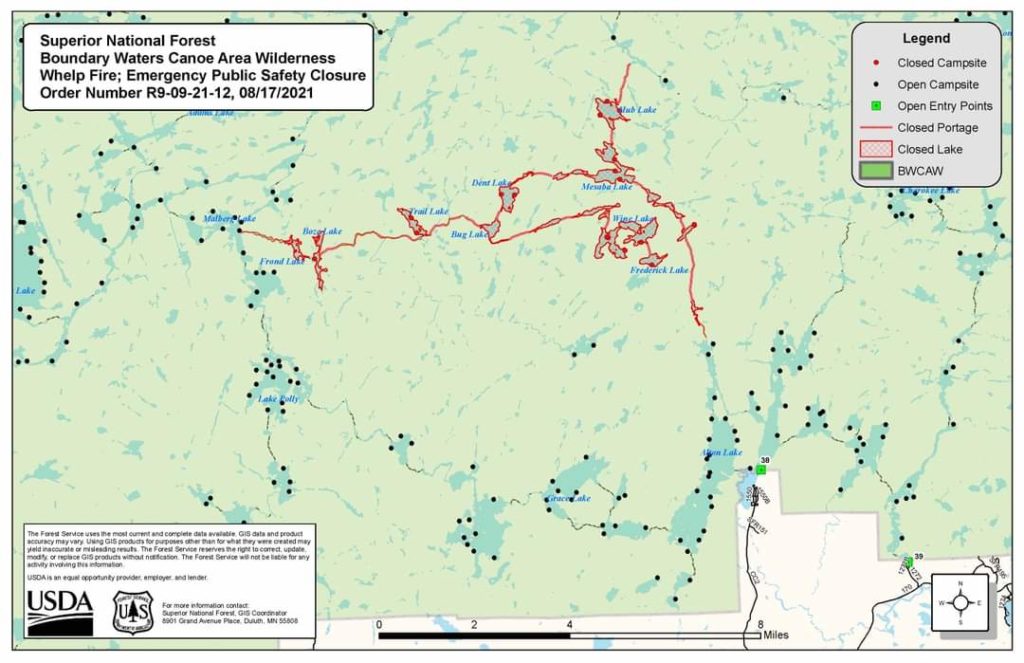 My family entered out of Sawbill recently, how do I know if they are safe? Two Wilderness Ranger crews are currently paddling the entire closure area notifying campers. The Whelp fire is currently about 20 acres and burning deep in the forest, not along any easily accessible canoe routes or near any campsites. No one is going to happen across this fire as it is right now, unless they bushwack miles into the dense woods. The Louse River is a very challenging route, even more so due to the drought. We have sent very few groups that direction in recent days. Those who are affected by the closure are not in imminent danger, but are being asked to move out of the area to create a "people-free" buffer should the fire spread to the north, thus saving precious fire fighting resources from potentially complicated evacuations. To the extent anyone is having to exit the Wilderness at an unplanned entry point due to the closure, we are working with the Forest Service to identify those groups and planning to pick them up and get them safely transported back to Sawbill.
Is the smoke terrible up there right now? No. The smoke isn't any worse, generally, than it has been this whole season. There's almost always a slight haze way up in the atmosphere, and occasionally the winds will shift and we will smell smoke for several hours to a couple of days.
Do you anticipate any more closures of the Sawbill area or surrounding entry points? At this time, I don't foresee any additional closures unless conditions change dramatically. If the winds were to shift and come from the West, we might see increased fire growth in our direction. We are in daily contact with the Forest Service and are hopeful that we will get as much notice as possible when and if there is any increased risk to our area.
If you are planning a Boundary Waters trip anytime between now and the end of the 2021 paddling season there a few things you can do to be better prepared given the dry conditions and heightened risks of wildfires.
Plan to cook over a pressurized fuel cookstove with an on/off switch. The current fire ban prohibits campfires, charcoal grills, twig stoves and most alcohol stoves. If you are a smoker or someone who enjoys a cigar while in the BWCA, be extremely cautious about where your ash falls and how you extinguish your smoke.
If you encounter an area that is burning, do not engage with it or try to extinguish it. Your best bet is to exit the area, travel away from the fire, and inform the Forest Service as quickly as possible as to the exact location. Fires can become volatile very quickly and your safety is paramount.
Bring maps that cover the area around your intended route. If you find yourself suddenly needing to reroute due to a closure, it's helpful to have the correct maps on hand.
Leave a route description with someone back home or with your outfitter. Make sure someone knows where you are planning to enter and exit the Wilderness and give them as detailed description as you can of where you plan to travel during your trip.
Check in with an outfitter or a Ranger Station before you head in. We will be posting here with any updates relevant to the Sawbill area.
That's the update for tonight, stay tuned to this page for further updates as we navigate the rest of this paddling season!
Clare