8/20/21 – Official orders have come from the Forest Service expanding the closure within the BWCA in the Sawbill Area (see map below). Due to the high-traffic nature of the closed area, overnight paddle permits for the Sawbill Lake Entry Point (EP38) have been cancelled through August 23rd. If you had a permit for Sawbill Lake Entry Point (EP38) for August 21st, 22nd, or 23rd your permit has been cancelled and you will receive a refund directly from the Forest Service. It is possible that this closure will extend through the 26th. Stay tuned for that update should it happen.
What are your options? At this point, there are no overnight paddle permits available at the other entry points in our area for those dates. These entry points are not closed they are just sold out.
Option 1 is to cancel your trip altogether. If you had a deposit for a canoe rental with us we will waive our usual cancellation policy and refund your deposit in full at your request.
Option 2 is to come to Sawbill, camp in our 50 site campground on site here and take day trips into the BWCA. Day trips on Sawbill Lake

are still allowed

, as well as day trips north of Sawbill and east of Sawbill. Day tripping into Smoke and Burnt or up towards Cherokee, in other words, is still fine. Day use permits are free, self issued, and unlimited. At this time, the Sawbill campground has plenty of open campsites.
Option 3 is to come pick up your rental canoe(s) and head to an area of the Superior National Forest outside of the BWCA. Canoe routes outside of the Wilderness, such as Timber Frear, Cascade Lake, Crescent Lake, and the like are all open and do not require a permit to access. You can call us or the Tofte Ranger Station to discuss these alternate route options.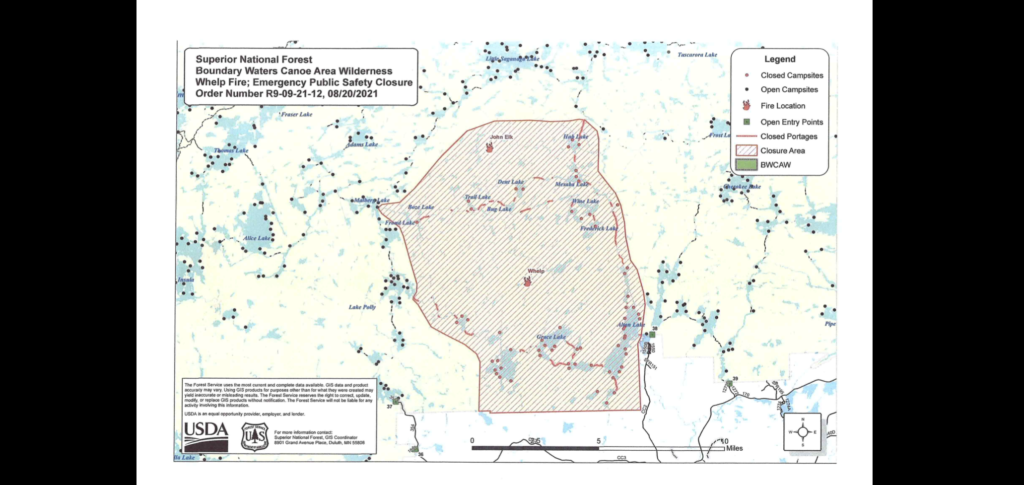 It is my understanding that this closure was prompted by some growth on the Whelp Fire. It was around 15 acres at last report, but had grown by 10 more acres as of this morning so it is somewhere around 25-30 acres in size right now. With the hot, dry, windy days ahead the fire conditions are critical for the next 48-72 hours. The Forest Service is continuing to attack the fire from the air with water drops from planes and a helicopter. The fire is not currently burning any established routes or campsites. Again, safety of people is paramount, so the prudent thing to do is get the area clear of visitors so the firefighters can focus all their efforts on containing this fire without worrying about the potential for evacuations.
We so appreciate everyone's flexibility and kindness. This is not an ideal situation for any of us. We regret the cancellations for those of you who have been planning and dreaming of your 2021 Boundary Waters trip. We hope we can help you salvage a vacation, or else catch you next year. Please accept our heartfelt thanks as well to everyone who has reached out to offer help, moral support, and who is sending us all the heavy rain vibes from afar. We can feel the love.
We will update as we know more, so keep your eyes on this space over the next few days.
– Clare and the Sawbill Crew