7/28/00 – We received these photos from our friends at Woodside
School in Fort Wayne, Indiana. You can see from their faces that
this is an exceptional group of kids with dedicated, respected
teachers.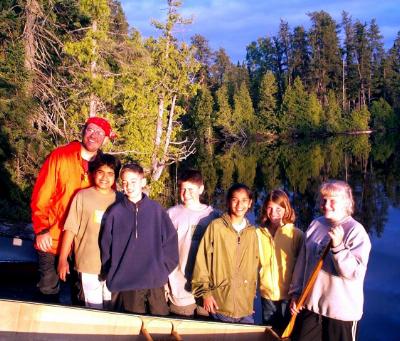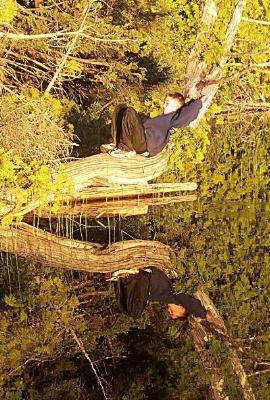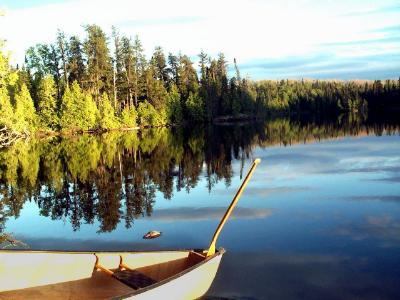 7/27/00 – Here are a couple of belated items. Ben Boss caught
this nice northern on Beth Lake earlier this year.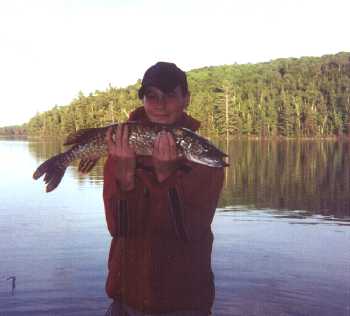 Dave Monos and Ed Dancek were here last week. They had to leave
several of their usual traveling companions at home this year.
They say to Gary, Tom and Ray: "August is coming. 23 1/2"
walleye on Brule."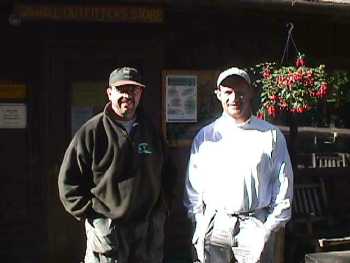 7/21/00 – Yesterday afternoon, Shawn Loiselle from Inver Grove
Heights, MN reeled in quite a walleye on the northern end of Sawbill
Lake. Usually not known for excellent walleye populations, Sawbill
Lake has proven to be very productive this summer for fish of
all species. Shawn was in the store earlier in the morning, and
asked where he could get a fish as big as some of the pictures
on the wall. We told him, and he found one (although not quite
in the same area as we had told him, or even same lake). By the
way, yesterday was Shawn's first day of his fishing trip. Not bad,
eh?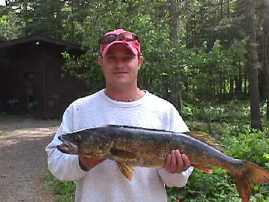 Walleye caught on northern Sawbill. (9.5 lbs, 32")
7/20/00 – Recently members of the crew and I spent a quietly
cool eve talking about what Sigurd Olson termed "the singing
wilderness." As we took turns reading aloud, I was reminiscent
of what first brought me up to the waters of Northern Minnesota.
I came for the solitude of walking a less-traveled portage, the
silence of friends sharing the glow of a night's fire, just as
we come for the conversation during a morning paddle. Olson's
words remind me to find the beauty of the wilderness by looking
a little closer, walking a little slower, or just smiling a little
wider. When I find myself doing so, my appreciation sings for
all things wild and for the history of those who have traveled
these waters before us. Olson writes, "Everyone is listening
for something, and the search for places where the singing may
be heard goes on everywhere. It is part of the hunger all of us
have for a time when we were closer to lakes and rivers, to mountains,
meadows, and forests than we are today." However reminiscent,
there is always something new and fresh. Be it a new leaf on an
elder tree, a paddle passing through waters that have felt many
before, or a cloud moving through an endless sky of blue, we must
revel in and sing the song of the wilderness that surrounds. This
is why we continue to paddle these waters and how historical canoe
trips are forged. – Frosty
7/18/00 – The "Walk
To Remember" is an interesting grass roots effort to
create a sense of community surrounding Lake Superior in order
to address issues effecting the big lake. The walk passed through
our area a week ago and is now working its way along Canada's
North Shore.
7/17/00 – Sorry for the long delay between updates here. The
program we use for this newsletter self destructed and we have
been too busy to fix it. All is well now though.
We've had several fine visitors during the last week or so.
Bruce (Rube) Rubenstein, former Sawbill crew member of indeterminate
age, was here for over a week. Rube is a writer in Hollywood now,
so he appreciates returning to the sanity of the northwoods. Mike
Gaud, who worked here four years ago is visiting now. Mike just
finished with a Geology PhD program at the U of New Mexico. As
soon as he defends his thesis, we will start calling him Doctor
Mike. Dan Seemon and Cathy Iverson visited for the last two days.
They were also former crew members a few years ago.
The bears were active for the last couple of weeks, especially
in the Polly, Koma, Malberg Lake area. There was one particular
bear that became adept at snatching unattended food packs of the
Polly-Townline portage. People reported that they would literally
turn their backs for a minute and the bear would appear silently
and snatch the pack. Several parties battled back with rocks,
sticks and pepper spray and got their food back with minimal damage.
In the last few days, no one has had any trouble, so we're hoping
that the few ripe blueberries have lured the bruins back to their
natural habitat.
Dave Monos from Westerville, OH is here on a trip right now.
He sends greetings to the several members of his usual canoe group
who had to stay home this year. So far, Dave has had nearly perfect
weather.
The BWISB (Big Women In Sports Bras) group is back for another
year of hilarity. This year they will be gracing Polly Lake with
their refined and cultured presence.
Jeff Thompson, another former crew member, visited last week.
He was catching batting practice for Carl and after a couple of
close calls, donned a life jacket – diaper fashion – and a logger's
hard hat as protective gear.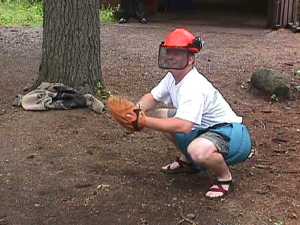 The SFGA (Sawbill Frisbee Golf Association) annual Masters
Tournament was played last week. Jason Morse, who last won three
years ago, recaptured the title. The tournament was not without
controversy though. Defending champion Adam Hansen landed a shot
in the water hazard (Sawbill Lake) and a difficult ruling involving
the interpretation of what constitutes a rock was required. Adam
graciously accepted a penalty shot, in spite of disagreeing with
the rock interpretation. It ultimately cost him the tournament,
but "we're all winners for playing."
7/3/00 – Today was the picture perfect day at Sawbill. The
weather was ideal – not a cloud in the sky, low 70's for temperature
and a light southerly breeze. It was busy, but not too busy. Everyone
was in an excellent and relaxed mood. Swimming, exploring, sunbathing
and a little fishing seemed to be the order of the day.
The night before last, our radio telephones were put our of
service by a lightning strike at the Lutsen Mountains Ski Area,
where our real phone lines begin. The lightning struck a junction
box for the 480 volt power system that the ski area uses for their
snow making equipment. The system shorted out and ran 480 volts
into all the snow-making wiring, water piping, and the nearby
telephone cable. Telephones run on 24 volts, so the cable immediately
melted. We were able to have our calls redirected to our old single
line radio telephone system for a couple of days until US West
was able to install a new cable. We got along, but it was pretty
pitiful trying to handle all the phone calls, VISA machines, electronic
fishing licenses, and internet traffic on one bad quality phone
line. We are back to our crystal clear five-line microwave system
now.