1/30/01 – Dave Freeman has been living at the Sawbill Lake
Campground for the last few days. He has been testing and
preparing for his six week Border Country Adventure, which starts
on February 1st. He will be joined for the full length of the
trip by his faithful sled dog, Tundra. For the first week of the
trip he will also be accompanied by John "OB"
Oberholtzer. For the last week of the trip, Dave will travel with
Harriet Settle. All, except Tundra, are former Sawbill crew
members. Dave will be updating his website, bordercountryadventure.com
by satellite phone during the entire adventure. He has hundreds
of school children signed up to follow his adventure and learn
about the winter wilderness.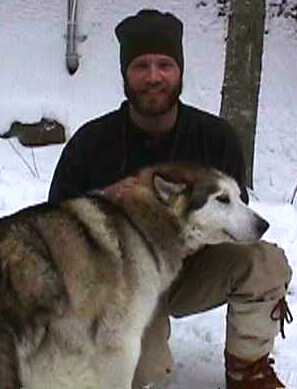 1/19/01 – We received this email and photograph from Tom
Weiss:
The attached photo is one that I took in early September 2000
at the east end
of Grace in the early morning. A low layer of fog lifted and left
just a
little bit towards the southeast. It was an incredible sight.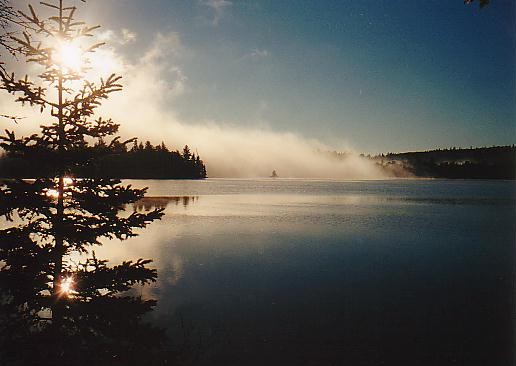 Grace Lake, September 2000
1/15/01 – I had a wonderful set of skiing experiences this
past weekend. Adam Hansen, on vacation from college, invited six
of his old friends from high school to come up and visit. On
Friday, the seven college students, the four resident Hansens,
and OB spent an enjoyable day at the Lutsen Mountains Ski Area
shredding some alpine action. I spent the morning working on my
snowboarding technique, which means trying to get down the hill
without major injury. In the afternoon, I put on the downhill
skis for the first time in nearly ten years. Saturday, I enjoyed
a perfect circuit of the "Picnic Loop," a local ski
trail that is famous for its 30 kilometers of remote beauty. On
Sunday, I skied down the Cascade River to its mouth with OB and
former Sawbill crew member, Will Decker. Four styles of skiing in
three days – nirvana. – Bill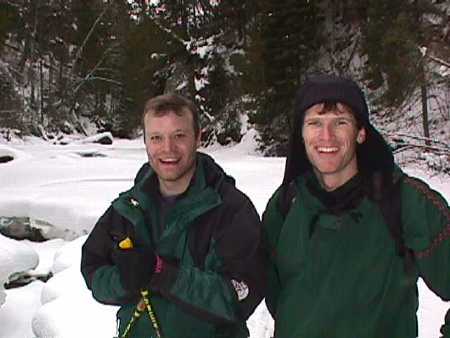 Better companions for a day of sublime back
country skiing cannot be found. Will Decker and John (OB)
Oberholtzer. 1/14/01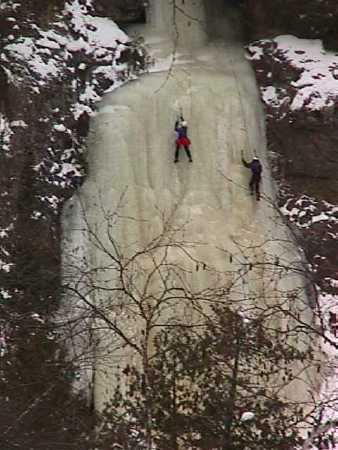 Ice climbers encountered along the Cascade
River on 1/14/01. As we skied below, I thought of all the various
and rich activities taking place on this magic day in this
charmed place.
1/9/01 – We received the following email today:
Hello! I just wanted to share with you the wonderful sight my
husband
and I just watched. We live 16 miles from a lock/dam on the
Mississippi
River in northeast Missouri. The river is mostly frozen with only
a
small amount of open water below the dam. We counted over 70 bald
eagles. Some immature and a few golden eagles in about 1/4 of a
mile of
the river. Some were in trees on the rivers edge while most were
either
flying or sitting on the icy river. Some would fly toward the sun
and
cast a shadow on the ice while others would fly low over the open
water
and present a perfect reflection in the ice blue water. We were
lucky to
see one grab a not so lucky fish in its huge talons. Not only did
we
thrill at seeing the majestic birds, but many were even
vocalizing to
us. Most winters we see a few eagles, only 10 or so, but with our
"extreme" winter we have had so far, there were many
more than normal.
Luckily, winter is on hold temporarily for us, with 2 days in a
row
above 32!!!!
We really enjoy your newsletter, keep up the marvelous
descriptions.
Jan Kitzing
Lewistown, MO
PS Seeing the eagles makes us even more anxious to go north
1/1/01 – I observed my traditional New Year's moment last
night by greeting the midnight hour on the ski trail. Every year
brings a new revelation. This year, the sky was overcast with a
light, hazy overcast. The planets and the brightest stars were
glowing behind the haze, tuning them into fuzzy balls many times
their normal size. My headlamp had weak batteries, so I turned it
off except for the tricky sections of trail. As my eyes adjusted
to the blackness, the twin tracks of the trail began to softly
glow for about six feet in front of my skis. The trees, stumps,
and snowbanks only became visible when they loomed out of the
darkness about twelve feet ahead. I found myself flying down the
trail, only able to react to changes that were happening
immediately. The sense that time was passing became suspended and
I skied in the moment, with my heart in my throat.
There is a new section to our ski trail this year. It runs on
a logging road down the middle of a huge clear cut just south of
here. This state land has been logged almost continuously since
the '70s. It appears that the logging is over now, and the
remaining tote road makes a fine ski trail. The wide open spaces
of the clear cut offer an unusual perspective here in the dense
boreal forest where normally you can only see a few hundred yards
in any direction. When I reached the top of a small rise in the
clearing, I could clearly see the lights of Grand Marais
reflected on the low clouds some forty miles away. The airport
beacon at Grand Marais and the microwave tower near Lutsen were
also visible. As I stood feeling somewhat crowded by these signs
of encroaching civilization, I noticed another glow in the west.
It appeared to be moving toward me and growing alternately bright
and dim. I realized that it was Frank and Mary Alice driving home
along the Sawbill Trail, returning from their New Year's party in
Schroeder. I couldn't see the headlights themselves, nor could I
hear the slightest trace of engine or road noise. I turned and
resumed my headlong rush through the night toward home and a new
year. – Bill