2/28/01 – We received about 13" of snow over the weekend.
Near Lake Superior, 24" fell and in the highlands just
inland from the big lake 30 or more inches fell in some places.
One of my extracurricular activities is substitute driver of the
snow cat that grooms the 70 kilometers of cross country ski
trails that lace the hills above Lake Superior in Tofte. The snow
cat, brand named Pisten Bully (which means mountain goat in
German, I'm told), is a large machine with a 170 horse power
diesel engine. It is actually designed for grooming downhill
skiing runs, so it has an incredible ability to climb hills. In
spite of this ability, in the face of 30+ inches of fresh powder,
even the Pisten Bully had trouble. On the first pass, it had all
it could do just to punch through, without grooming the trail
flat or setting the tracks. On the second pass I was able to lay
down a nice track and skating trail, but suffered from what
groomers call "falling off the platform." In years of
very deep snow, the repeated grooming actually builds up a raised
platform, layer by layer. Eventually, this platform surface is 3
or 4 feet off the ground, surrounded by a sea of soft snow. When
climbing the hills pulling the heavy grooming equipment, the
machine will sometimes break off the edge of the platform and
wallow sideways into the powder snow, which acts a lot like quick
sand. Fortunately, the machine is powerful enough to maneuver
back onto the trail, allowing another attempt at climbing the
hill. This scenario repeated itself dozens of times during the 25
hours of grooming I did during the last two days.
I actually groom two additional small trails by snowmobile.
One is here at Sawbill and the other is behind Birch Grove
Elementary school in Tofte. The snowmobile is also susceptible to
"falling off the platform," although the solution for
that dilemma is to physically lift the snowmobile back up on the
trail. This is a particularly difficult task while standing in
chest deep snow.
The bright side of all this travail is that the ski trails are
in beautiful condition and should stay that way for awhile 🙂
Bill
2/22/01 – We are back from a lovely vacation in the mountains
of British Columbia. We snowboarded, downhill skied, and cross
country skied until we could barely stand up. It is beautiful
country populated by very friendly people.
Today, as if to welcome us home, a beautiful red fox strolled
up to the house and hung around under the bird feeders for a few
hours. At times, we were only about three feet away from him,
separated only by a window pane. Homer, the golden retriever
puppy, was asleep on the back porch the whole time. He is a very
curious dog and would have loved to make the acquaintance of Mr
Fox.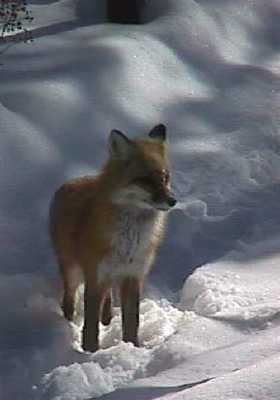 2/12/01 – Several of us, including the all the current
newsletter contributors, will be heading out on vacation for the
next week. Frank and Mary Alice will be available by phone, for
questions or reservations. I will be checking the email from
afar, but probably will not be able to post newsletter entries
until we return. We are making our first family visit to the
Canadian Rockies. Skiing of all types will be the activity of
choice. We are excited for this new experience and will probably
have a few stories to tell. – Bill
2/11/01 – Real winter weather is a welcome relief after three
years of abnormally warm Februarys. We had 7" of snow a few
days ago and last night the temperature dipped to -27 F. This
morning, the clouds have returned and it is snowing again.
Minor disaster struck on Friday night when a freak accident
ended up frying my laptop computer. I won't go into details, but
it is safe to say that spilling Chardonnay on a laptop is good
neither for the computer nor the wine. While most of my data was
backed up, some emails that came in on Thursday and Friday are
now locked in an inaccessible hard drive. The technicians assure
me that the data will be safe, but unusable for the next week or
so while the computer gets fixed.
2/7/01 – Yesterday was Frank Hansen's 80 birthday. Frank is,
along with Mary Alice Hansen, the founder of Sawbill Canoe
Outfitters. He is also a child psychologist, former county
commissioner, and participant in too many community organizations
to list in one place. He is also my father. He celebrated with a
small family gathering at Superior Shores in Two Harbors. Frank
received many cards and emails from former Sawbill crew members.
Most people are expressing amazement that Frank is 80 due to his
generally more youthful appearance and activity.