9/28/01 – I've been remiss in failing to call
your attention to Big
Muddy Adventure.com. Former Sawbill crew members Dave Freeman
and Eric Frost, along with their partner Mike Clark, are paddling
the entire length of the Mississippi River. Many of you will
recall Dave's epic trek across the length of the BWCA Wilderness
last winter. Big Muddy Adventure is a similar educational effort
with school kids participating via the web. You can see their
daily journal at the link above.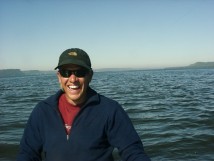 Dave Freeman and Eric "Frosty" Frost
in obvious pain and suffering as they explore the Big Muddy.
9/24/01 – Our annual used equipment sale has
begun. Check out the Used Equipment For
Sale page for some great deals on used gear.
Sawbill Outfitters is a proud member of Northeastern Minnesotans For
Wilderness which is working to organize the many people who
support the wilderness and happen to live in northeastern
Minnesota. Visit their site for more information on BWCA
Wilderness issues and what you can do to help protect the BWCA
Wilderness.