10/31/01 – Many things have been happening here
at Sawbill. In fact, it has been so busy that updating the
newsletter has been difficult. Here is a recap:
Yesterday, the trusses were installed on the
store building addition.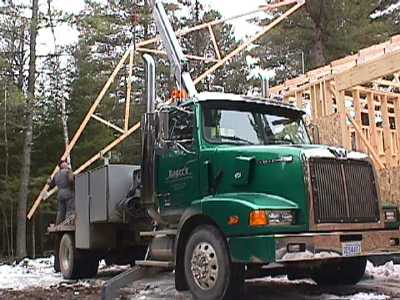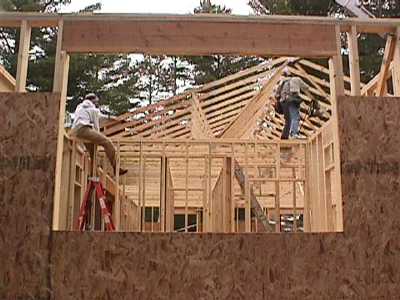 The boom truck lifts trusses into place. Crew
member Max Wilson and contractor Grey Jordan nail them into
place.
Over the weekend, we had our store moving party.
Ten former Sawbill crew members and friends spent two days moving
every last thing out of the store building and tore out a good
portion of the inside of the store. A huge Sawbill thank you to
every one for lending a hand. We couldn't have done it alone.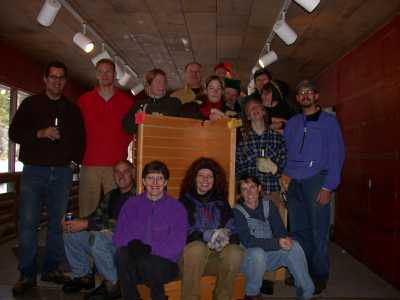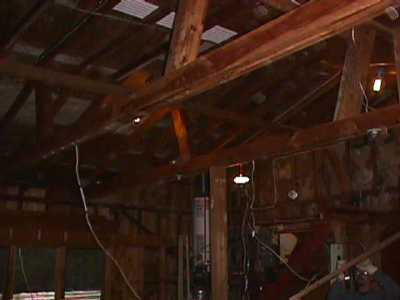 The moving and tear-out crew in the upper store
with all the merchandise, shelving and slat wall removed. . Back
row left to right: Bill, Max Wilson, Beth Rolf, Bill Kubiak,
Betsy Moyer, Rick Grupe, Steve Hedman, Natasha Warner, John
"OB" Oberholtzer, Mary Pat Grupe. Paul Lundgren,. Front
row left to right: Bob Kubiak, Dee Hedman, Cindy, Ellen Lock. The
other picture is the inside of the lower part of the store minus
the old ceiling, shelving, partition walls, and paneling.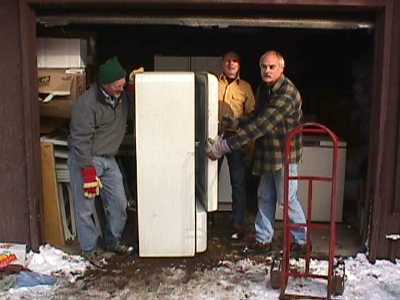 How many crew members does it take to move a
safe? Three of Sawbill's "most senior" ex-crew declare
it "M
We had our traditional annual pumpkin carving
party with the usual participation of the Winter/Dornfeld family
from Owatonna, MN. Carol Winter is a former Sawbill crew member.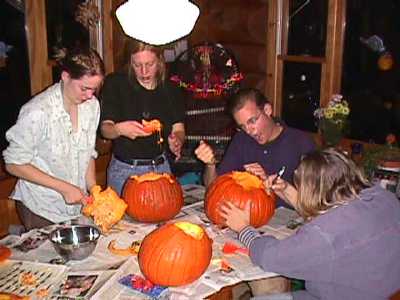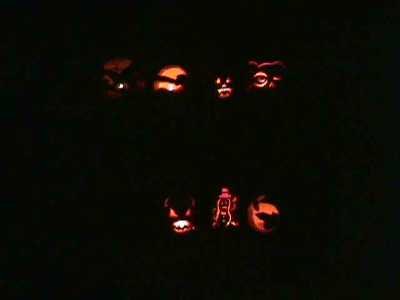 Betsy, Natasha, Max and Beth attack their
pumpkins with vigor. And, the frightening results.
10/18/01 – Late breaking news from Steve and Kate
Surbaugh:
Hello,

Our little addition to the family has finally arrived! Kate
gave birth to 7lbs 12 oz and 20.5 inch William Ferguson Surbaugh
at 1:40 AM this morning. Mother and baby are very healthy
and the father is very proud of both of them. Kate was the
star of the floor last night with all of the nurses bragging that
she waited until she was 8 centimeters dilated before going into
the hospital and giving birth with no medications.
Steve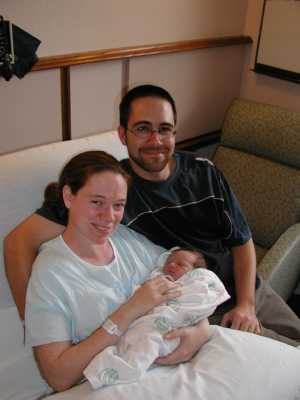 William Ferguson
Surbaugh with his proud parents, former Sawbill crew members Kate
and Steve Surbaugh

10/18/01 –
Ed Dallas, Sawbill's Poet Laureate, sent this
poem this morning:
AN OLD CANVAS CANOE PACK
Drab green
two shoulder straps
heavy with to much stuff,
at portage trails when I lift it
I curse.
Here are some current pictures of the
construction project.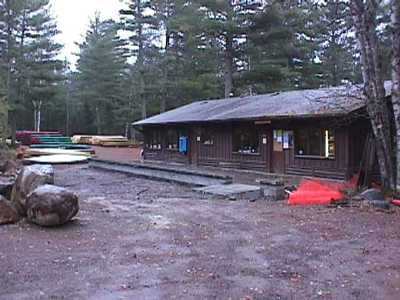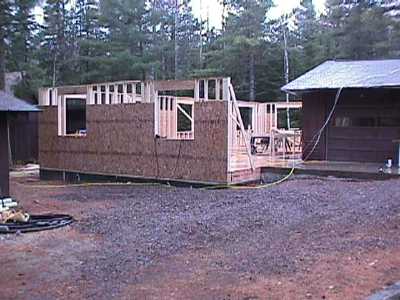 A cement deck and retaining wall will support
the new screen porch. The walls start to take shape over the new
basement.
I got a call from Jack Blackwell, grandson of
Alec Boostrom. Jack said the cabin pictured below was actually
built by someone else in the early '70's. Alec's cabin was
located near this one. The cabin pictured was a few courses of
logs and then had a tent erected on top of the logs. Jack spent a
lot of time in the woods with his grandfather when he was a
teenager and has many great stories about life in the wilderness
during the first half of the 20th century. – Bill
10/10/01 – Max and I had a wonderful one day
canoe trip yesterday. We visited the remnants of an old trappers
cabin deep inside the wilderness. We were lucky enough to have a
beautiful day and saw three moose – including a magnificent bull
(sorry, no pictures). There were only a few logs of the tiny
cabin remaining. We were careful not to disturb the site, but the
artifacts on top were mostly pretty modern. Alec Boostrom was a
Native American who had a string of these small cabins along his
extensive trap lines up until 1967.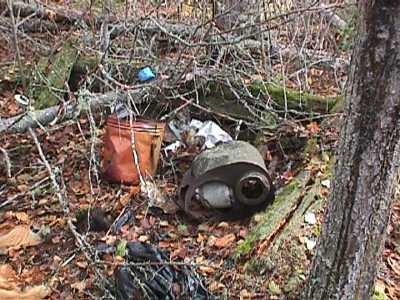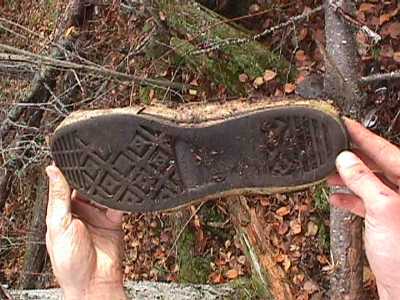 The old trapper's cabin with an air tight wood
stove, and old bucket and other artifacts, including a Converse
tennis shoe.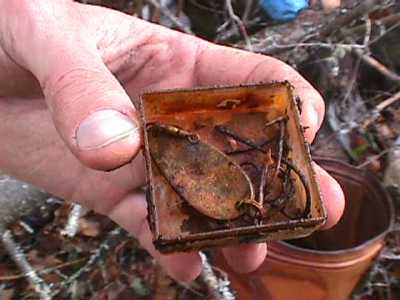 Some old fish hooks.
10/08/01 – Progress on our construction project
slowed to a crawl today as some apprentice block layers were on
the job.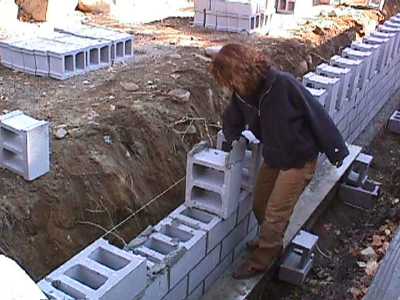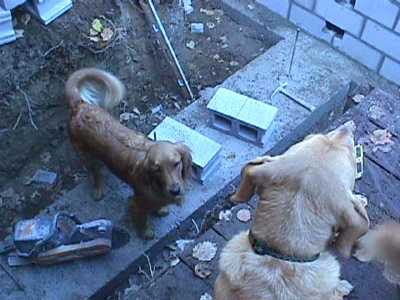 Cindy pursues her new trade. Homer and Jack
supervise the job.
10/6/01 – We closed the front doors of the store
building today to pour footings and nature rebelled by pelting
snow off and on all day.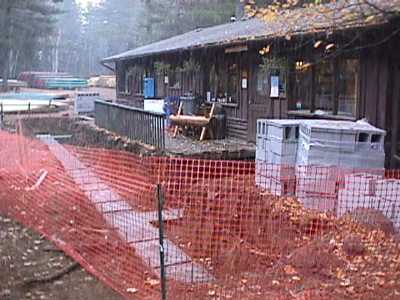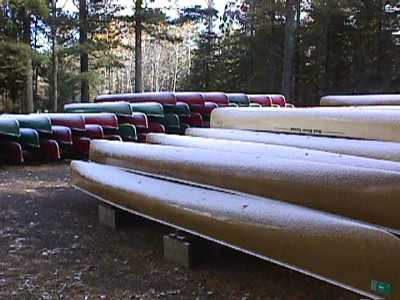 Yes, that is snow pelting down on the
construction site. The canoe are covered with a light layer this
morning.
The basement portion of the project is done and
was immediately taken advantage of.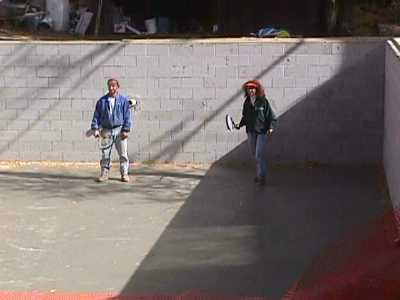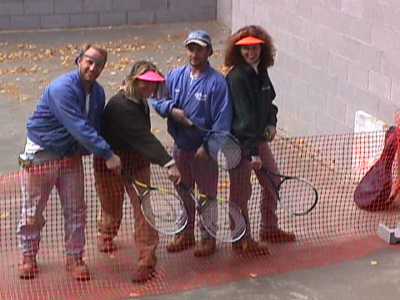 Cindy, Beth, Rick and Lance (cement
contractors) play doubles in the new, underground Sawbill tennis
facility.
10/1/01 – After several years of planning, our
big construction project is underway here at Sawbill. We are
adding several additions to the store building and will be
extensively remodeling the inside of the building too. The
equipment rental will be back in the store building, just as it
was before we built the Dome in 1974. The Dome will still stand,
but will be used for "back of the house" functions.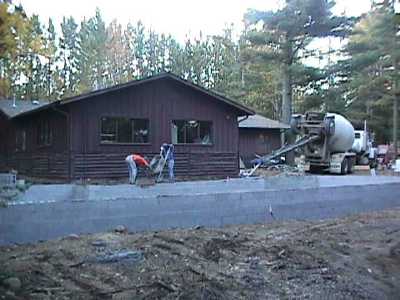 The cement crew works overtime on the new
basement tonight. Picture taken from near the shower house.