2/27/03 – The short-term cold spell from the
weekend broke yesterday and the temperature found its way into
the 20s. I traded in the electric blanket for running shoes and
headed out onto the Sawbill Trail. After a bit, I came across an
unusual sight. A star nosed mole had either been hit by a car or
had wandered onto the road and frozen to death (Bill posted a
picture of this very unique animal in last winter's newsletter on
2/9/02). It was an exciting find for a couple of reasons. First,
I had never seen a star nosed mole before- like most moles it is
essentially blind, but this one has 22 super sensitive fleshy
appendages coming out of its face where noses generally reside
and second, its rare to see anything dead on the roadside as
other animals seize the opportunity for an easy lunch. After
inspecting it for a few minutes, I continued on my way and to my
surprise, had my passage blocked a little farther down the road
by three young moose who had stepped onto the trail about a
hundred feet in front of me. I wasn't about to try to chase them
off the road so I stood and watched them watching me. It became
obvious after a while that they weren't out for a run – they
weren't moving. So I turned back for home.
Later in the evening, Cindy called on her way
home from Duluth to let us know the northern lights were aglow. I
walked down to the lake and was mesmerized by what appeared to be
waves of smoke floating over my head. The designs moved so
quickly that they literally changed with every blink of my eyes.
Farther to the north, brighter columns of green light flared
above the tree tops. The cold air crept into my jacket and I
headed for the warmth of inside, my head full of thoughts from a
day of amazing sights. – Beth
2/26/03 – The Wilderness Classroom web site that
is the project of Dave Freeman and Eric Frost has been hijacked
by an unscrupulous hacker. Frustratingly, the process to wrest
control of the domain name from this criminal is tedious, long
and expensive. So as a short term solution, Dave and Frosty are
changing their domain name to http://www.wildernessclassroom.com.
They will have it up and operating later today or early tomorrow.
This has been difficult for them, as they are on the trail in
northern Manitoba. Please change your favorites listing to the
new site to continue to follow the Bimaadagaako Adventure across
the frozen sub-arctic. – Bill
2/20/03 – Cook County was overrun with former
Sawbill crew members last weekend. Annie Strupeck, Michele
Thieman, Sandy Zinn and Ellen (Lock) Bagnato came up to Sawbill
for an annual Girl's Ski Weekend (and there was actually enough
snow to ski this year). John "OB" Oberholtzer and Jason
(Jake) Morse also happened to be up this weekend for a winter
camping adventure with Kate (Ferguson) Surbaugh. We all converged
at Camp Surbaugh for some good food and Sawbill stories before
heading out to play in the snow. Bill and yet another former crew
member who was in town for the weekend, Charlie Helbling, spent
the day skiing the 30km Banadad ski trail. -Beth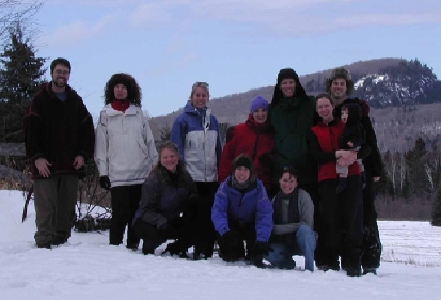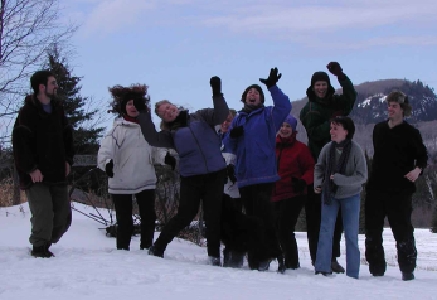 Fun at Camp Surbaugh – Back row: Steve
Surbaugh, Cindy Hansen, Sandy Zinn, Michele Thieman, John 'OB'
Oberholtzer, Jason Morse. Front row: Beth Rolf, Annie Strupeck,
Ellen Bagnato, Kate Surbaugh, and the always cheerful Will
Surbaugh. The excitement of the day was overwhelming.
2/19/03 – Over the weekend a rare thing happened.
Lake Superior froze over. People living along the shore talked
about the thunderous noises the huge sheets of ice made as they
crashed together and formed deep seams and ridges. Piles of
thick, plate glass-like chunks of ice littered the beaches all
along Highway 61. While the ice wasn't thick enough to walk on
around Tofte, it was in Duluth. I happened to be in Duluth on
Monday and a friend and I went down to the lake to experience the
novelty of walking on Lake Superior. Black ice had formed in many
areas making it possible to stand in a spot where the water was
at least ten feet deep and look through the completely clear ice
and see the rocks at the bottom of the lake. A very eerie
feeling. Sunday and Monday brought warm temperatures and, by
yesterday, the ice had begun to break up. – Beth
2/13/03 – While walking from the store to the log
house yesterday, a noise in the jack pine along the path caught
my attention. I looked up and was surprised to see a black-backed
woodpecker looking for lunch in the tree. It had paid us a visit
in that same tree this summer but there had been no sign of it
since. While not an uncommon bird in this area, it is a shy
species and doesn't often make its presence known. -Beth
2/11/03 – Tom (Hawk) Jensen, former Sawbill crew
member, sent along this wonderful low sun picture from his canoe
trip last season. It gives me a warm feeling on this cold, snowy,
windy February day. – Bill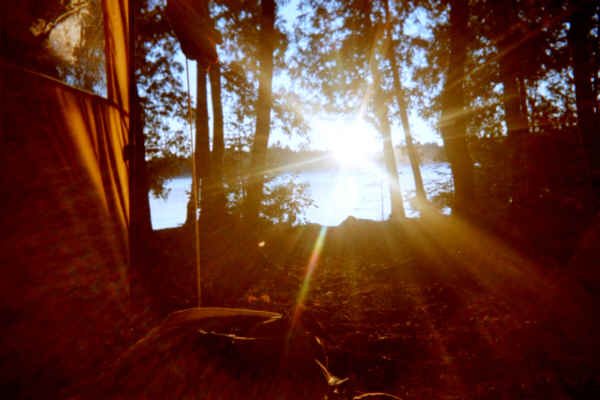 Photo by Tom (Hawk) Jensen. Caw!
2/8/03 – Snow lovers of all types are out this
weekend. Winter campers knocked on the door early this morning
with some questions, the ski trail near Tofte had a full parking
lot, five or six snowmobiles passed me on the Sawbill Trail and I
saw at least a half dozen cars on the road. A whirlwind of
activity for a cold day in February. The gusty winds today were
causing the frozen trees to creak like old rocking chairs while I
was skiing. I came across the remains of a snowshoe hare in the
middle of the ski trail. I'm assuming a wolf had turned it into a
tasty dinner, although the tracks had been skied across so I
couldn't be certain. -Beth
2/7/03 – Frank celebrated his 82nd birthday
yesterday! He's looking great and getting around like a champ
after having hip surgery this fall. We all enjoyed some delicious
cake and loud singing to help him celebrate. You can send him
birthday wishes at mah@boreal.org.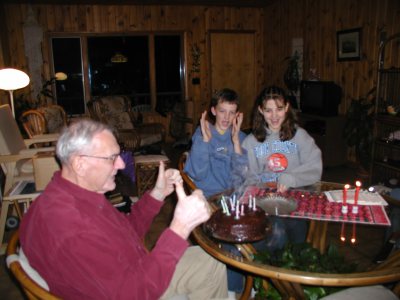 Frank is ready to dig into the cake while Carl
and Clare congratulate him on his candle blowing success.
2/6/03 – Snow finally fell this past weekend and
we got around 6" here at Sawbill. For the first time all
winter there was enough snow to ski the trail through the woods.
It was still snowing monday afternoon when I made my first loop
and the huge flakes were the kind that inspire you to stick your
tongue out to the catch them. Most of the ski trails in the area
finally have enough snow to be groomed and skied on. – Beth
2/3/03 – Cold weather has returned with a
vengeance. After two days of nearly steady temperatures in the
high 20s, the north wind cranked up and the thermometer dropped
30 degrees in less than two hours. The wind blew at a steady 30
mph with gusts to 45 mph overnight, creating a wind chill of -45
below. We threw a couple of extra logs in the wood stove last
night.