1/30/03 – Dave Freeman and Eric (Frosty) Frost
(former Sawbill crew members) departed from Sawbill today en route
to Cumberland House, Saskatchewan, to begin their Bimaadagaako
Adventure. Dave's brave little Honda Civic was loaded with
toboggans, camping gear, and food for eight weeks, along with two
huge sled dogs. They will drive to Winnipeg tonight and on to
their starting point tomorrow. To learn more about this epic
adventure and the really cool educational program that goes with
it, go to their website: http://www.wildernessclassroom.org/.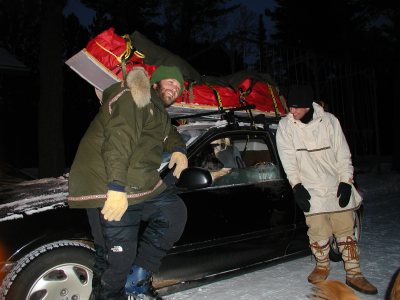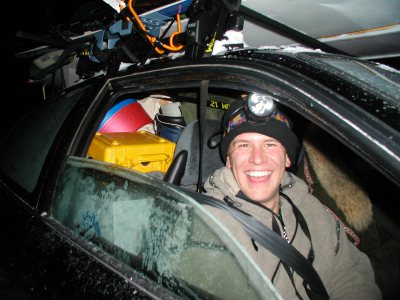 Dave and Frosty test the limits of their trusty
Honda Civic. Frosty is so sad to be heading into the Canadian
wilderness for eight weeks.
1/29/03 – Some friends and I hiked across Sawbill
and Alton over to Beth Lake a couple of days ago. We saw some
unusual ice formations on Alton that we attributed to the ice
heaving around shallow rocks. Cindy is convinced they are ancient
igloo remains. The wolves have been using the Alton to Beth
portage more than people lately and we kept our eyes open for
them, but only saw their tracks. On the walk back, a bald eagle
was soaring high above the lake. -Beth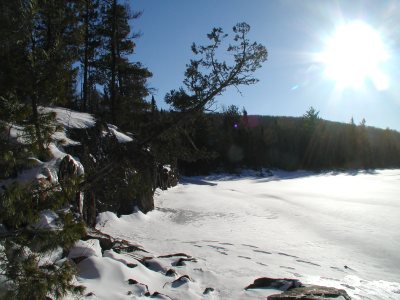 Heaving ice or igloo remains? The eastern shore
of Beth Lake
1/27/03 – Dave Freeman and Eric Frost are here
getting ready for their epic toboggan journey across Saskatchewan
and Manitoba, Canada. They will be trekking across remote
sub-arctic Canada with the help of two sled dogs for about eight
weeks. It is an interesting educational project that has them
communicating with school children on the internet via satellite
phone. Meanwhile, they are packing mounds of food (5,000
calories/day/each) and training the dogs. More on this exciting
adventure later.
Cindy and I picked up a stray puppy on the
Sawbill trail on Friday. It appeared to be a 3 month old German
Shepherd mutt. We're guessing that someone dumped it off with the
hope that some softhearted people (like us) would pick it up and
find a good home for it. Louse Trachta, who works at the North
Shore Market in Tofte adopted the affectionate little puppy. –
Bill
1/23/03 – Although there's no threat of losing
the snow that is on the ground (the high yesterday was -2), the
forecast for additional snow is bleak. Bill pointed out the path
that a vole had taken, trying to burrow its way through the snow.
There wasn't even enough for the poor vole to be completely
covered. There's just a half-tunnel of a trail. It looks like a
snake was working its way around the shower house. Looking at the
weather records we keep, we've gotten only half as much snow this
winter as we had at this point last winter. -Beth
1/18/03 – The temperatures soared into the 20s
yesterday and the sun even held some warmth. Homer, Sunnie, and I
took a long walk, exploring a nearby logging road. We saw many
tracks, some clumps of mysterious gray fur (wolf?), and a full
moon rising. -Beth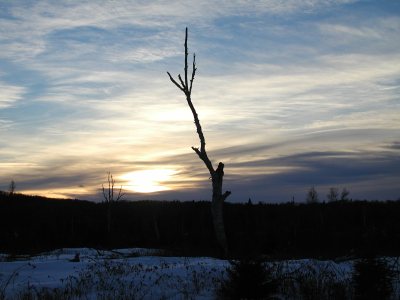 Something is using this stump as a tent – its
tracks are in the lower left corner of the picture. Clouds moved
in at sunset and brought a dusting of snow overnight.
1/15/03 – Cindy and I went to inspect the new
pile of canoes that arrived yesterday and began talking about
past canoe trips that each of us had taken. The discussion soon
progressed to who had done the hardest trip and which of us was
the toughest. The argument heated up and led to a wrestling match
in the canoe yard – with no obvious winner. So we calmed down and
tried to think of a rational way to determine who was in fact the
toughest. The solution suddenly seemed obvious – Who could keep
their tongue on the frozen metal gunwales of the new canoes the
longest. Unfortunately, I was no match for Cindy, the life-long
woodsbunny. The cold weather will be around for a while though,
so a re-match may be in the future. -Beth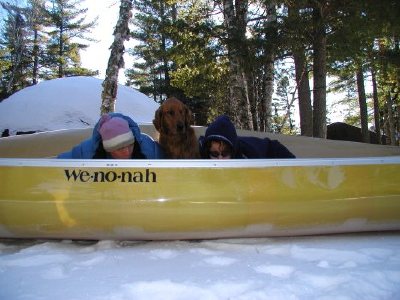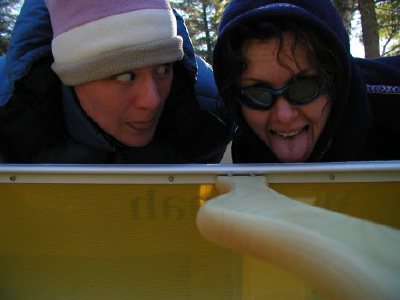 Even Homer is smart enough not to get in on
this bet. Cindy wins! – but she's still stuck to the canoe, so
who's the real winner?
1/14/03 – We were just about ready to take a
lunch break today, when, what to our wondering eyes should
appear, but 15 shiny new Wenonah canoes. And on the coldest day
of the year! Bill bundled up and helped unload them, all the
while wondering why he ever came back from Tucson. Its going to
be a while before the canoes get their first paddle. – Beth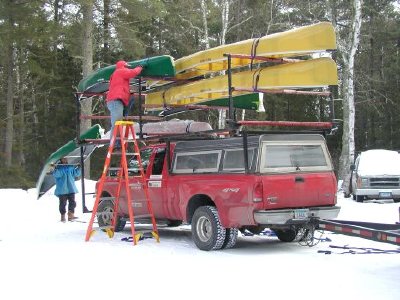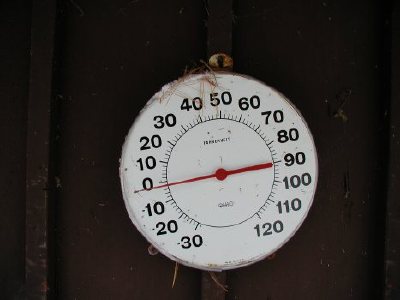 Bill and Ken, the Wenonah guy, work hard
unloading the new canoes. Is the temperature minus two or
ninety-two?
1/13/03 – Bill is in Tucson for a few days
attending a wilderness conference, enjoying the sun and heat.
Cindy and I are holding down the fort here, enjoying the cold and
wind. Its not likely to get above zero today, and the wind chills
are around -25 degrees. Its perfect weather for sitting around
inside drinking a lot of coffee (and procrastinating on starting
Monday morning work). We decided we needed some proof to show
Bill just how cold it was this morning, and thought some science
experiments would be fun. Since we had plenty of coffee handy, we
tried tossing a cup of it out the window to see what would
happen. The coffee quickly disappeared in a cloud of steam. After
a half a pot or so, we realized that we'd be out of coffee soon
(a horrible thought!) so we switched the experiment over to
blowing bubbles. The bird feeders were soon covered in membrane
thin, crystalline inscribed, frozen bubbles that shatter when the
birds land on them. With hands numb from being outside, we went
back inside and warmed them over the last of the coffee. -Beth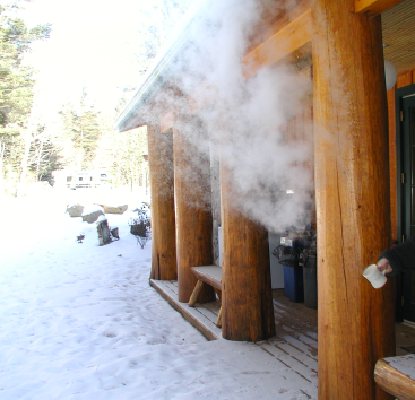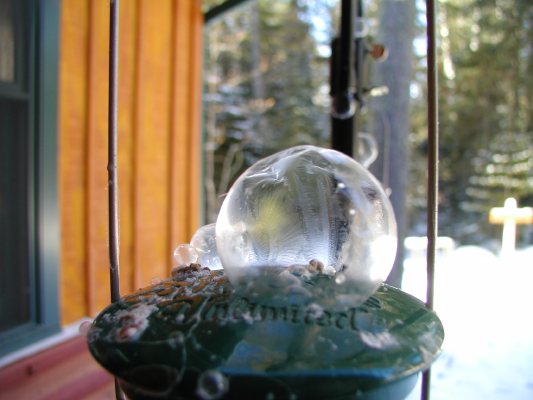 The cold air makes quick work of a hot cup of
coffee. A collapsed and frozen bubble on the bird feeder.
1/9/03 – Our heat wave came to a screaming halt
this morning. Its about 30 degrees colder today than yesterday –
making it actually feel like January again. We also got about an
inch of snow overnight. -Beth
1/8/02 – Yesterday was unusually warm, with a
strong south wind that made skiing on the lake difficult. So I
decided to go for a run instead. As I headed down the trail in
the warm sun, amazed that I was outside wearing only one layer of
clothing, thoughts of summer began creeping into my head.
Everything along the road is frozen and shut down for the winter,
but I pictured how it looks months from now. I ran past the place
where the raspberries grow thick and sweet, past the place where
the birds build nests and protect them fiercely, past the place
where spring puddles last for weeks and fill up with squirming
tadpoles. These summery thoughts weren't caused by spring fever,
I was very discouraged that the precious little snow we have was
melting, I was just enjoying the January treat of unexpected
warmth. I had a schizophrenic urge to be able to ski on the lake
to a spot where the ice turned to water and then dive into
August-temperature water. I turned around and headed back for
home, tucking away the thoughts of raspberries, tadpoles, and
swimming for the days when spring fever really hits. -Beth
1/6/03 – We had a busy and joyous holiday season
here at Sawbill. We spent many happy hours at the Lutsen
Mountains Ski Area, eating, drinking, visiting, playing cards,
skiing on the lake, and ice fishing. We continue to be short on
snow here, just like everywhere in the Midwest. I guess we have
more than most, but the ski trails in the woods aren't open yet.
As a result, we have been skate skiing on the lakes. – Bill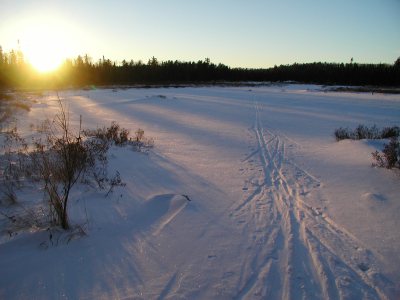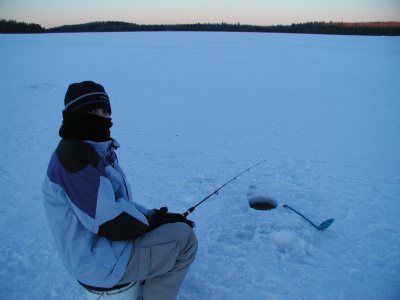 The Kelso side of the Sawbill to Kelso Lake
portage. Clare has the blues ice fishing on Alton.