5/29/03 – Spring flowers are beginning to spread splashes of color
everywhere. The marsh marigolds have been in bloom for over a week and the
swampy area at the very south end of Sawbill Lake is full of the bright yellow
flowers. Purple and yellow violets are in bloom as well as woodland anemonies.
I also stumbled across three nodding trillium in bloom near the Sawbill Creek.
Their delicate white flowers hang just under the three large leaves that give
the plant its name. -Beth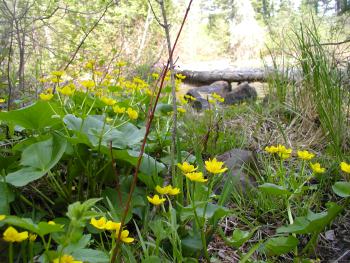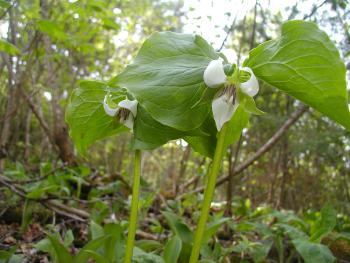 Marsh marigolds and nodding trillium
are just two of the plants in bloom around Sawbill.
5/26/03 – Today completes the finest Memorial Day weekend, in terms of
weather, that we have ever had. Balmy temperatures, light breezes, blue skies
and even the fish are biting. We are seeing nothing but happy faces around here
this morning.
Two new Sawbill crew members have arrived in the last two days.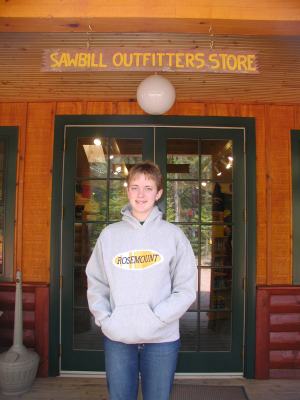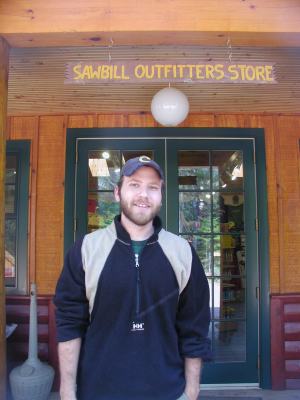 Alison Behm is from Rosemount,
Minnesota and attends the University of Minnesota. Patrick Nash is from
Middleton, Wisconsin and will be going to school in Pocatello, Idaho this fall.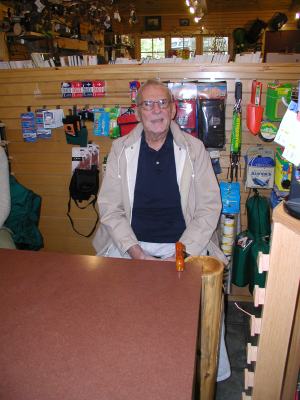 Frank Hansen is recovering from his
long ordeal of repeated hip surgery. He is cruising freely around the property
and spending hours visiting with canoeists in the store.
Steve Snyder, who was a guide at Sawbill Lodge back in the 60s, came in from
Malberg Lake last night. He had the privilege of seeing a new born moose
nursing from its mother.
Speaking of moose, my friend Sue Abrahamsen of Grand Marais was injured last
week when she surprised a mother moose and a new calf on a trail near Grand
Marais. Sue found herself suddenly very close to the pair and the cow kicked
out and broke Sue's leg. It was one of those very rare and fluky accidents with
what are normally peaceful and placid animals. You can read the full story in
the Cook
County News Herald story.
A Sawbill camper had another fluky accident yesterday. While crossing the
Sawbill to Alton portage carrying a loaded canoe in the upright position, a man
fell and caught his hand between the falling canoe's keel and a rock. He sliced
off the tips of two fingers. His friends picked up the severed pieces and
rushed him back to the Sawbill store. Luckily, a Cook county deputy sheriff was
visiting in the store and was able to rush the man to the hospital in his squad
car. Dr. Paul Terrill reattached the finger tips and gave a hopeful prognosis
for full recovery. – Bill
5/16/03 – Sawbill crew members have begun arriving for the summer! Kari
Anderson-Hermann, a new crew member from Minneapolis, was the first one to
arrive last week. She's been cheerfully doing all of the spring dirty work like
scrubbing outhouses and shuttling a dozen canoes at a time to different entry
points. Kari has spent many summers paddling with Camp Menogyn, including their
50-day Hudson Bay trip last summer. She just finished her freshman year at the
University of Redlands in southern California. Max Wilson, long-time crew member
and Jayco resident, arrived from Massachusetts yesterday and is hard at work
already. -Beth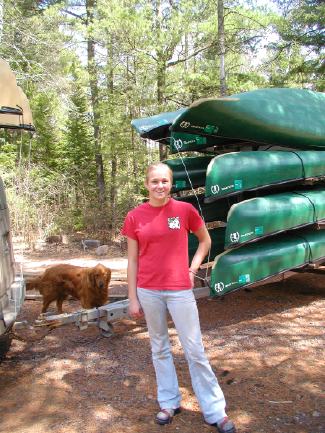 Kari doesn't seemed the least bit
phased by the huge pile of canoes she has to drive to Kawishiwi (where do I
take that first right?).
5/15/03 – The June issue of National Geographic Magazine, on newsstands
today, contains an article on the Boundary Waters Wilderness by virtuoso
photographer/writer Jim Brandenburg. The online
version of the article includes a link to Sawbill Canoe Outfitters! – Bill
5/14/03 – On May 4th, big happenings were afoot here at Sawbill. Bill Hansen
was one day away from turning FIFTY YEARS OLD. Cindy, as always, was one step
ahead and had planned a surprise party with exactly 50 friends and family in
attendance. And, while Bill was delighted with the unexpected guests that kept
pouring through the front door, he had no idea what was still in store. This
past fall a friend of Bill's had offered to sell his 1978 Moto Guzzi 850 T3
motorcycle to Bill. Bill thought about it for a few weeks and finally called
the friend back and said he'd take it. The friend apologized but said he'd sold
it to "some other guy" because he hadn't heard from Bill. A few weeks
later Bill went to visit the friend and got to see the bike and realized it was
exactly what he had wanted. Bill was disappointed but then snowboarding season
started and Bill got distracted by that. So, last Sunday during the party,
right after Bill's friends and family spent an hour roasting the old guy, Cindy
placed a blindfold on him, marched him outside, and after much suspense
revealed his birthday present – the 1978 Moto Guzzi. She had been "some
other guy" all along. – Beth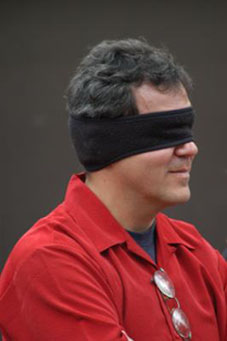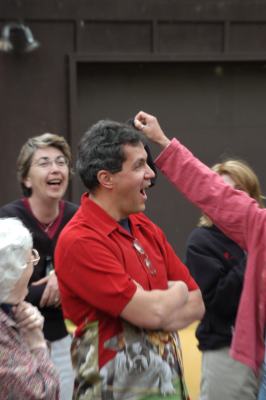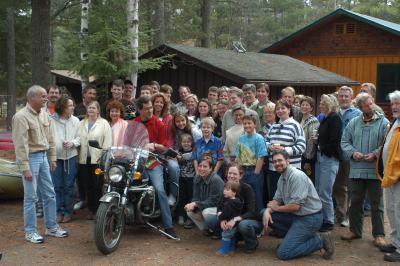 Bill is a bit nervous at what Cindy has cooked up as a present…. Bill in
utter disbelief – be careful with big surprises, he's 50 now, it may be too
much for him…. After Bill picks his chin off the ground, the party goers and
the present pose for a picture with the coolest guy in town.
5/8/03 – Wandering outside with a bright moon hanging in the warm night sky,
I paused to breathe in the sweet spring air. After a moment or two I realized
what was different – the frogs were noisily having their evening choir practice
for the first time. It was a very summer-like noise and made the night air feel
a little bit warmer as I headed for home. -Beth
5/6/03 – The Forest Service announced a fire restrictions beginning May 8th.
As in the past few years, fires will only be allowed between 7 pm and midnight
in the blowdown areas. Outside the blowdown areas, fires are allowed in the
fire grates any time of day. It is dry here right now.
Greg Fangel, who lives part-time in Tofte, was driving up the Sawbill Trail
last Saturday and came across a cow moose with a yearling calf. This is not so
unusual in itself, but Greg was startled to see that the cow was missing one of
her legs. This is the first I have ever heard of a three legged moose. – Bill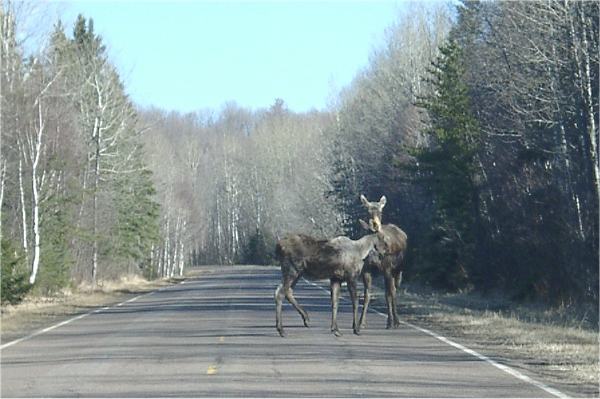 Greg Fangel reported that this mama
moose hobbled into the woods on only one back leg
Ed Dallas, Sawbill's Poet Laureate, sent this short poem this morning.
first smells of spring rain
a low rumble of thunder
through the loon's call
5/2/03 – It appears that the ice is gone from Sawbill Lake as of Thursday,
May 1st. We haven't had time to paddle up to the north end, but everything is
open as far as we can see. The statistical average ice out date for Sawbill
Lake over the last 50 years is May 2nd. The earliest I can remember is April
11th and the latest is May 22nd.
Cindy saw a very large black bear on the Sawbill Trail this morning as she
was driving the kids to the bus. As she drew nearer, one, two, and then three
tiny cubs ran across the road. She pulled to a stop and watched the tiny fur
balls as they bumbled around trying to get safely up a tree. After finally
agreeing on a tree, they all shinnied up a few feet and then stared at Cindy.
She said they were nothing but ears. After a few minutes, mother reappeared,
called them down, and led them off into the woods. – Bill
5/1/03 – The south end of Sawbill Lake is substantially clear of ice. We can
see some ice up near the first narrows. Typically, the larger, deeper middle
section of Sawbill goes out a day or two after the south end. It is warm, sunny
and windy here today, so I am guessing Sawbill will be clear by this evening. –
Bill