7/31/03 – Many of you know or remember John "OB" Oberholtzer, who
worked at Sawbill off and on for nearly 20 years. John and his wife, Kathleen,
have become the proud parents of beautiful Hazel Anne, born Saturday July 26th
at 9 a.m. tipping the scales at 6 pounds 6 ounces and 19 inches long.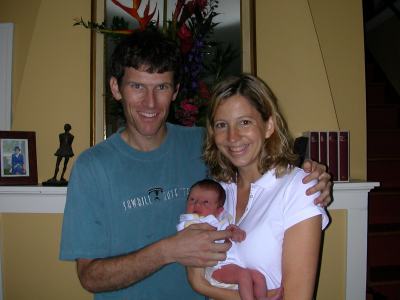 OB, Hazel (future Sawbill crew
member?) and Kathleen.
7/30/03 – We received the following email and picture yesterday:
Beth and Bill

My almost 10yo daughter and I completed her 3rd trip and my 4th into the BWCAW
through the Sawbill landing in mid-June. In the Fall of '99 you posted a
picture of Danielle w/ her "big" fish.

This time she was bit more successful and landed a 2lb+ Northern Pike caught at
the put in on Alton Lake on the northern portage between Sawbill and Alton Lks.
In this picture she is wearing a green fleece jacket which she managed to lose
on one of the portages between Pan Lake and the Kawishiwi River.

I am happy to report that a young Boy Scout on a trip into that area found the
jacket, packed it out and brought it home to his Mother. She washed the jacket,
noted the phone number on the label and gave me a call. A few days later the
package with the jacket arrived back in Maryland. The young man's name is Sam
Gaughan and he lives in Dayton, Ohio. We are grateful for his good deed.

I visit your web site often and often wish I could visit Sawbill more frequently.
Please keep up the good work you do.

V/R

Dave Armstrong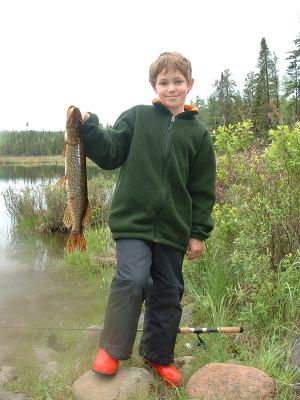 Danielle Armstrong is growing and so
are the fish she's catching.
Ed Dallas, Sawbill's Poet Laureate, sent a haiku this morning:
sawbill camp store~~~
with each bottle of pop
the walleye gains two pounds
7/27/03 – Steve Gendron volunteers for Loon Watch, which is an annual loon
census. This year, he found 5 adults and juvenile on Sawbill Lake, 4 adults and
2 juveniles on Smoke Lake, 2 adults on Burnt Lake, and 0 loons on Flame Lake.
Overall, these census numbers a in line with those in recent years.
The Zackley Youth Group from the 1st Congregational Church of LaGrange,
Illinois was here last night and this morning before departing on their annual
canoe trip. They have been Sawbill customers for near 40 years. It is a great
pleasure for us to share in a tradition that has positively effected the lives
of so many young people. They always have great spirit and humor. Many Zackley
alumni have become Sawbill Crew members and/or loyal customers on their own
over the years.
Some folks staying on the Sawbill campground brought a fledgling raptor that
they found in the middle of the Sawbill Trail. We called the Raptor Center at
the University of Minnesota in Minneapolis. They asked us to take the little
hawk to a licensed wild bird rehabilitator in Tofte, Bernadette Brooks. She was
able to get it to eat and drink water until it could be transported to the
rehab center at the Raptor Center. We guessed from it's size that it was either
a Kestral, Merlin, or Sharpshinned Hawk. Bernadette was unable to positively
identify it either, at it's early stage of development.- Bill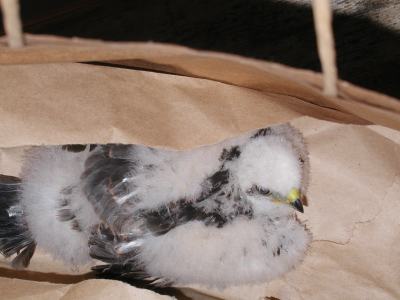 A baby raptor, rescued from the
Sawbill Trail. It is now living at the Raptor Center in Minneapolis.
7/24/03 – The fish stories keep pouring in. Today we heard a good one – and
saw the fish to back it up. Shaun Timmerman, 6 years old, from St. Peter, MN
was fishing from the shore of the north end of Sawbill Lake when he got a big
bite. His 13 year old brother, Ryan, stepped in to land the fish, which turned
out to be a 4lb. small-mouth bass. All of this using leeches on a small plastic
kid's fishing pole. Eleven year old brother Evan lended his moral support
through it all. Their smiles were almost as big as the fish.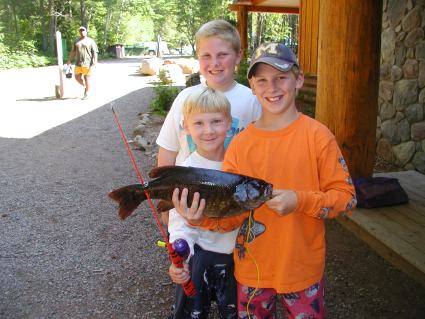 Shaun (holding the fishing pole) and
brother Ryan (holding the 4lb. bass) teamed up while Evan cheered them on.
7/20/03 – Here are a couple of more historic pictures courtesy of Brian
Tofte. The Cherokee Cabin was a federal cabin located on the point just east of
the portage to Gordon Lake. It was burned down in the late 60s I believe. –
Bill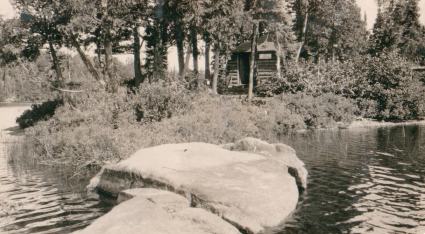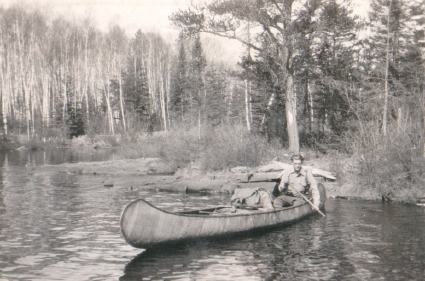 The old Cherokee cabin in the 1930s
and canoeist on Grace Lake in 1929.
7/18/03 – We've had lots of visits lately from former crew members. Sue
Hankins (crew member from '86 – '89) and her husband Russ Meller brought their
beautiful 4-month-old baby Grace for her first trip to Sawbill. Russ whipped up
a batch of his world famous and top secret recipe chocolate chip cookies for
the crew. Mark Henning (crew member from '88 – '90 and '92) came up with his
wife Lori, kids Matthew and Megan and also brought the exciting news that they
have a baby on the way. Joining Mark were his brother Lyle and Lyle's daughter
Lauren.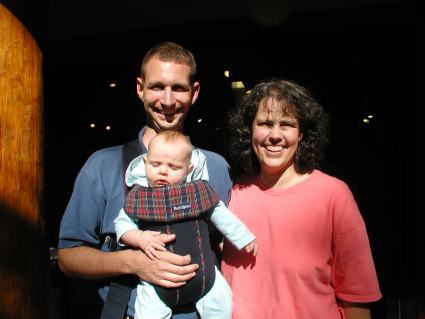 Russ Meller, Sue Hankins and baby
Grace. You make us cookies and we put your picture on the newsletter.
7/17/03 – So what does a guy who lives in the woods and works in the woods
do when he goes on vacation? He shines up his motorcycle and heads out on the
open road to the bright lights and big city of Chicago. Bill is on a well
deserved road trip vacation to visit his daughter Ruthie in Chicago. I'm sure
he'll have a few good stories when he returns. -Beth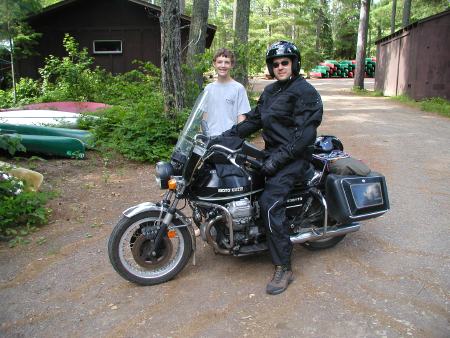 Head out on the highway….Carl and
Bill make a few last minute checks of the Moto Guzzi before the trip begins.
7/14/03 – After a few days of rainy weather while on a canoe trip, a sunny
day can feel like the best thing ever (and can also cause you to do strange
things). Sawbill customers Beth Rademaker, Sara Rademaker, Ashley Marjanen and
Jan Venderly, all of Ft. Wayne, IN, decided to take full advantage of a recent
sunny afternoon and test a theory to see if they could harness a little solar
power from aluminum foil hats while on the last day of their trip. I'm not sure
they got any extra energy from the hats, but they definitely got a few curious
looks. -Beth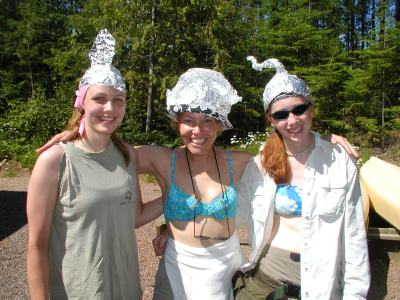 Are you feeling the power?
7/12/03 – Thursday night, several members of the Sawbill crew and a number
of Sawbill campers were driving up the Sawbill Trail from Tofte. About three
miles from Sawbill a cow moose was standing in the road. this is not an unusual
event in itself, but this particular moose decided to make possession of the
road a territorial issue and refused to let the cars pass. For almost an hour
and a half the moose stood and watched a line of cars grow. Finally, she ambled
off and let the parade pass. – Bill
7/11/03 – Sawbill crew members, Adam Hansen and Lida Storch, took a nice
little day paddle on Tuesday. They started at Sawbill around 4 am and traveled
around the Louse River Loop, returning to Sawbill at 5:30 pm. This is a route
normally recommended for 4 days of fairly strenuous travel. Lida is in training
for varsity crew at the University of Minnesota and Adam is just ambitious.
7/06/03 – Its been a busy holiday weekend around here. Lots of people
paddling and lots of 4th of July festivities going on. The town of Tofte has a
big celebration every year and Sawbill was well represented with Adam Hansen
being a star attraction in the Dunk Tank. A number of crew members made the
drive into to town to help support the local elementary school by buying LOTS
of attempts to dunk Adam. -Beth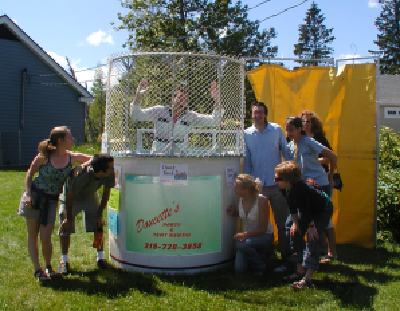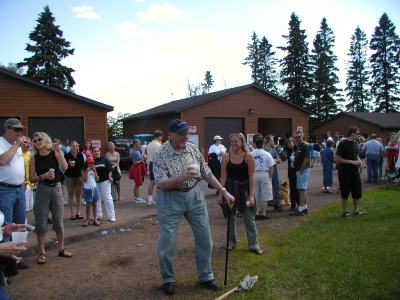 The Sawbill crew eagerly waits for
Adam to take the plunge. Frank takes aim….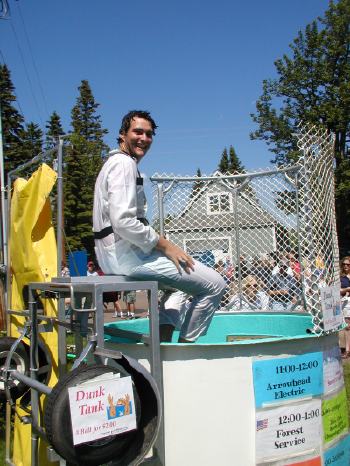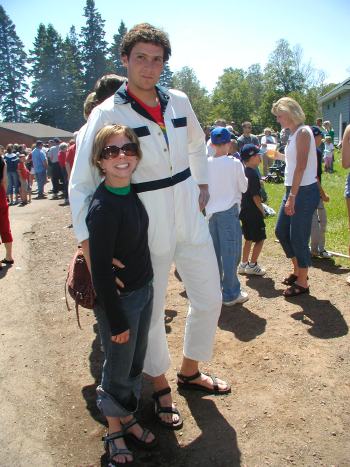 Hey Adam, how's the water? The long
and short of it…Adam and Missy agree it was a great 4th of July.
7/04/03 – The National Forest Service has lifted the partial fire ban that
was in effect for the designated blow-down area. The removal of the fire ban is
effective immediately. Have a safe and relaxing 4th of July.
7/03/02 – Around 7pm last night, a strong wind kicked up and dark clouds
started thundering across the sky. We all hunkered down expecting quite a storm
to blow through. The winds blew a few branches down and just a couple of
raindrops spit from the sky but that was the worst of it. By 9pm the skies were
clearing and we were treated to a full rainbow spreading itself over the
Sawbill Store and a blazing sunset painted across the south end of the lake.
-Beth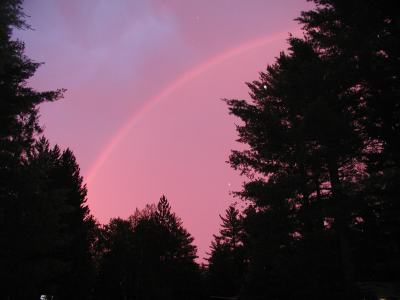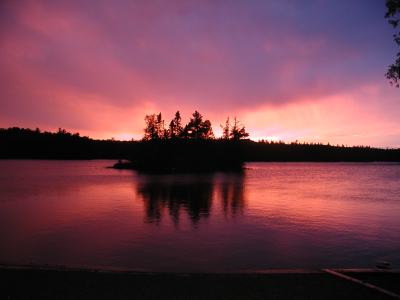 Facing east, a full rainbow. Facing
west, a gorgeous sunset.