8/31/03- Longtime Sawbill campers, Ted Heinonen and George Domstrand,
discovered a small but tenacious forest fire near campsite #5 this morning.
Several cedar trees were burning from the inside out. Ted, George and several
Sawbill crew members poured buckets of water on the trees to keep the fires
under control until the Forest Service fire-fighters arrived to extinguish the
blaze. The two person professional fire fighting crew took almost five hours to
get the job done. They pumped thousands of gallons of water onto (and into) the
trees in an attempt to save them, but ultimately had to cut three of them down.
UPDATE: Forest Service firefighters report that they found no evidence of a
campfire at the scene of the fire. They suspect lightning as the cause of the
fire, although none of the affected trees bear the characteristic burn mark of
a fire strike. We haven't had any lightning here for several days, so if
lightning did cause the fire, the trees have been smoldering on the inside for
quite a long time. The true cause of the fire will probably remain a mystery.
….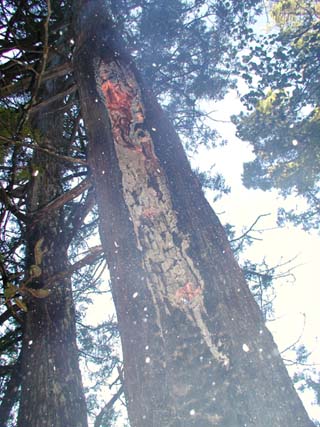 ..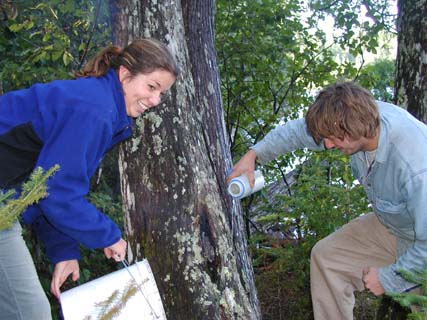 A large tree smolders (left) . Sawbill crew members Lida Storch and Jeff
Green help keep the fire under control (right).
8/30/03- Labor day weekend is in full swing today– lots of campers,
canoeists and musicians are up at Sawbill celebrating one last hurrah before
the end of summer. -Ruthie
8/25/03 – Hanna Emerson sent us this email today:
I am sending you a picture of a mama moose
which kept us company on Vernon. She showed up with her calf at 8:20 in
the morning and left around 6:00 p.m. in the evening. Without paying any
attention to us she kept eating in the little bay next to the campsite.
We took a day trip and found her in the same bay upon our return.
She also gave us the opportunity to listen to her voice!
Regards,

Hanna Emerson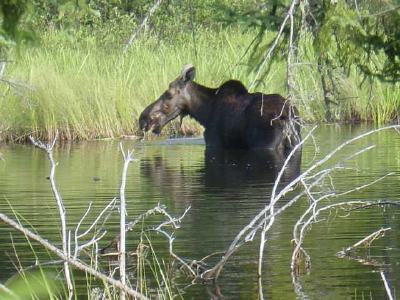 Moose on Vernon Lake.
8/24/03 – Driving home from Tofte recently, we encountered this lone wolf
along the road. Cindy has seen it several times. It has a pronounced limp in
its front leg and is fairly tolerant to being stared at and even photographed.
– Bill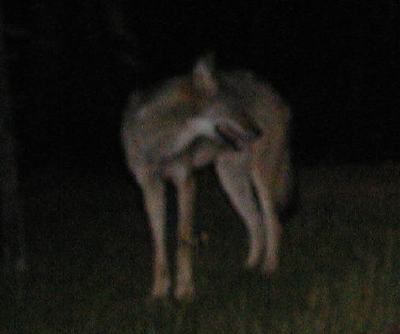 Even a fuzzy night-time photo shows
the long limbs and lean build of the timber wolf.
8/21/03 – A wild storm dropped 2.03" of well needed rain last night.
There was almost continuous lightning for several hours, but none of it was
very close to Sawbill. Lake and stream levels will be rising quickly throughout
the day today. You can almost feel the trees sucking up the moisture that they
have been craving for the last couple of weeks.
Jack Brennigan and his group from Wisconsin are frequent visitors to the
Sawbill campground. They are greatly feared by the fish in Sawbill and Alton
Lakes. This week they brought a friend, Jerry Bella, for his first visit to
Sawbill and also his first fishing trip. Jerry surprised everyone by showing
great fishing aptitude. – Bill
Jerry Bella, from Berlin, Wisconsin,
proudly shows the 3.5 lb definition of beginner's luck.
8/20/03 – The Forest Service has announced that as of midnight on Thursday
August 21st, no open fires will be allowed in the Designated Blowdown Area of
the BWCAW. Camp stoves will still be allowed in this area. The Designated
Blowdown Area includes Sawbill Lake (the campground here at Sawbill is not
included in that area, however) and areas north and east of Sawbill. A map of
the restricted area is available on the Superior National Forest website at www.fed.us/r9/superior. The fire
ban is a result of very dry conditions in the area.
8/18/03 – We were surprised to see a young lady walk into the store
yesterday wearing a "powder blue" Sawbill sweatshirt. It was a model
that we sold in the early '70s. It was still in perfect condition. She had
borrowed it from her dad, Mark Pirazzini, who was a frequent camper here back
in the day.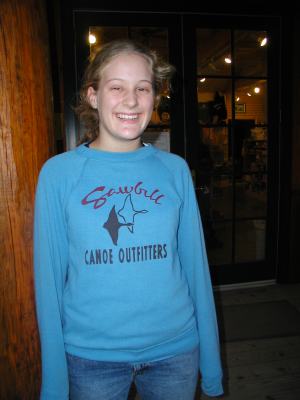 Kaia Pirazzini models her dad's
vintage Sawbill sweatshirt.
8/17/03 – Fred Siebenmann was here recently for his annual canoe trip. Fred
took his first trip in 1963 when John Kennedy was President. Fred's son, Fred,
has made almost every trip since that time with a few years off for duty in
Vietnam. Both Siebemanns are very active mountain climbers, hikers, rafters and
fisherman. We recognized Fred's love of wilderness with a gift of a sweatshirt
that celebrates the creation of the National Wilderness System in 1964.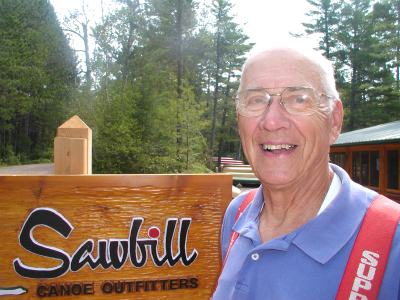 Fred Siebenmann on his 40th visit to
Sawbill.
8/16/03 – We've had a spell of hot days this week – yesterday it was 94
degrees here. There's a definite change in the air and the heat has dried out –
no steamy, sticky days like July. Sandals are a necessity in this kind of
weather and not only keeps you cooler, but paints a picture of your day on your
feet. The dust on your ankles from the canoe yard, the mud on the soles from washing
packs, the purple blotches on your toes from standing in the blueberry
patch…and then at the end of a long, hot day, you can take a dive into the
coolness of the lake and let the day just float away, forget your weariness,
and clean your feet off to start fresh tomorrow. -Beth
8/13/03 – The warm, sunny days continue and the last few nights have had a
cool crispness to them, bringing thoughts of fall. Lots of activity going on at
Sawbill lately. We rounded up the whole crew one day long enough to snap the
annual crew picture. A few days later we shined up our dancing shoes for the
Dome Dance. We had our first departure of a crew member – long time Sawbillian
Max Wilson headed to D.C. to begin law school. The ladies of Sawbill got
dressed up and headed out for a night on the town. And the biggest news is that
long time crew member Nathan TerBeest (son of campground hosts Jim and Rachel)
proposed to his girlfriend Belinda a few days ago – she said yes! In between
all that fun we've managed to fit in a little work as well….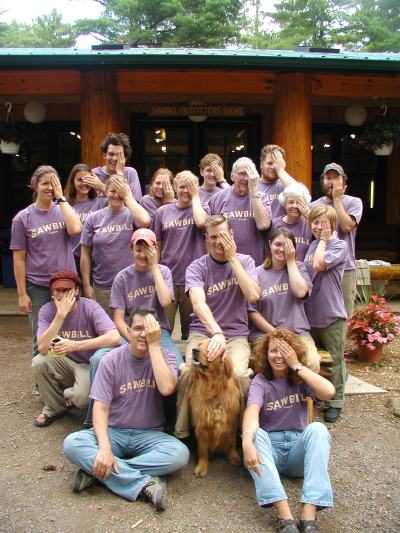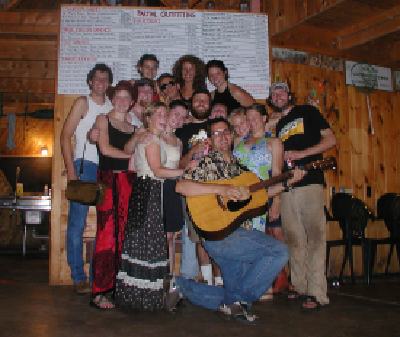 Sawbill Crew 2003 – If the dogs can
make it with one eye, we can too…Kicking up our heels at the Dome Dance.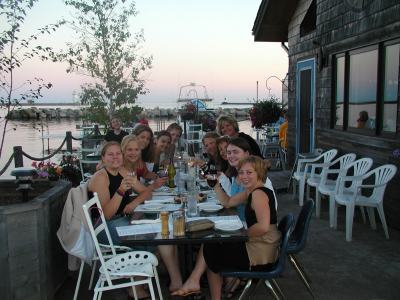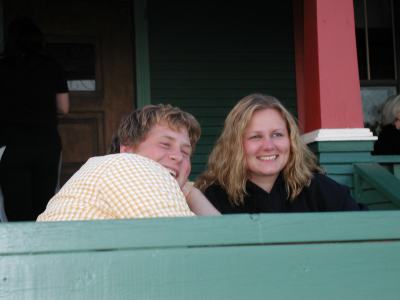 A lovely night out for the lovely
ladies of Sawbill. Nathan and Belinda, he newly engaged couple, celebrating the
happy news.
8/3/03 – Jo and Bill Koski, campground hosts at the Crescent Lake
campground, sighted a mountain lion on their way over to Sawbill today. They
got a long, close look at it while it stood in the road just a few hundred feet
in front of them. Jo tried to get her camera out, but couldn't do it in time.
Mountain lions are not native to Minnesota, but are highly nomadic and
occasionally pass through. – Bill