10/30/03 – Tomorrow is my final day of working at Sawbill.
After 2 1/2 years, its time for me to move on to a new adventure.
The time I've spent here will always be something held very
dear in my heart. I'll miss the calm of the lake, the silence
of the air, and the brilliance of the stars. I'll miss the
excitement of the first customers of the season – and the
excitement of the last customers of the season. I'll miss the
Beach Club and late night swims. I'll miss the sauna – oh,
the lovely, lovely sauna. I'll miss Homer and Sunnie and even
Alice the ornery cat. I'll miss the Hansen's who have shown me
so much warmth and generosity and have truly welcomed me into
their family. And I'll miss writing about all of these things.
As hard as it is to leave this place and these people, I know
that Sawbill is something that becomes a part of your soul, and
you can hold onto it even when you're not here. Once you've
been a part of Sawbill, it becomes a part of you. – Beth
10/30/03 – Justin Lee, who travels all the way from Singapore
for his annual Sawbill canoe trip, sent this link to
pictures from his most recent BWCA Wilderness experience. The
underwater fish photos are excellent.
It looks like winter might be here to stay. Although Sawbill
Lake isn't frozen yet, we are getting a little more snow
everyday. – Bill
10/27/03 – Former Sawbill crew members Dave Freeman and Eric
Frost are starting another educational adventure with their
non-profit organization Wilderness Classroom.
They have just arrived in Costa Rica for two months of exploring
that beautiful and interesting country. They will be joined for
the first few weeks by Erik Hoekstra, another former Sawbill crew
member. You can follow their progress by reading their "Notes
From the Trail" on the web. – Bill
Current Sawbill crew member, Adam Hansen, will be working with
Wilderness Classroom for the next six months or so. He is helping
with logistics during the Costa Rica Project and will be joining
Dave for the Boreal
Forest Project, a several hundred mile, two month sled dog
trip in northern Manitoba during February and March.
Sawbill is thrilled to be a sponsor of this wonderful
educational initiative. – Bill
10/26/03 – We had hoped that the solar flare activity during
the past few days would bring some northern light activity here.
The days have been cloudy but the nights have cleared off. The
stars have been sparkling, but, unfortunately, no northern lights
have been in the sky.
We spent the better part of the afternoon putting canoes away
for the winter. Cindy then traded in all the fishing poles,
tackle boxes, and snorkel gear on her porch for skis, snowboards,
and sleds. Snow is predicted for tomorrow and tuesday. We're
hoping for lots. -Beth
10/24/03 – An unexpected snowfall greeted us this morning. At
least an inch of heavy wet snow is already on the ground and more
continues to fall. A gray fog hangs in the air since the
temperature is hovering right around freezing. As I walked over
to the store this morning and a bright red pine grosbeak perched
on a snow covered tree branch – standing out like a christmas
ornament. Many of the winter resident birds have arrived –
including evening and pine grosbeaks, purple finches and juncos.
-Beth (pictures by Bill)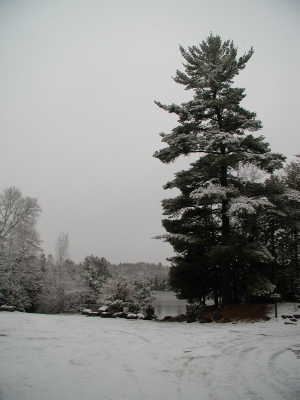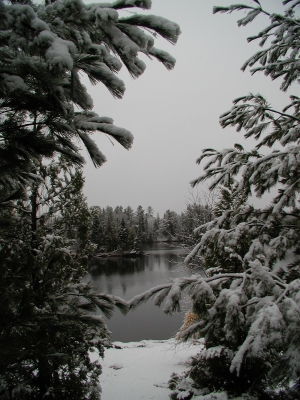 Snowy Sawbill
10/22/03- Last Saturday was pumpkin carving night! Cindy,
Carl, and Clare picked out some interesting pumpkins to challenge
our creative skills this year – but we carved our fingers raw and
came up with quite a batch of jack-o-lanterns. Kari and Adam
teamed up and created Split Personality Pumpkin. Adam carved
Kari's likeness on one side and Kari carved Adam's on the
opposite. Carl, wishing crew member Missy could be here in
person, somehow managed to capture her vibrant personality in his
creation. My friends who were visiting went more for the horror
angle, and created a masterpiece that is sure to give the kids
nightmares. Former Crew member Carol Winter and her husband Kirk
Dornfeld and their family was also here for the big event and
carved up outstanding pumpkins as well. -Beth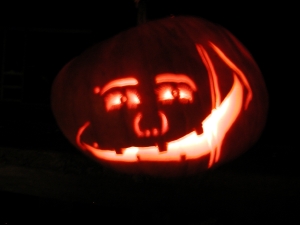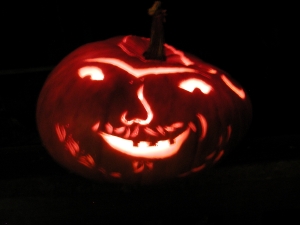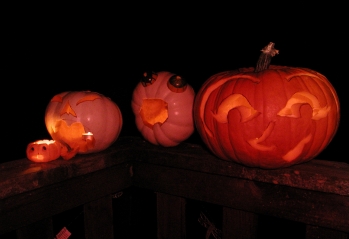 Split Personality
Pumpkin – First its Kari, then its Adam (including Adam's facial
hair experiment), We call it "Tastes like Chicken" and
a pumpkin version of Missy.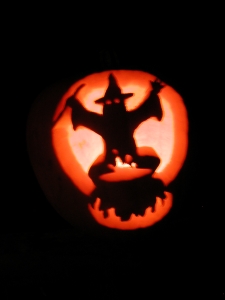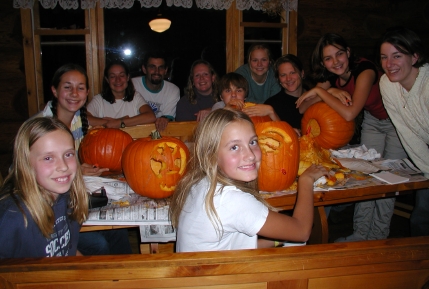 Witches dancing on
cauldrons. The Crazy Carving Crew (Carl is missing from the
picture).
10/20/03 – For the first time since early May, we have no
customers in the wilderness here at Sawbill. All the canoes are
safely back in the yard after a busy summer season. This is a
poignant time of year for us. The chief joy of this business is
the vivid, interesting, and friendly clients that we are
privileged to deal with day to day. However, we always have a
bittersweet feeling at this time of year. It is a relief to see
the end of the 14 hour days, relax a bit, and enjoy the peace and
quiet the envelopes us. There is still plenty of work to do.
Taking inventory, draining water systems, putting canoes and
equipment into storage, and a hundred other chores will occupy
our days for the next few weeks. But the end is in sight and we
are all grateful. Grateful for the opportunity to live in this
unique corner of paradise; grateful for another safe and
successful season; and grateful to all of you who make this a
special place of trust and renewal. – Bill
10/15/03 – We have an update from the University of Minnesota
Raptor Center on the two raptors that were rescued near Sawbill
this year. The sharp shinned hawk chick that was found on the
Sawbill Trail this summer has been released back into the wild in
the same spot were it was found. It spent a couple of months at
the Raptor Center recuperating, growing up, and being trained to
hunt. The great horned owl that flew into Cindy's car last week
is now at the Raptor Center where it is alert and eating well.
The veterinarians are treating an injured eye and hoping for a
full recovery.
The Forest Service completed three fairly large prescribed
burns in the BWCA Wilderness last week. What follows is their
official report:
Kekekabic Lake Fire – This is a 2,618-acre unit situated along
the western edge of the Gunflint Trail. Kekekabic a blowdown unit
associated with the 1999 July 4th Storm. The unit was ignited at
1300 on October 9th utilizing a PSD and two helitorchs. Vigorous
fire behavior was observed in the areas of pure blowdown. In
areas of 50% or less blowdown, low to moderate fire behavior was
observed. No significant events reported. Only 80% of the unit
was ignited. However, the dry weather over the past two days
enabled the fire to spread into the unburned portions of the
unit. Kekekabic is 100% complete.
Arc Lake Fire – This is a 2,633-acre unit located inside the
Boundary Waters Canoe Area Wilderness (BWCAW) just to the west of
the Gunflint Trail. Arc Lake is a blowdown unit associated with
the 1999 July 4th Storm. Unit was ignited at 1000 on October 10th
using a PSD, two helitorchs, and hand ignition. As expected,
areas of blowdown burned intensively while areas with no blowdown
did not sustain fire spread. Objectives were met with no
significant events reported. Only 90% of the unit was ignited,
but the dry weather yesterday evening and this morning enabled
the fire to spread into the unburned potions of the unit. Arc
Lake – is 100% complete.
Honker Lake Fire – This is a 1,553-acre unit located inside
the BWCAW. Honker is a blowdown unit associated with the 1999
July 4th Storm. The unit was ignited this morning using a PSD and
two helitorchs. Approximately 75% of the unit was ignited before
a strong, wet weather system shut down operations. Objectives
were met with no significant events reported. Honker is 75%
complete at this time.
Future Plans: Cool, humid weather has settled into the area
for the next few days – effectively shutting down burning
operations. Top of the Trail ICP will be completely demobed by
Sunday October 12. If the weather cooperates, the Superior
National Forest plans to continue to burn blowdown units until
winter weather finally shuts down operations. This will be the
last update until such time.
Total acres completed during this effort: 6,401
Cost per acre (estimate): $55
For further information contact:
Ellen Bogardus-Szymaniak
(218) 327-4571 (office)
10/12/03 – We received a couple of messages from canoeists who
were out during the bad weather a couple of weeks ago. Scott
Durnell sent this link http://www.durnellcentral.com/modPhoto/albumview.asp?albumid=72
to 109 images from his recent trip.
Jack and Debbie Cook sent the following note and picture from
their trip:
Hi Bill,
I just wanted to drop you a note of thanks for our memorable Ella
Lake trip. Deb and I are very appreciative of the hospitality
you and your crew showed us. We are already looking forward to
next season. Attached is a photo from our adventure, and I'd
like you to note two things. From the marks on the side of the
tent, you can see the ol' Eureka withstood the polar bear attack,
and I am safely inside while my wonderful wife is out is the
elements taking the shot. I think next year on the Outfitting
Reservation Form, in the weather column, we'll check the sunny
and 60 box instead of the snow and 30! Thanks again, and I wish
you and your family well. Also thank Beth for her help, Deb and
I will miss her next time.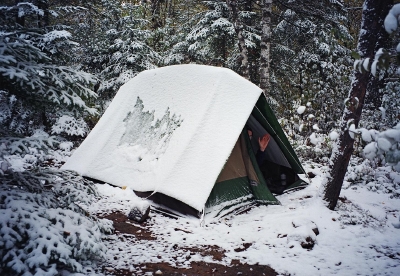 Jack Cook waves from
the comfort (?) of his tent on Ella Lake, October 1st, 2003.
10/10/03 – Strong breezes over the past two days have blown
down most of the leaves – but the tamarack trees are glowing
gold. The warm weather has continued, but rain is predicted for
tomorrow. -Beth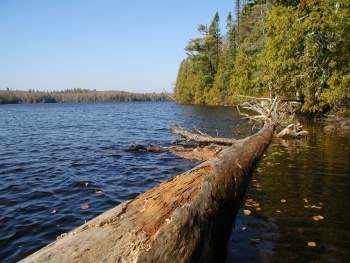 Fall has arrived at
Sawbill Lake
10/08/03 – A flash of summer-like weather has distracted us
from work for the past few days. Lunch outside, an afternoon
hike, long paddles and even a quick swim by Bill (the rest of us
just watched in amazement) have all taken priority over what is
on the work schedule. While the peak leaf color has passed, the
birch and poplar still have some brilliant yellows hanging on and
the warm sunlight is showing them off today. The leaves on the
ground have begun to dry out and are taking on the familiar smell
of fall. This is all quite a change from a week ago when heavy
snow showers made it impossible to see the opposite shore of the
lake. The warm weather is supposed to hang on through the
weekend. -Beth
10/6/03 – We received this nice note from David Poretti the
other day:
Howdy!
I just wanted to drop you a note of thanks – not only for the
last trip but
for all the others as well.
The folks I brought up had little or no camping experience, and
the
prospect of a BWCA trip was very intimidating and exciting for
them. With
your helpfulness, their experience was very positive, and now
they can't
wait to come back up again! It took me a while to convince them
that they
really didn't want to see a bear or a moose up close, but they
did get an
opportunity to dissect bear poop (one of the deposits we found
had poop
with several undigested M & M's, another was very fresh –
still moist).
Even having breakfast in a downpour didn't dampen their sprits –
they were
very happy that we had set the tents properly and that everything
stayed
dry through the rainstorm – and that I was able to cook a hot
meal in the
rain – they also learned a lot about themselves and the things
that they
can do while they got some practice and lessons in problem
solving without
going back to your shop to buy the remedy!
Finally, your generous help in providing tools to detach and
reattach the
battery cable for my friends car was much appreciated, as were
the jumper
cables, though it turns out that we didn't need them.
I am looking forward to next spring when I can return to the
Garden of
Eden!
I hope you guys all have a great fall and winter, and find time
to have
some fun!
David Poretti
10/5/03 – Driving home from our night
out in Grand Marais last night, a great horned owl dropped
straight out of a tree and ran into the passenger side fender on
the truck. It was lying unconscious on its back in the middle of
the road, but was still breathing. Kari gently scooped it up in
her fleece jacket and placed it in the back of the truck. By the
time we got back to Sawbill, the owl had revived and was standing
up. We left the doors to the back of the truck open all night,
but it was still sitting there in the morning. It was very aware
of its surroundings and even puffed up to several times its
normal size when it saw Homer the dog walk by. This morning, Dave
took it down to bird rehabilitater, Bernie Brooks, in Tofte.
Bernie will feed and water it before handing it off to the Raptor
Center at the University of Minnesota in the Twin Cities.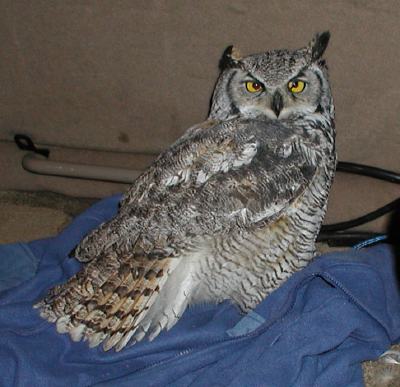 The great horned owl
hit the side of the truck hard enough to leave a dent.
Last night was the homecoming dance at the Cook County High
School. The entire fall Sawbill crew, along with visiting former
crew member, Dave Freeman, went down to see Clare make her
entrance in her formal dress. After the dance started, we all
went to the Gunflint Tavern to hear our friend and long time
Sawbill camper, Pete Mathison, play bass with virtuoso mandolin
player Chris Silver. – Bill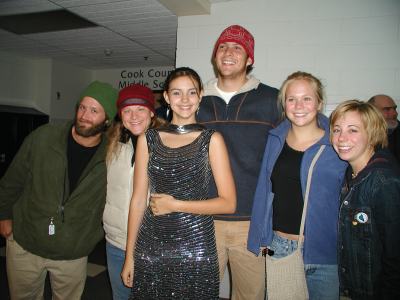 L – R: Dave Freeman,
Beth Rolf, Clare Hansen, Adam Hansen, Kari Anderson-Herman, Missy
Peschman.