9/30/03 – Well, the snow accumulated overnight. The best part
about the first snow is the subtle, fresh smell that presages the
deep cold to come. – Bill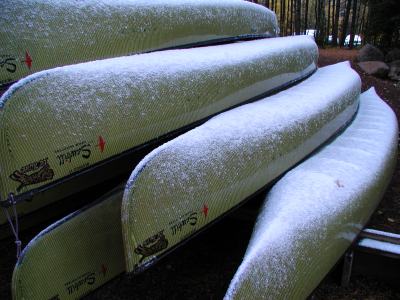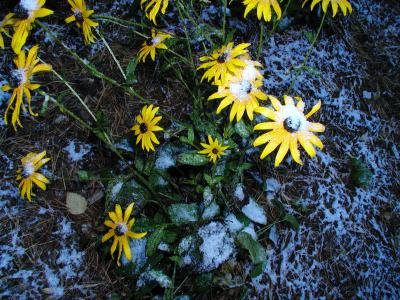 9/29/03 – We had our first snow today! There were a few flakes
this morning and then several showers of heavy, wet flakes this
afternoon.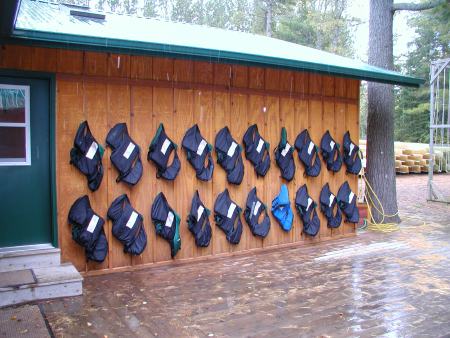 Can you see the
flakes against the life vest washing wall?
Adam, Clare, and Carl Hansen had a successful hunt for grouse
yesterday. Adam acted as the guide, Carl did the shooting, Clare
rung their necks and they all helped with the cleaning. If they
get a few more next weekend, we'll all enjoy the eating. – Bill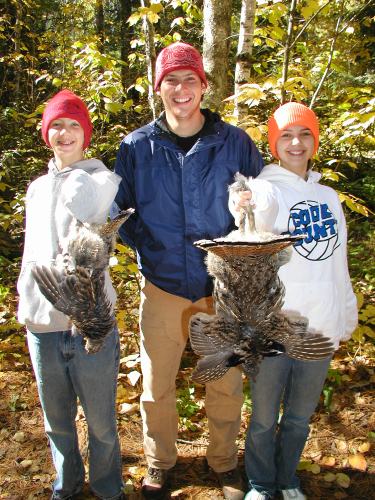 Happy hunters, Carl,
Adam, and Clare Hansen.
9/25/03 – Our used equipment is now on sale. We have a good
selection of canoes, packs, tents, life vests, stoves, tents,
Thermarest sleeping pads, sleeping bags and cookkits. You can see
pictures and specifications at Used
Equipment For Sale – Updated for Fall 2003.
9/24/03 – Rob Lerman, from New Jersey, and Chris Twarok, from
Virginia, sent along these pictures from their recent canoe trip.
They said the eagle kept them nearly constant company on Cherokee
Lake, including waiting each evening for them to clean their
fish.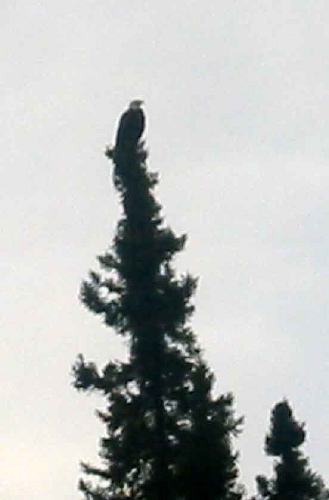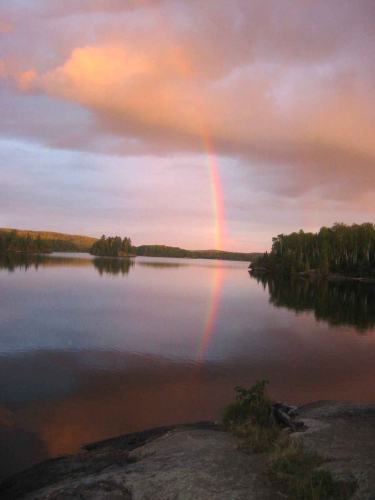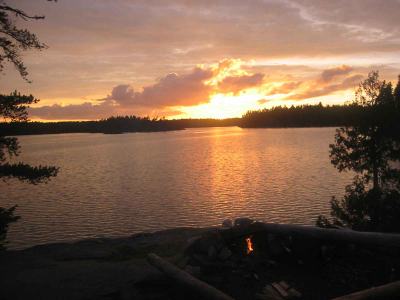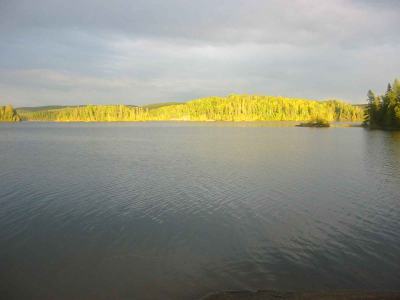 9/22/03 – We received this lovely email from Mark Kitzing
today:
I was sitting here looking at pictures from the Sawbill area
and thought I'd share a thought.

The Paddle

The paddle leans on the thwart
I place on leg over the side and let the water
run off the other before sitting
I center myself on the seat
I hold the paddle

I hold the paddle with a familiar feel
The wood feels right in my hands
The varnish feels smooth
The worn areas with less are held

The paddle strokes three times
I switch sides with water dripping a bit on the
packs
The paddle glides through the water several
times
The paddle makes an outward move as it leaves to
enter again

The paddle switched sides
The paddle in my hands, left hand on top, right
on the shaft
The paddle moves my arms shoulders, and waist
The paddle in my hands

Anyways, we've been up your way many years now, my first to the
BW was 1969, and for a long time yours has been our destination.
Kids are in college now. They grew up with at least one yearly
trip from the age of three. Sometimes we'd canoe trip and others
we'd stay at the Forest Service campgrounds. It's been my wife
and I the last couple of years. Just wanted to thank you for
providing the canoes I've used for many years from your livery.
I guess I'm in a mood brought on by an evening of the sound of
rain, acoustic music, and a hint of fall.

Mark
9/20/03 – We had 2.5" of rain here yesterday. It was
great to see the puddles standing in front of the store. It is a
beautiful sunny day today. Everything is washed clean and fresh
in the crisp fall air.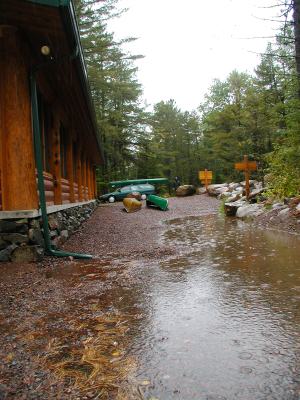 A hard, all day rain
is a welcome sight after a dry summer.
Even though we haven't had our first frost yet, the chill in
the air inspired Ed Dallas, the Poet Laureate of Sawbill, to send
along this little poem:
autumn canoe trip
both hands hold the coffee cup
morning frost
9/17/03 – The fall colors are just getting underway here in
canoe country. In the hills above Lake Superior the maples are
nearing their peak. Here at Sawbill there are splashes of color
in the underbrush but the trees are sill mostly green. That
should change this week though. The white and red pines are all
showing a tinge of orange as their older needles drop. The
tamaracks save their glory for the end of October. After all the
other leaves have departed, tamaracks, the only conifer to lose
all its needles each year, blaze with gold glory.
A black wolf has been spotted by many Sawbill campers over the
last week. He is coal black from head to toe with wild yellow
eyes. He may be an escaped or released domestically raised wolf
because he seems to seek out human beings. He shows no sign of
hostility, but at over 100 pounds, he is not to be trifled with.
I suspect that he will end up gracing numerous calendars and
postcards in the next few years as he has been much photographed
recently. – Bill
9/11/03 – A long string of beautiful sunny days and cool,
clear nights have planted us firmly into fall. The maple leaves
have begun changing colors and splashes of red, yellow, and
orange in the trees are increasing. The annual group of Carleton
College freshmen orientation trips has come and gone – the weather
was about as perfect as it can get in September and lots of
smiling faces returned after their four days in the BWCA. We've
shifted into our early fall hours and we are open from 8 am to 8
pm, seven days a week. The water levels are a little below normal
but nothing that should hinder any routes. The fish have been
biting like crazy over the last two weeks – lots of walleyes and
small mouth bass stories being reported.
We've had a number of inquiries about selling used equipment
and canoes this fall. We will be ready to start selling canoes
and equipment in a few weeks and will post it on the website when
its all set to go.-Beth
9/3/03 – FIRE BAN LIFTED! This fax just arrived from the U.S. Forest
Service:
September 3, 2003
Contact: Dave Schmidt, 218/626-4300
Susan Alexander, 218/626-4323
SUPERIOR NATIONAL FOREST LIFTS RESTRICTIONS ON CAMPFIRES
As of midnight, Thursday, September 4 (12:01 a.m. Friday, September 5, 2003),
current restrictions on campfires in the Superior National Forest will be
lifted. This means that campfires will be allowed at any time within steel fire
grates at all designated campsites inside the Boundary Waters Canoe Area
Wilderness. Campfires will also be allowed any time in dispersed and developed
campsites outside of the Wilderness.
As always, visitors are encouraged to use a camp stove but if a campfire is
preferred, follow these simple guidelines:
Keep it small.
Be sure the campfire is completely extinguished before you leave.
Pour water on the campfire and stir until it is cold to the touch.
Please be responsible with all campfires.
9/1/03 – Today is Mary Alice Hansen's 80th birthday. She has had several
parties in recent weeks, but we had a quick celebration in the office this
afternoon.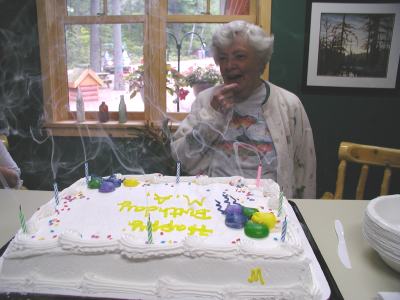 Mary Alice Hansen admires her candle
blowing skill.
Monty Mertz sent us this lovely description of his recent canoe trip:
Dear Bill & Cindy:
I just wanted to share with you how much we enjoyed our BWCAW trip again this
year, and the great service you provide.
We have an annual tradition of at least one trip with family to the BWCAW every
year for the past several years. The core group is myself, Monty Mertz,
and my now 20 year old son, Taylor. We are from Fargo. We bring
along my 79 year old father-in-law, who is a retired Norwegian farmer. He
lives in Fargo now. Also included every year is my wife's brother, Steve
Erickson, and his son, Shane, who is now 25. Shane is a pilot and lives
in Grand Forks and Steve is a NWA Captain and lives in Prior Lake. We
have included other in-laws and friends, but this is the core group.
This year we paddled into Vern, from entry 40 on Homer, on August 4th,
and spent five nights on the middle camp site on the South side of the lake.
Even though this area has the damage from the fire, the view from that
camp site is just fine.
We had really pristine weather and very few bugs. The water was perfect
for refreshing swims. Vern is a really clean lake with a rocky bottom, no
muck.
Steve and Shane are hard core fishermen, and they caught some really big
Walleyes, in Pipe and Whack. They got close to a cow moose that was
feeding one day.
We heard wolves every night we were there. I have an authentic
hand-carved Indian flute, and I played it for a few minutes the first night
after dark, and within thirty seconds of stopping playing, this group of wolves
started up across the lake to the North, and were answered almost immediately
by another group to the South east. Really really cool.
Another really fun thing was a pair of mature bald eagles took up residence
right across the lake for a full day after we put fish guts on a flat rock
right across from our site. They worked on the guts all day, sitting in
two trees between snacks. It was so calm we could hear even the smallest
noises they made.
The wild berries were unbelievable! We portaged into the next lake to the
West, and picked blueberries and raspberries, there were millions. We
caught a glimpse of a bear just this side of the portage one day.
We also climbed this big rock face on the far end of Vern one day. The
pictures I am sending includes the four of us at the top of the rock.
Grandpa did not make the climb, so he is not on the picture of the group
at the top.
I always get some really amazing pictures every year. I am sure you get
lots of them, I hope you enjoy these.
When I am not in the BWCAW I am planning the next trip. I wish I could go
more than a couple of times a year. I am addicted!!
Regards,
Monty G. Mertz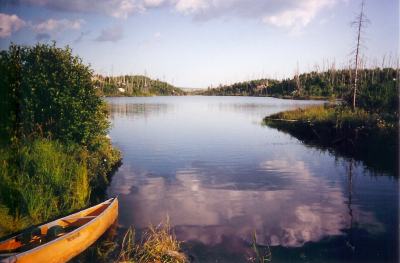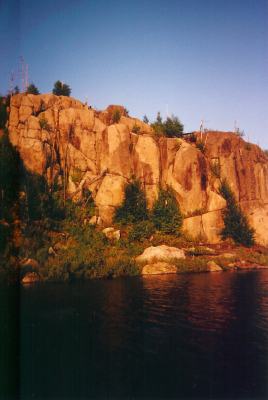 Vern Lake scenery. The hills around
Vern burned in 1995.