8/27/05 – After 49 years, Sawbill finally receives the fame it deserves, and with any luck, fortune will soon follow. It recently came to our attention that Sawbill Canoe Outfitters is currently highlighted on the homepage of an internationally recognized website. Yahoo, MSN, the New York Times are all good guesses, but no. Sawbill's spotless bathrooms are highlighted on the homepage of www.restroomratings.com. A customer, with an eye for detail and an interest in public bathrooms, wrote a review of Sawbill's sparkling thrones.
The weekend has been busy and our dwindling crew has been kept on their toes all week. I would like to think we have restroomratings.com to thank for the influx in canoeists, but others have given credit to the warm and sunny weather, good fishing, and the fact that school is about to start.
For those few newsletter readers who remain unimpressed by our dominance of the World Wide Web perhaps the feature article in Celebrating Greyhounds Magazine titled "Phoenix Goes Canoeing" will catch your attention. The photo filled article, written by crew member Pat Nash's sister, is sure to send a pile of greyhound owners to Sawbill next summer. Sunny and Homer are basking in the starlight, "Most important the campground is dog friendly. In fact, they have two resident, one-eyed Golden Retrievers, Sunny and Homer."
So I hope this is fair warning to all of our loyal readers. Remember to make your reservation well in advance because you never know how many bathroom loving Grey Hound owners will flock to Sawbill this Fall.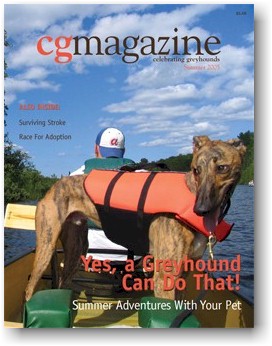 Celebrating Greyhounds Magazine (featuring a Sawbill Canoe on Sawbill Lake).