10/3/05 – Jasmine headed to the Beach Club to sunbathe and go for a dip in Sawbill this afternoon, and the sunny, unseasonably warm weather continues. Bill and I have been busy preparing canoes for sale. Canoes, packs, tents, and many more used items are now available. You can purchase items through our online store, or feel free to give us a call.
Adam reported that a group of moose hunters shot a moose on Brule Lake on Saturday around 7:30 AM. They had 14 days to shoot a moose, but their hunt only lasted about 30 minutes.
Alison's family went on an over night canoe trip over the weekend, and her father came back looking like he had been training to become a professional mud wrestler. While unloading their canoe between Sawbill and Smoke Lake he was thrown off balance and went sailing into the muck next to their canoe. Luckily it was warm, and he has a good sense of humor.


Jim heads for the showers to clean up after his first mud wrestling attempt of the season.
Ed Dancek brought three of his friends up to Sawbill for a canoe trip this week. The trip was a way to thank Greg Fuhrman, David Monos, and Bill Widdicombe for helping Ed rebuild his house after Hurricane Charlie destroyed it last summer. Ed lives in Punta Gorda, Florida, and his brother in laws, David and Bill, each flew down to Florida twice to help Ed and his co-worker Greg work on Ed's house.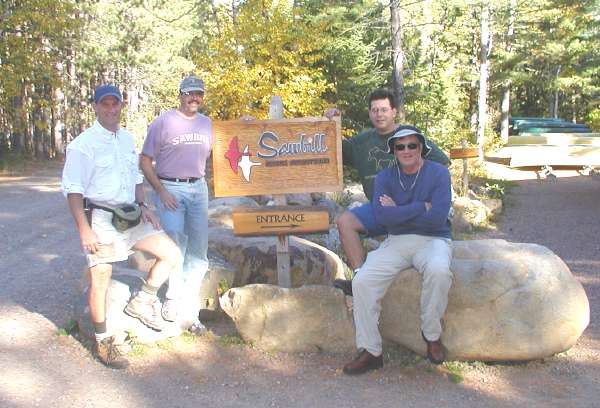 Ed and his friends relaxing after their trip.