12/9/05 –
Carl Hansen, currently the youngest Sawbill crew member, turned 16 today. He is taking his driver's license test in four days. His driving ability will mean a new world for his parents, as he can start driving himself the 55 mile one way trip to school!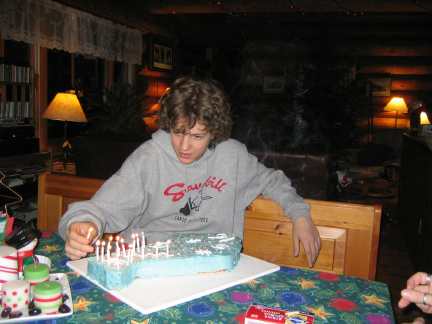 Carl admires the sixteen candles on his necktie shaped cake. Carl and his friends wear neckties and sport coats to school every Wednesday. (Where did we go wrong as parents?)


Homer and Carl can barely suppress their excitement about Clare's gift of a honey dipper and miniature whisk from the Blue Heron gourmet cooking store in Duluth where Clare works part time. These were Carl's favorite items in the store when he visited Clare at work.