1/18/06 – For most of the world, last weekend was Martin Luther King Weekend, but here it was Sawbill Babes Weekend. This annual event reunites several former Sawbill crew ladies for three days of skiing, wining (not whining), saunaing (is that a word?), and way too much laughing.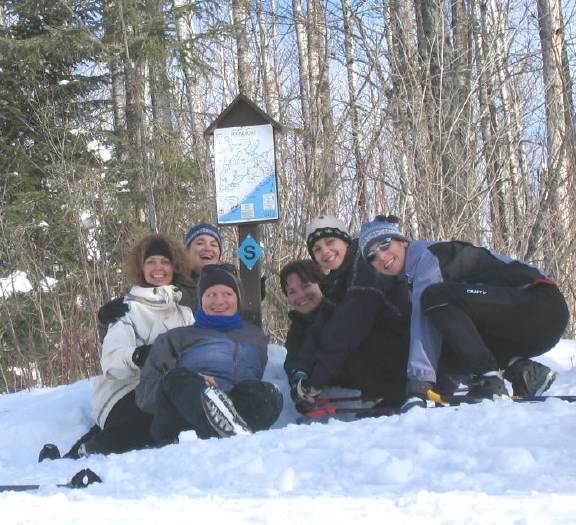 Sawbill Babes L to R: Cindy Hansen, Michele Thieman, Beth Rehfus, Patti Olson, Clare Hansen, Sandy Zinn. Not pictured: Annie Strupek – back at Sawbill suffering from an awful flu/cold, Ellen Lock-Bagnato – currently living in Oman and couldn't afford the airfare. They gathered around this sign because the "S" stands for "Sawbill Babes."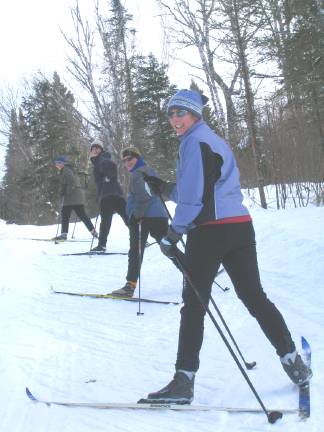 Here is a demonstration of the difficult art of synchronized skiing.
It is a little known fact that Cindy and Clare Hansen are huge fans of Professional Bull Riding, as seen on cable/satellite TV every weekend. They know every cowboy's name and story. More impressively, they know every bull's name and story. They sit on the couch and discuss bull riding strategy and tactics while wearing their cowboy hats. When the PBR recently came to Minneapolis, Cindy and Clare were there, cheering for their favorite cowboys and bulls.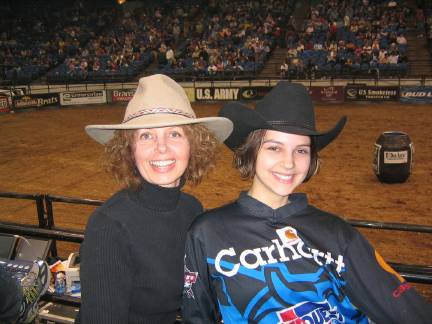 Former crewmember Max Wilson commented: "If you asked me to name a thousand things that Cindy and Clare were passionate about, bull riding would not have made the list. Go figure!"