9/17/06 – We received this nice email this morning:
Hi there,
I just wanted to drop a line and let you know how much I enjoyed staying in the Sawbill campground. I usually stay at Baker Lake so this was a nice change. I emailed some pictures I took when I went out on Sawbill Lake in one of your canoes with my Yorkie. She had a blast, had never been in a canoe before so I was surprised to see that she was very relaxed during our 3 hour adventure. She even has a little portaging under her belt now as we went to Alton Lake as well.
Without giving you my life history I will just say I have cared for my husband, who is quadriplegic, for the past 17 years. Things have taken a great toll on me lately and my trips up the Sawbill Trail this summer have allowed me to "escape" into my own world of peace and tranquility as I am happiest when I'm out in the woods. The only problem I run into is that I never want to leave!! Your staff was friendly as always and helpful. I look forward to visiting you again soon.
Pookie says to say hi to Mary Alice, Homer and Izzy!
Take care,
Melanie Vittitow and Pookie Bear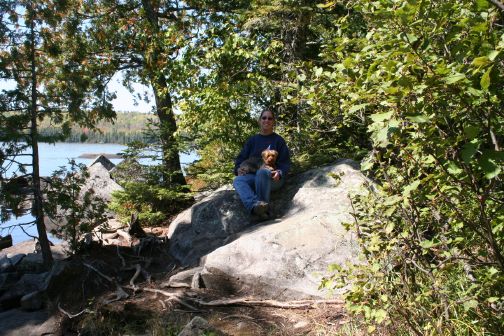 Melanie and her dog relaxing in the sunshine on the Alton portage.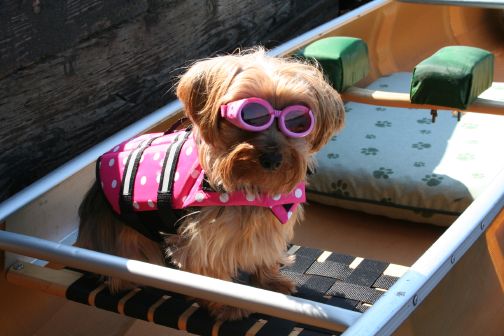 Pookie Bear is geared up for canoeing.